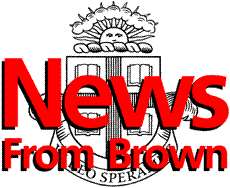 ---
The Brown University News Bureau
Contact: Mark Nickel

A Rhode Island records audit
Study finds RI cities and towns not fully compliant with open records law
Researchers were given access to public documents nearly 85 percent of the time during a recent audit of public records access in Rhode Island cities and towns. The study, conducted by students at Brown University and the University of Rhode Island, provides detailed statistical data on compliance by town clerks, school boards and police departments.
PROVIDENCE, R.I. -- In a statewide audit of Rhode Island cities and towns conducted by students at Brown University and the University of Rhode Island, researchers were given access to nearly 85 percent of the public documents they requested - documents to which any citizen has a legal right of access, such as daily police logs and minutes of school committee and town council meetings.
Of the three municipal departments studied in the audit, town and city clerks were the most forthcoming, providing requested documents 100 percent of the time. School departments followed closely at 94.1 percent compliance. Police departments fulfilled approximately 35 percent of requests.
The study's final report was released this morning (Monday, March 16, 1998) during a press briefing at the Cranston Public Library.
"While a statewide figure of nearly 85 percent might seem like a reasonably good result, it falls far short of what is required by Rhode Island law," said Ross Cheit, associate professor of political science at Brown University, who supervised the eight Brown students who participated in the study. "All the documents our researchers requested are clearly covered by Rhode Island's open records legislation." Eight cities and towns achieved a 100-percent compliance rating, Cheit said, which indicates that full compliance is within the reach of any municipality.
The Brown students, together with 17 students as one assignment in a public affairs reporting course taught at URI by Professor Linda Levin, visited every city and town in Rhode Island at least twice last fall, from mid-October through December. They asked for publicly available documents from town clerks, school departments and police departments and recorded their experiences. Additional follow-up visits were made in about a dozen municipalities in December and January to resolve questions from the original research.
"This kind of systematic statewide analysis has never been attempted as far as we know," said Levin. "The size of our state and the manageable number of cities and towns allowed us to be comprehensive in our data gathering and to make comparisons of separate departments like police or school boards across all municipalities."
Student researchers collected data based on responses to the following questions: Did they receive the documents they requested? Were they asked to identify themselves or to give a reason why they wanted the documents? Did they have to make repeated trips? In addition to statistical data, the students recorded their own reactions to their visits, including the degree of courtesy they felt they had been given.
Their 78-page report, Access to Public Records: An Audit of Rhode Island's Cities and Towns, provides detailed results for each Rhode Island city and town. Copies of the report are available at public libraries and on the Internet at http://www.brown.edu/Departments/Taubman_Center/FOI_Study.html.
Financial support for the project was provided by ACCESS/RI, a nonprofit organization dedicated to protecting and enhancing freedom of information in Rhode Island. Additional support was provided by the Taubman Center and by the Department of Journalism at the University of Rhode Island.
Recommendations
The researchers offered five recommendations to bring Rhode Island cities and towns into full compliance with the state's open records laws.
Training and continuing education. Some of the compliance problems encountered by the students were clearly attributable to an ignorance of legal requirements. Many school department clerks seemed unaware, for example, that the law requires the release of policy manuals and the school contract. Each of the three departments in the audit has a statewide association that could provide a framework for continuing education and better understanding of the law.
Monitoring. Government programs and laws do not enforce themselves, the researchers concluded; they must be enforced. Whoever enforces the laws should develop mechanisms to monitor compliance, identify problems and take actions as necessary.
Transfer enforcement powers. Because the attorney general relies on other government agencies, especially police departments, there may be a structural problem with enforcing open records laws. Only 13 states involve the attorney general so directly. Connecticut, for example, has created an innovative and independent Freedom of Information Commission to investigate public complaints involving access. Rhode Island should consider changing its practice.
Provide attorney's fees. Rhode Island is one of a few states that does not reimburse citizens for court costs and attorney's fees when they sue successfully to obtain records. The cost of legal action is a structural impediment to citizens who seek documents to which they are legally entitled. Forty-one states make some provision for reimbursement.
Electronic access. The growing popularity of electronic communications, especially the Internet, presents questions that deserve attention. Are electronic records to be accorded the same legal accessibility as paper documents? Should there be any charges to recover administrative costs of access? Several municipalities in the state are developing web sites where citizens can find agendas, minutes and copies of proposed or recently enacted legislation. These efforts should be encouraged.
######
97-095