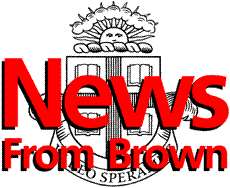 ---
The Brown University News Bureau
Contact: Linda Mahdesian

The `most important independent press'
New Directions Press founder to be honored in three-day festival
The Brown University Program in Creative Writing will host a three-day memorial tribute to James Laughlin, founder and editor of New Directions Press. The New Directions Festival will take place March 31 through April 2 on the Brown campus.
PROVIDENCE, R.I. -- If you've ever read works by Ezra Pound, Tennessee Williams, F. Scott Fitzgerald, Octavio Paz, E. M. Forster, Gertrude Stein, Herman Hesse, Vladimir Nabokov, Rainer Maria Rilka, Dylan Thomas, or William Carlos Williams, you have the late James Laughlin to thank.
Laughlin, who died in November 1997 at the age of 83, was the founder and editor of New Directions Press, established in 1936 in New York. Laughlin dedicated himself to publishing and keeping in print Ezra Pound's poetry and literary criticism, as well as the writings of William Carlos Williams, Dylan Thomas, George Oppen and Tennessee Williams, while also reprinting Gertrude Stein's Three Lives and Nathaniel West's Miss Lonelyhearts. When no one would print F. Scott Fitzgerald's The Crack-Up, New Directions did. When The Great Gatsby was out of print, New Directions brought it back. Translations of Lolita, Metamorphosis and Siddhartha made foreign writers such as Vladimir Nabokov, Franz Kafka and Herman Hesse familiar to generations of American readers and scholars.
As a tribute to Laughlin, the Brown University Program in Creative Writing will host a three-day festival from March 31 through April 2, featuring readings and talks by noted New Directions writers such as Robert Creeley and Walter Abish. Rhode Island writers published by New Directions, including Forrest Gander, Edwin Honig (professor emeritus of English at Brown) and Rosmarie Waldrop, will also read from their works. All events are free and open to the public.
It all started with rejection. "I asked Ezra Pound for `career advice,' " Laughlin recalled in his short biography. "He had been seeing my poems for months and had ruled them hopeless. He urged me to finish Harvard and then do `something useful.' " Laughlin took Pound's advice and started New Directions Press that year, intended "as a place where experimentalists could test their inventions by publication."
New Directions, with approximately 1,000 titles in print, continues its tradition of publishing new works of fiction and poetry while maintaining a backlist of extraordinary depth and quality. "New Directions is the most important independent press around. It is a rare, rare bird that has not been taken over by a corporation," said Gale Nelson, assistant director of the creative writing program and coordinator of the festival. He added: "Of the important experimental writers from America and elsewhere in this century, it's easier to list those who were not published by New Directions than those who were."
The New Directions Festival will feature writers who are breaking new ground today, including poets David Antin, Robert Creeley and Michael Palmer. The festival will also feature a small exhibition of samples from Laughlin's personal collection bequeathed to the University in addition to a gift of books given by his widow. In the mid-1980s, Laughlin taught a seminar on Ezra Pound at Brown as a visiting professor. "A couple years ago he called me and said that he was getting on in years and had enjoyed his experience at Brown so much - the students, the faculty, the library - that he wondered whether we wanted to have portions of his library," said Samuel Streit, associate University librarian for special collections. "We were delighted."
Streit visited Laughlin's home in Norfolk, Conn., where his home library numbered in the thousands, according to Streit. Brown's portion of the collection is approximately 5,000 volumes. "Without question, we have the most outstanding components of his collection," said Streit. Those include rare works and first editions by such noted writers as Pound, William Carlos Williams, Gertrude Stein, Hilda Doolittle (known as H.D.), Thomas Merton, e. e. cummings, Henry Miller, as well as several French authors including Jean Cocteau, Jean Genet, and Louis Celine. Many of the books are personally inscribed to Laughlin by the authors.
New Directions was honored in 1977 with a Carey Thomas Award special citation for distinguished publishing in poetry and experimental prose. James Laughlin was a recipient of the American Academy and Institute Award for Distinguished Service for the Arts, the Annual PEN Publisher Citation, and the National Arts Club Medal of Honor for Literature. In 1980, he was the first winner of the New York State Arts Council James Laughlin Award for distinguished achievement in independent publishing.
Although he had a global impact on the world of literature and influenced generations of readers and writers, it wasn't until 1993 that Laughlin published his own poetry, which he wrote throughout his publishing career. A selection of Laughlin's poetry, previously published by numerous small presses, will be available in a New Directions edition later this year under the title Poems: New and Selected.
Schedule for the New Directions Festival
Tuesday, March 31
8 p.m.
Carmichael Auditorium
89 Waterman St.

Poets David Antin, Robert Creeley and Michael Palmer will read from their work.
Wednesday, April 1
1 p.m.
Annmary Brown Memorial Library
21 Brown St.

Reception and opening for exhibition of a selection from the James Laughlin Bequest to the John Hay Library, with a focus on books by New Directions authors Ezra Pound and William Carlos Williams; and original photographs by Denny Moers and the conversion of those photographs for use as covers for New Directions books. The exhibit will be open to the public from 9 a.m. to 5 p.m. during the three days of the festival.
3 p.m.
Main Lounge, Donald Saunders Family Inn
101 Thayer St.
Translators Breon Mitchell and Barbara Wright will read from and discuss their translations.
8 p.m.
Room 001, Salomon Center for Teaching
The College Green
Rhode Island writers Forrest Gander, Edwin Honig and Rosmarie Waldrop will read from their work.
Thursday, April 2
3 p.m.
Main Lounge, Saunders Family Inn 101 Thayer St.
Readings from the work of the Press' stellar backlist, recollections from Peter Glassgold and Peggy Fox (former and current New Directions editors) and from authors taking part in the festival.

8 p.m.
Room 001, Salomon Center for Teaching
The College Green
Writers Walter Abish, John Keene, Bernadette Mayer and Toby Olson will read from their work.

######
97-097