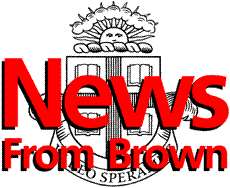 ---
The Brown University News Bureau
Contact: Tracie Sweeney

Public comment sought May 4 and May 5
Department of Police and Security aims for national accreditation
The Commission on Accreditation for Law Enforcement Agencies will conduct an on-site visit to the Brown campus May 2 to 6. Public comment is sought from the community at a forum May 4; comments also will be accepted by telephone May 5.
PROVIDENCE, R.I. -- Brown University's Department of Police and Security Services is seeking accreditation by the Commission on Accreditation for Law Enforcement Agencies (CALEA).
Accreditation would place Brown in an elite group. "Of some 17,000 law enforcement agencies in this country, fewer than 500 are accredited," said Col. Paul V. Verrecchia, chief of Police and Security. "Of those, fewer than 20 are campus law enforcement agencies, and of those fewer than five are unarmed campus agencies like Brown's campus police." Rhode Island has only two accredited agencies: the Rhode Island State Police and the Warwick Police Department.
"Accreditation by CALEA adds a great deal of credibility to a department and its members," said Verrecchia. CALEA Commissioner Henry I. DeGeniste echoed that: "The accreditation program represents the process by which law enforcement agencies can demonstrate to their public that they are able to meet professionally recognized standards for excellence in policing and management, thereby increasing their accountability to the public and reducing liability to the taxpayers."
For accreditation, an agency must prove it meets 436 standards that address six major law enforcement subjects:
role, responsibilities and relationships with other agencies;
organization, management and administration;
personnel administration;
law enforcement operations, operational support and traffic law enforcement;
prisoner and court related services;
auxiliary and technical services.
For instance, an agency must demonstrate that its use-of-force policy includes standards of accountability, reporting and review. "Brown had no such policy four years ago," said Sgt. Cheryl Ferreira, accreditation manager for Police and Security, "but one has since been put into place."
A CALEA team will conduct an on-site visit May 2-6. The team will inspect each of the 436 files Police and Security has created to demonstrate that it meets each of CALEA's standards. The three team members are Wayne McCoy, chief of police in Worthington, Ohio; Robert Dillard, director of the University of Richmond's police department; and Hezekiah Bunch, chief of police of the Baltimore City Housing Authority.
Members of the Brown community and the community at large will have several avenues to discuss Police and Security's accreditation application with the CALEA team.
On Monday, May 4, a public hearing will be held at 7 p.m. in the Salomon Center, room 101. During this hearing, conducted by the CALEA team, public comment will be sought regarding the abilities of Police and Security to meet CALEA standards.
People who would like to provide comments to the assessment team but who for whatever reason cannot speak at the public session may call in their comments on Tuesday, May 5, between 1 p.m. and 5 p.m. The callers can remain anonymous. The phone number - (401) 863-7733 - will be a dedicated line that will go directly to the assessment team without any Police and Security intermediary.
Telephone comments as well as statements at the public information session are limited to 10 minutes and must address the agency's ability to comply with CALEA's standards. A copy of the standards is available from Ferreira at the Department of Police and Security Services, 75 Charlesfield St., Providence, R.I., or by calling Ferreira (401) 863-3313.
The public may also send written comment about Police and Security to CALEA, 10306 Eaton Place, Suite 320, Fairfax, Va. 22030-2201.
On May 6, the team will conduct an exit interview with Verrecchia. During that interview, the team will give Verrecchia its oral critique and will discuss the recommendation that it will make to the full 21-member commission. Police and Security personnel will have to go before a hearing of the full commission in Hershey, Pa., in July, after which there is a vote to determine whether the agency is to be granted accredited status, said Dennis Hyater, CALEA program manager.
The idea to seek accreditation by CALEA stems from a 1992 report of a University ad hoc committee on campus safety, chaired by Professor William Risen Jr. The Risen Report, as it has come to be known, recommended that Police and Security undergo an annual independent audit. Vice President for Administration Walter Holmes Jr. and former Chief of Police Dennis Boucher decided to go beyond that recommendation and seek national accreditation from CALEA.
What is CALEA?
The Commission on Accreditation for Law Enforcement Agencies (CALEA) was conceived in 1979 by the International Association of Chiefs of Police (IACP), the National Organization of Black Law Enforcement Executives (NOBLE), the National Sheriffs' Association, and the Police Executive Research Forum (PERF), who envisioned a voluntary process of "evolutionary, systemic change for law enforcement ... a process that would unite rank-and-file toward a common goal ... a process that would provide communities with standards for measuring agency performance ... a process that would recognize the limits of law enforcement responsibility and authority."

In addition, CALEA founders sought a vehicle that would "facilitate public approval and acceptance of law enforcement policies, practices and procedures."

The commission is composed of 21 members: at least 11 law enforcement professionals, and the balance from other governmental areas and from the private sector.

More information regarding CALEA is available by mail: CALEA, 10306 Eaton Place, Suite 320, Fairfax, Va., 22030-2201; or by phone (800) 368-3757 or (703) 352-4225. CALEA also maintains a web site on the Internet at www.calea.org

######
97-109