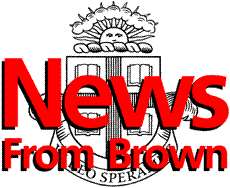 ---
The Brown University News Bureau
Contact: Carol Morton

Robots take center stage at Brown student talent show
Intelligent robots built and programmed by students will perform in a talent show designed to showcase these final class projects. The students' robots may look like toys, but they operate at nearly the same level of sophistication as some of the world's most famous robots. The show begins at 4 p.m. Tuesday, April 28, in the Watson Center.
Two-person student teams will demonstrate their robots in a talent show designed to showcase their class projects. Using Lego pieces and electronic hobby store parts, students have built moving robots and have programmed them to perform a variety of simple tasks. Although they look like toys, they are nearly as advanced robotically as some of the world's most famous robots, such as the rover from the Mars Pathfinder mission, which sensed rocks and tried to avoid bumping into them.
In the talent show, one motion-seeking robot will follow a person like a primitive pet. Another robot will learn how to go through a maze. Another will seek food and evade predators like a reptile. Other robots will shoot hoops, move hockey-like pucks and tend goal. Some will learn to respond to reward and punishment.
When

Tuesday, April 28
3 - 4 p.m. Possible media preview of some robots
4 - 6 p.m. Robot class final project talent show

Where

Fourth floor atrium
Thomas J. Watson Sr. Center for Information Technology
Corner of Brook and Waterman streets

Who

Leslie Kaelbling, associate professor of computer science
Twenty students from the class "Building Intelligent Robots"

Visuals

A skylight brightens the atrium and a fifth-floor balcony offers overhead shots of the action. Note: Television camera infrared sensors and bright lights will be prohibited during demonstrations of robots which depend on infrared or light sensors to perform.
######
97-118a