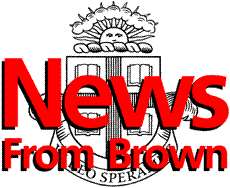 ---
The Brown University News Bureau
Contact: Tracie Sweeney

The 1998 Royce Fellowship Program
26 undergraduates receive fellowships for their research, public service
Twenty-six Brown University undergraduates will receive Royce Fellowships, which will enable them to advance their research and public service projects locally, nationally and internationally. In many cases, the Fellows will work side by side with senior faculty in laboratories and classrooms.
PROVIDENCE, R.I. -- Twenty-six Brown University undergraduates have been selected to receive Royce Fellowships, which will enable them to advance their research and public service projects locally, nationally and internationally.
The Royce Fellowship Program was started at Brown three years ago to recognize undergraduates who have gained distinction through their research, creativity, service and leadership. The program enables Fellows to complete a proposed research, curricular development, or public service project of their choosing, and confers lifetime membership in the Society of Royce Fellows. The Society supports reflection and inquiry by inspiring Fellows to connect their scholarly work with that of their peers and faculty. Senior faculty from a wide range of disciplines serve as mentors to the Society of Royce Fellows.
The program was established by Charles Royce, a 1961 graduate of Brown and parent of two Brown graduates. Royce, president of Royce Funds, also is a University trustee.
California
Kelli Auerbach, Malibu, Class of 1999, is creating a feature-length documentary that explores the lives of three intersex people. Although it will rely primarily on interviews, the film will also incorporate historical, contemporary, popular and medical representations of "genital anomaly" to create an educational and artistic piece.
Chris Emanuel, Huntington Beach, Class of 2000, will research drug dependency and potential treatments. Emanuel, in collaboration with Professor Gary Kaplan, will investigate the brain circuitry and neurochemistry which mediate opiate dependency and withdrawal and will examine the mechanisms underlying opiate addiction.
Adam Goldberg, Piedmont, Class of 1999, will focus on the historical and philosophical elements of Huanglao Taoism. Goldberg will help Professor Harold Roth design a new undergraduate seminar and will conduct independent research for his honors thesis examining the Huanglao Taoist influence on the poetry of T'ao Ch'ien.
Emily Lam, San Francisco, Class of 1999, will create a directory of health-care services. The directory will include such information as eligibility requirements for care, fees, hours and accessibility. She hopes the guide will help uninsured citizens find health services in Providence.
Pamela Neufeld, Pacific Palisades, Class of 1999, will explore the writings of Arabic-speaking intellectuals who immigrated to Argentina from Syria and Lebanon in the early 20th century. For her honors thesis she will collect writings from archives in Buenos Aires, translate them, and examine their historical importance.
Kofi Charu Nat Turner, Los Angeles, Class of 1999, is developing the Komenda Library Project as a bridge between Komenda, Ghana, and the United States. The project will encourage dialogue between West Africans and Americans, cultivate American interest in the spirituality and culture of the people of Komenda, and generate an exchange of books for libraries in Komenda.
Florida
Noah Raford, New Smyrna Beach, Class of 2000, will explore the boundary between real and virtual space in a project called "The Architecture of Perception." The project will demonstrate how interaction between these spaces changes the built environment. He hopes to construct a virtual sculpture in Providence's new Kennedy Plaza to foster a public memory of this space.
Illinois
Amanda Kreiss, Northbrook, Class of 1999.5, will help develop a high school curriculum that will challenge students to examine contemporary social issues through action. She hopes to increase students' awareness of their connections to each other and their communities - both local and global- while helping them affect communities in positive ways.
Kansas
Benjamin Lerner, Topeka, Class of 2001, will work with Paradigm Press to reissue "Debridement," a book of poetry by Professor Michael Harper, and to edit a companion publication of critical essays about the book. He also will be editorial assistant for NuMuse, a journal of plays from Brown University. Using this experience, Lerner plans to start a poetry press devoted to the production of work by Brown undergraduates.
Maryland
Doug Ulman, Ellicott City, Class of 1999, will evaluate support groups for young adults affected by cancer in order to isolate effective strategies and models that could be implemented nationally. Inspired by his own battle with cancer, Ulman seeks to address a gap in the current health care system by providing support specifically for people ages 18-30 who are affected by cancer.
Massachusetts
Jocelyn Burrell, New Bedford, Class of 1999, will create a community action component for Brown University's ethnic studies major. She will develop partnerships with local non-profit and human service organizations to connect theoretical course work to the social and cultural realities of community development.
Felipe J. Molina, Lexington, Class of 1999, in collaboration with Professor Gary Wessel, will perform research that addresses the fertilization reaction and the role of cortical granules in the formation of a protective envelope around a developing zygote. The research will lead to his honors thesis.
Liam Paninski, Groton, Class of 1999, working with Professor John Donoghue, will research the ways information is represented in the brain. Paninski will record the activity of large numbers of brain cells and study neural coding through information-theoretic approaches. He hopes to illuminate how the brain realizes perception, consciousness and coordinated behavior.
Daniel Stein, Marblehead, Class of 2000, working with Professor Gerhard Friehs, will focus on quantifying the effects of an implantable brain device - the "deep brain stimulator" recently approved by the FDA. The stimulator instantly relieves the tremors suffered by people with Parkinson's disease. Stein hopes to measure improvement in tremors with customized computer programs.
New York
Sara Grady, New York City, Class of 1999, will analyze the form, structure and process of documentary production by creating a film about female truck drivers. Her work will address female truck drivers' relationships to their work, their status in a traditionally male-dominated profession, and their attempts to develop a community within the world of truck driving.
Paul Grellong, New York City, Class of 2001, will examine the significance of national monuments through a series of essays and plays about America's commemorative icons and traditions. He will work with the National Park Service and will research several historical sites - the Statue of Liberty, the Lincoln Memorial, the Vietnam War Memorial, and the Arlington National Cemetery - with regard to architecture and artistic intent.
Arthur Samuels, Scarborough, Class of 2000, will write and publish a paper on the Ku Klux Klan hearings of 1871. He hopes that his work on these hearings, which have never before been fully examined, will provide insight into the experience of the Reconstruction.
Tarry Shirazian, Old Westbury, Class of 1999, is creating "The Interpreter's Aide Program," a service initiative which will place Brown student interpreters in the emergency and walk-in clinics of Rhode Island Hospital. The program aims to improve access to health care for those who speak English as a second language.
Oregon
Robert Taylor, Grants Pass, Class of 1999, will study Oregon's emerging policy regarding physician-assisted suicide. He will consider political history and state policy as well as the moral and ethical tensions of such a policy. His work will lead to his honors thesis.
Pennsylvania
Jonathan Mahone, Pittsburgh, Class of 1999, will research the historical and social foundations of hip-hop music. He will conduct literary analysis, auditory study and interviews to understand this musical form as an influential, uniquely American social and cultural movement. The work will lead to his honors thesis.
Kate Weisburd, Philadelphia, Class of 2000, will create a comprehensive status and legal compliance report on the Rhode Island Training School's non-compliance with a federal court order. She will use statistical and documentary data to create a portrait of current conditions of confinement and will compare these findings with legal standards in support of a federal class-action suit.
South Carolina
Jeremy Derfner, Charleston, Class of 1999, will study the social history of black Kansas City in the 1930s. His research, the foundation for his honors thesis, focuses on how and why a thriving black culture was rooted in the popular folk cultures of jazz music and Negro League baseball.
Washington, D.C.
Eli Abarbanel-Wolff, Class of 1999, will research the scope and effectiveness of the seven sports organizations for the disabled in the United States.
Helen Cymrot, Class of 1999, is creating a documentary photography, oral history and writing program for Providence middle- and high-school students that will focus on self-expression. She will design the program this summer in collaboration with a small group of high school students who have been involved in an informal photography program with her this year.
International Students
Armando Manalo, Paranaque, Philippines, Class of 1999, will examine the relationship between censorship and cinematic production in the Philippines. He plans to compare moral censorship under Corazon Aquino's democracy with political censorship under the dictatorial Marcos regime for his honors thesis.
Maria Ospina, Bogota, Colombia, Class of 1999, will review archival materials from Latin America to support Professor Douglas Cope's research on the informal economy of colonial Mexico City. For her honors thesis, she also will conduct her own investigation of early 20th-century Latin American intellectual history and the role of the intellectual in this period.
######
97-119