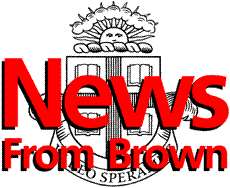 ---
The Brown University News Bureau
Contact: Tracie Sweeney

Ten `Brown Says Thank You!' awards presented at awards breakfast
Ten members of Brown University's support staff received Brown Says Thank You! awards for the innovation, initiative, service and personal commitment they have demonstrated in their work. The awards were presented at the University's annual staff appreciation breakfast May 7.
PROVIDENCE, R.I. -- Brown University honored 10 employees with Brown Says Thank You! awards on Thursday, May 7. Chosen from more than 60 nominees, the 10 winners were honored for the innovation, initiative, service and personal commitment they have demonstrated in their work at Brown.
The awards were presented by Brown University President E. Gordon Gee during the Brown Says Thank You! breakfast May 7, held annually to recognize the contributions and quality work performed by the University's support staff.
Muriel Bessette, Rumford, senior academic secretary, sociology. Bessette is responsible for the department's graduate student program. "Her interactions with students and prospective candidates have been wonderfully warm, supportive, encouraging and professional - always going beyond the regular aspects of her job. Having undergone surgery on Commencement weekend a few years ago, her concern for the graduating students was so great, she called from the hospital to make certain everything was all set."


Patricia Bianco, Warwick, senior administrative secretary, psychological services. Bianco "embodies everything we value in a Brown employee. She has been described as proactive, productive, dedicated and loyal. Work is more than a job for Pat. It's an extension of who she is - a caring and concerned member of this community who exemplifies the meaning of service. She has calmed upset parents and students in crisis, directing them through the system with patience and understanding."


Philip Bucci, Cranston, check-in attendant, athletics. Bucci "is the first person you meet entering the Olney Margolis Athletic Center. He carefully attends to each person's needs with grace, humor and just plain kindness. As one parent stated as he visited the Brown campus with his daughter, `If my daughter is fortunate enough to attend Brown, she is applying largely due to Phil's enthusiasm.' "


Denise Capoverde, Providence, administrative office assistant, athletics. When Capoverde was nominated, she worked in food services, where she was primarily responsible for payroll. She "managed timecards of the 120 hourly employees, 400 student workers and another 100 temporary workers, while tracking sick time, vacation time, medical forms and I-9 forms. In addition, she answered the non-stop phones and greeted walk-in customers. She did this every day with patience and competence while maintaining a cheerful disposition. Her team spirit and genuine caring for others is the very essence of Brown."


John Danenberg, Portsmouth, operations coordinator, ADIR-computing services. Danenberg's "positive attitude and personal commitment to Brown make him enjoyable to work with and a valuable team member. He quietly goes about putting in extra effort to help others succeed at their jobs and is always cheerfully ready to help with expected and unexpected problems. He will always resolve a problem with a thought to your best interest, not what is easiest or best for him."


Joanna Dumont, Fall River, Mass., administrative assistant, molecular biology, cell biology and biochemistry. "Highly valued for her competency and professional skills, Joanna single-handedly organized the admissions process for almost 200 applicants and the interviewing of 30 candidates for the largest graduate program in the BioMed Division. Due to her integrity, initiative, personal commitment and loyalty to Brown, she will have a lasting impact in improving the quality and efficiency of the admissions process in the future."


Carlene Fiorito, East Providence, data coordinator, purchasing. Fiorito "handles an average of 400 requisitions per week in addition to a plethora of contracts, government forms, quotations, bids and purchase orders. She has developed a training program for the Financial Record System and single-handedly trained all users of the on-line purchasing system. In a department that handles an estimated $89 million in purchases annually, she looks for new and better ways to simplify the business process."


Margaret "Peggy" Lippka, Warwick, administrative coordinator, English. Lippka "is indispensable in one of the English department's most demanding annual tasks - preparation of copy for the Course Announcement Bulletin. She has devised systems for helping the department maximize its enrollment potential. With more than 4,000 enrollments each year, the department is extremely grateful for her innovations in streamlining this process. Staff members, students and faculty are all the beneficiaries of her good will."


Lisa Manekofsky, Cranston, administrative manager, computer science. Manekofsky "meets the criterion of personal commitment which she demonstrated during a renewal site visit for the Science and Technology Center. She slipped down a flight of stairs but concealed her discomfort and maintained a calm exterior in the face of a stressful situation. It wasn't until later that she discovered she had torn several tendons in her foot. Her amazing strength of character, team spirit and loyalty to her job and her co-workers make her an outstanding representative of Brown."


Donna Silva, Providence, administrative assistant, BioMed-business affairs. Silva "deals with all the paperwork related to University payroll processing and BioMed record-keeping for 500 faculty and staff, 100 graduate students and 225 people on the miscellaneous and student payrolls. Her commitment and loyalty in dealing with challenging issues inspire admiration. She performs independently, working extra hours as necessary, putting out fires as they arise, meeting one impossible deadline after another."
######
97-123