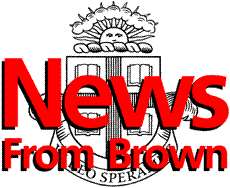 ---
The Brown University News Bureau
Contact: Kristen Lans

Commencement 1998
Commencement speakers include students and honored guests
New President E. Gordon Gee, theologian Margaret R. Miles, South African university chancellor Mamphela Ramphele and members of the Class of 1998 are among those who will speak during Brown's 230th Commencement Weekend, May 23-25.
PROVIDENCE, R.I. -- Continuing its long-standing tradition, Brown University will offer an array of speakers - including theologian Margaret R. Miles, South African university chancellor Mamphela Ramphele, and Dr. Henry J. Mankin - during its 230th Commencement Weekend. In addition, several members of the Brown community, including Brown's 17th President E. Gordon Gee, senior orators Daniel Massey and Katherine Eckstein, faculty member Dr. Kevin Vigilante, graduating medical student Carolyn Greene and graduating doctoral student Charlotte Manly, will speak.
E. Gordon Gee
Brown's new President E. Gordon Gee will give his inaugural address at 11:30 a.m., Saturday, May 23, on The College Green, during a ceremony installing him as 17th president of the University.
Named June 27, 1997, as president-elect of Brown, Gee is a well-known national advocate for higher education. He is chair of the Association of American Universities and past president of The Ohio State University, University of Colorado and West Virginia University.
Gee, 54, was born and raised in Vernal, Utah, where he was valedictorian of his 150-person high school class and president of the student body. He earned a bachelor's degree in history from the University of Utah in 1968 and a law degree and doctorate in education from Columbia University in 1971 and 1972, respectively. He became one of the country's youngest college presidents when he assumed leadership of West Virginia University in 1981 at the age of 37.
Margaret R. Miles
Margaret R. Miles, a leader in theological education, will present this year's baccalaureate address at 1:30 p.m. Sunday, May 24, in the Meeting House of the First Baptist Church of America. Her talk is titled "Short Beds and Narrow Sheets" - a metaphor for inadequate religious orientation - will be about religion in pluralistic America. Because seating is limited, only graduating seniors will be admitted into the church. The service will be telecast on a large video screen on The College Green so that parents, friends and guests may listen and watch. The rain site for the telecast is the Salomon Center for Teaching.
Miles is dean and vice president for academic affairs at the Graduate Theological Union at Berkeley, a consortium of nine Protestant and Roman Catholic seminaries. Before moving to Berkeley in 1996, Miles was Bussey Professor of Historical Theology at Harvard Divinity School, the first woman to hold a full professorship on that faculty. "She has devoted herself to what we do best at Brown, which is teaching," said Janet Cooper Nelson, Brown University chaplain. "She cares very much for the life of the mind."
Her most recent books include Reading for Life: Beauty, Pluralism and Responsibility; Seeing and Believing: Religion and Values in the Movies; Desire and Delight: A new reading of Augustine's Confessions; and Carnal Knowing: Female Nakedness and Religious Meaning in the Christian West. In 1998-99 she will be president of the American Academy of Religion.
Mamphela Ramphele
Mamphela Ramphele, vice chancellor of the University of Cape Town in South Africa, will deliver a Stephen A. Ogden Jr. Lecture on International Affairs at 3:30 p.m. Saturday, May 23, in Room 101 of the Salomon Center for Teaching. Her address takes its title from one of her books, Across Boundaries: A Journey of a South African Woman, and will be simulcast on The College Green. The lecture is free and open to the public.
Ramphele is the first black person and the first female to hold the university's highest office. She was one of the founders, with the slain leader Stephen Biko, of South Africa's Black Consciousness movement in the 1960s, which held that blacks must be the leaders in their own liberation movement. She was elected vice chancellor of the University of Cape Town in 1995. In post-apartheid South Africa, the school which for decades only served white students, is now 45 percent black.
Student Orators: Daniel Massey and Katherine Eckstein
Continuing a Brown Commencement tradition, two members of the Class of 1998 - Daniel Massey and Katherine Eckstein - will deliver senior orations to their classmates during the College Convocation at 10:15 a.m. Monday, May 25, in the Meeting House of the First Baptist Church in America. The orators were chosen from a pool of 58 applicants by a committee of faculty and students. Because the Meeting House accommodates only members of the graduating class, the orations will be simulcast to The College Green, where parents, friends and guests of the University will gather. The rain site for the simulcast is the Salomon Center for Teaching.
Massey's address, "Nation Building, Nation Reconstructing: History, Memory, and Social Change in the U.S. and South Africa," will discuss his experiences as an exchange student in South Africa and the story of his own participation as a young boy in the struggle for social change. He will challenge classmates to look at how the United States defines its history and how its citizens think about social change in comparison to South Africa.
Massey's interest in issues of social change was sparked as a young boy living in the Bronx, N.Y. He remembers when his parents took him as a 10-year-old on a march in Queens to protest the death of a black man who was chased into traffic by a group of whites. Massey, who is white, remembers being ridiculed by other whites during the protest march, and chanting back "Howard Beach have you heard, this is not Johannesburg."
A concentrator in African-American Studies and American Civilization, Massey, 22, studied at Fort Hare in South Africa during his junior year. He plans to return there after graduation to study the University's role in the liberation movement. Massey's trip will be funded by Brown's prestigious Arnold Fellowship, which is awarded to students interested in independent learning experiences. While at Brown, Massey helped found the Student Labor Alliance (SLA) and announced hockey and basketball games for WBSR-FM, the student radio station.
Eckstein will deliver an address titled "Lessons from Brown: I am Because We Are," in which she will explore the responsibility humans have for each other. "We have to make decisions about community and our responsibility," said Eckstein, adding that responsibility necessitates action.
A public policy concentrator with a focus in education and child welfare, Eckstein, 22, of Phoenix, Ariz., plans to spend a year in Mexico following graduation, in order to become proficient in the Spanish language. She expects to return to school for a master's in teaching and to pursue a career teaching bilingual children.
While at Brown, Eckstein spent a semester at Tougaloo College in Jackson, Miss., and a semester in the Urban Education program in New York. The latter program allowed her to teach third-grade in a public school while taking courses at night at a local college. Also at Brown, Eckstein tutored adults studying to take the high school equivalency exam through a program at the Howard R. Swearer Center for Public Service.
Medical School: Dr. Henry Mankin, Dr. Kevin Vigilante, Carolyn Greene, M.D. '98
Dr. Henry J. Mankin, chairman emeritus of the Department of Orthopaedics at Harvard Medical School, will speak in the Brown University School of Medicine's Commencement Convocation which begins at 8:45 a.m. Monday, May 25, in the First Unitarian Church, Benefit and Benevolent Streets. Mankin's speech is titled "Will We Lose Academics in the Managed Care World?"
Mankin is the Edith M. Ashley Professor of Orthopaedic Surgery at the Harvard Medical School, a visiting orthopaedic surgeon at Massachusetts General Hospital and lecturer in orthopaedic surgery at Tufts University School of Medicine. Among his activities, Mankin serves as a consultant to the National Institutes of Health Clinical Center, as chairman of the Massachusetts General Hospital Cancer Affairs Committee, and as associate editor of the Journal of Orthopaedic Research.
Dr. Kevin C. Vigilante, clinical associate professor of medicine, will deliver the faculty address titled "Medicine, Politics and the Good Life." Vigilante is director of the women's HIV program at Miriam Hospital in Providence and has appointments on the Consensus Group on Health Care Reform and the AIDS Action Council, both of Washington, D.C., as well as the Community Prep School Long Range Planning Committee and Department of Corrections Community Advisory Board for Female Offenders.
Carolyn Greene, selected as this year's medical class speaker, will present remarks titled "Hope, Humor and Humility: Shedding the Short, White Coat Without Losing the Ideals." Greene received her undergraduate degree from Yale University in English. She will do her residency in internal medicine at the University of California-San Francisco.
Graduate School: Charlotte Manly
The Brown University Graduate School Commencement Convocation will feature an address by doctoral candidate Charlotte Manly at 9:15 a.m. Monday, May 26, in Lincoln Field. In case of rain the ceremony is scheduled for the Pizzitola Sports Center. The address is titled "On Not Losing Heart."

Manly will discuss the reasons people do and do not finish their dissertations. "Neither brains nor hard work can guarantee that you do," said Manly. Support along the way is crucial Manly will receive a Ph.D. in cognitive and linguistic sciences and will go on to study brain-damaged patients on a post-doctoral fellowship at the National Institutes of Health.

######
97-128