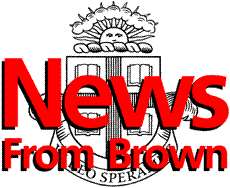 ---
The Brown University News Bureau
Contact: Mark Nickel

Public opinion survey
Voters oppose casino; Almond opens lead over York in governor's race
A survey of 357 Rhode Islanders conducted May 16-18, 1998, finds voters oppose casino gambling in Providence. Gov. Lincoln Almond and Treasurer Nancy Mayer lead in their races for governor and attorney general. Reps. Kennedy and Weygand have big leads over their opponents. Rhode Islanders are optimistic about the economy.
PROVIDENCE, R.I. -- Voters oppose a proposal by the Narragansett Indian Tribe to build a gambling casino in Providence by a 53 to 42 percent margin, according to a recent statewide survey. In addition, on the strength of an improving economy, Gov. Lincoln Almond has opened a significant lead over his Democratic opponent Myrth York. State Treasurer Nancy Mayer is ahead of her Democratic rivals for attorney general.
The survey was conducted May 16-18, 1998, at Brown University by Darrell M. West, professor of political science and director of the John Hazen White Sr. Public Opinion Laboratory; Thomas J. Anton, director of the A. Alfred Taubman Center for Public Policy and American Institutions; and Jack Combs, the Center's research administrator. It was based on a statewide random sample of 357 registered voters in Rhode Island. Overall, it had a margin of error of about plus or minus five percentage points.
In addition to overall views about the construction of this casino, the survey inquired about voter beliefs regarding how a casino would affect the state. Voter impressions are listed below with the percentage of those who felt particular ways about a casino.
Views about a Gambling Casino

cause people to bet money they can't afford to bet: 75%
create more gambling addicts: 68%
boost tourism in the state: 65%
create meaningful jobs: 58%
benefit the Rhode Island economy: 55%
increase crime rates: 53%
raise the level of organized crime activity in the state: 51%
help reduce taxes: 50%
would worry if an out-of-state corporation in the gambling
industry financed the construction of this casino: 47%
reduce revenues the state gets from its Lottery: 41%
improve funding for education: 40%
hurt Rhode Island's image outside the state: 30%
is morally wrong: 24%
In the governor's race, Almond has opened a lead over his rivals. When asked whom they would prefer if the election were held today, 40 percent named Almond, 32 percent said York, 9 percent named Cool Moose Party candidate Robert Healey, 1 percent cited either Reform Party candidate Don Gil or John Devine, and 18 percent were undecided. In January, 37 percent named York, 35 percent said Almond, 9 percent named Cool Moose party candidate Robert Healey, and 19 percent were undecided
State Treasurer Nancy Mayer holds a comfortable advantage over each of her three possible Democratic opponents for attorney general. She leads former U.S. Attorney Sheldon Whitehouse 51 to 28 percent, lawyer Eva Mancuso 58 to 20 percent, and General Assembly lawyer Bill Guglietta 63 to 11 percent.
In the First District Congressional race, Rep. Patrick Kennedy leads Republican Ron Santa 59 to 19 percent among district voters, with 22 percent undecided. In January, Kennedy was ahead of Santa by 60 to 21 percent, with 19 percent undecided.
In the Second District race, Rep. Robert Weygand is supported by 54 percent, compared to 13 percent for Republican John Matson, 5 percent for Reform party candidate Tim Miller. Twenty-eight percent were undecided.
In the race for lieutenant governor, incumbent Bernard Jackvony trails Democratic State Sen. Charles Fogarty by 39 to 29 percent. In January, Fogarty led 37 to 21 percent.
In the election for treasurer, Democrat Paul Tavares is virtually tied with Republican Christine Callahan. Twenty-six percent support her, 24 percent support him, and 7 percent favor Reform Party candidate Victor Moffitt. Tavares leads Republican Jim Bennett by 26 to 20 percent, with Moffitt trailing at 8 percent.
President Bill Clinton continues to receive positive job performance ratings from Rhode Island voters. Sixty-four percent give him excellent or good ratings, 21 percent say his performance has been only fair, 12 percent rate him poor, and 3 percent offered no opinion. In January, 59 percent rated him excellent or good in handling his job.
In other results, Almond has the highest job performance of his term. Fifty-four percent give him excellent or good ratings, 30 percent rate him only fair, 12 percent rate him poor, and 4 percent have no opinion. In a previous survey, 43 percent felt his performance had been excellent or good, 36 percent believed it has been only fair, 16 percent rated him poor, and 5 percent had no opinion.
Jackvony's numbers are up a little. Thirty-three percent feel he is doing an excellent or good job as lieutenant governor (up from 28 percent in January), 24 percent rate him only fair, 4 percent give him poor marks, and 39 percent are undecided in their opinions.
Sixty-nine percent believe Attorney General Jeff Pine is doing an excellent or good job, up from 64 percent in January. Sixty-two percent feel Secretary of State Jim Langevin's performance has been excellent or good, up from 54 in the last survey. Seventy-eight percent believe Mayer's performance as state treasurer has been excellent or good, up from 68 percent in January.
In regard to federal officials, 69 percent believe Sen. John Chafee is doing an excellent or good job (up from 62 percent). These numbers compare to 70 percent for Sen. Jack Reed (up from 67 percent), 58 percent for Kennedy (up from 53 percent), and 62 percent for Weygand (up from 49 percent last January).
The Index of Consumer Sentiment for Rhode Island this month reached a high point for this decade. The May reading is 102.9, up from the last reading of 100.1 in January. This index is modeled after the national index developed at the University of Michigan. It is based on five questions measuring views about the economy and is used to determine over time how optimistic or pessimistic people are feeling. The January 1998 figure is the highest reading the state has had since 1992:
September 1997
91.6
September 1994
82.7
June 1997
87.1
July 1994
80.1
February 1997
87.0
February 1994
81.0
September 1996
82.3
September 1993
74.4
June 1996
78.5
July 1993
69.8
February 1996
74.3
February 1993
76.0
September 1995
73.9
September 1992
68.3
June 1995
68.8
June 1992
76.0
February 1995
81.4
The "right direction" number is also at its high point in this decade. Seventy percent believe the state is headed in the right direction (up from 63 percent in January), while 21 percent think it is off on the wrong track.
For more information, contact Darrell M. West at (401) 863-1163.
Questions and responses
If the election for the first congressional district were held today, would you vote for the Republican Ron Santa or Democrat Patrick Kennedy? 19% Santa, 59% Kennedy, 22% don't know or no answer (First District only)
If the election for the second congressional district were held today, would you vote for Republican John Matson, Democrat Robert Weygand, or the Reform party candidate Tim Miller? 13% Matson, 54% Weygand, 5% Miller, 28% don't know or no answer (Second District only)
If the election for governor were held today, would you vote for the Republican Lincoln Almond, Democrat Myrth York, Cool Moose party candidate Robert Healey, or Reform party candidates Don Gil or John Devine? 40% Almond, 32% York, 9% Healey, 1% Gil or Devine, 18% don't know or no answer
If the election for lieutenant governor were held today, would you vote for the Republican
Bernard Jackvony or Democrat Charles Fogarty? 29% Jackvony, 39% Fogarty, 38% don't know or no answer
If the election for attorney general were held today, would you vote for the Republican
Nancy Mayer or Democrat Sheldon Whitehouse? 51% Mayer, 28% Whitehouse, 21% don't know or no answer
If the election for attorney general were held today, would you vote for the Republican
Nancy Mayer or Democrat Eva Mancuso? 58% Mayer, 20% Mancuso, 22% don't know or no answer
If the election for attorney general were held today, would you vote for the Republican
Nancy Mayer or Democrat Bill Guglietta? 63% Mayer, 11% Guglietta, 26% don't know or no answer
If the election for secretary of state were held today, would you vote for Republican Edward Lopez or Democrat James Langevin? 15% Lopez, 59% Langevin, 26% don't know or no answer
If the election for treasurer were held today, would you vote for the Republican
Christine Callahan, Democrat Paul Tavares, or Reform Party candidate Victor Moffitt? 26% Callahan, 24% Tavares, 7% Moffitt, 43% don't know or no answer
If the election for treasurer were held today, would you vote for the Republican
Jim Bennett, Democrat Paul Tavares, or Reform Party candidate Victor Moffitt? 20% Bennett, 26% Tavares, 8% Moffitt, 46% don't know or no answer
We are interested in how people are getting along financially these days. Would you say that you (and your family living there) are: 46% better off, 21% worse off financially than you were a year ago, 33% don't know or no answer
Now looking ahead - do you think that a year from now you (and your family living there) will be: 30% better off financially, 9% worse off, 55% just about the same as now, 6% don't know or no answer
Now turning to business conditions in the state as a whole - do you think that during the next twelve months we'll have: 63% good times financially, 16% bad times, 21% don't know or no answer
Looking ahead, which would you say is more likely - that in the state as a whole: 54% we'll have continuous good times during the next five years or so, 26% that we will have periods of widespread unemployment or depression, or what, 20% don't know or no answer
About the big things people buy for their homes - such as furniture, a refrigerator, stove, television, and things like that. Generally speaking, do you think now is a: 70% good, 9% bad time for people to buy major household items, 21% don't know or no answer
How would you rate the job Bill Clinton is doing as president? 18% excellent, 46% good, 21% only fair, 12% poor, 3% don't know or no answer
How would you rate the job John Chafee is doing as U.S. Senator? 16% excellent, 53% good, 20% only fair, 3% poor, 8% don't know or no answer
How would you rate the job Jack Reed is doing as U.S. Senator? 15% excellent, 55% good, 16% only fair, 4% poor, 10% don't know or no answer
How would you rate the job Patrick Kennedy is doing as U.S. Representative? 12% excellent, 46% good, 19% only fair, 14% poor, 9% don't know or no answer
How would you rate the job Robert Weygand is doing as U.S. Representative? 8% excellent, 54% good, 16% only fair, 2% poor, 20% don't know or no answer
How would you rate the job Lincoln Almond is doing as governor? 8% excellent, 46% good, 30% only fair, 12% poor, 4% don't know or no answer
How would you rate the job Bernard Jackvony is doing as lieutenant governor? 3% excellent, 30% good, 24% only fair, 4% poor, 39% don't know or no answer
How would you rate the job Jeff Pine is doing as attorney general? 17% excellent, 52% good, 16% only fair, 7% poor, 8% don't know or no answer
How would you rate the job Jim Langevin is doing as secretary of state? 19% excellent, 43% good, 12% only fair, 1% poor, 25% don't know or no answer
How would you rate the job Nancy Mayer is doing as general treasurer? 25% excellent, 53% good, 9% only fair, 1% poor, 12% don't know or no answer
Generally speaking, would you say things in Rhode Island are going in the right direction, or have they gotten off on the wrong track? 70% right direction, 21% wrong track, 9% don't know or no answer
There has been a proposal by the Narragansett Indian tribe to build a gambling casino in Providence. Do you favor or oppose the construction of this gambling casino? 42% favor, 53% oppose, 5% don't know or no answer
Do you believe a gambling casino would:
benefit the Rhode Island economy? 55% yes, 39% no, 6% don't know or no answer
hurt Rhode Island's image outside the state? 30% yes, 63% no, 7% don't know or no answer
boost tourism in the state? 65% yes, 29% no, 6% don't know or no answer
increase crime rates? 53% yes, 40% no, 7% don't know or no answer
create meaningful jobs? 58% yes, 37% no, 5% don't know or no answer
cause people to bet money they can't afford to bet? 75% yes, 20% no, 5% don't know or no answer
help reduce taxes? 50% yes, 37% no, 13% don't know or no answer
reduce revenues the state gets from its Lottery? 41% yes, 41% no, 18% don't know or no answer
create more gambling addicts? 68% yes, 28% no, 14% don't know or no answer
improve funding for education? 40% yes, 44% no, 16% don't know or no answer
raise the level of organized crime activity in the state? 51% yes, 41% no, 8% don't know or no answer
be morally wrong? 24% yes, 67% no, 9% don't know or no answer
Would it worry you if an out-of-state corporation in the gambling industry financed the construction of this casino? 47% yes, 43% no, 10% don't know or no answer

######
97-132