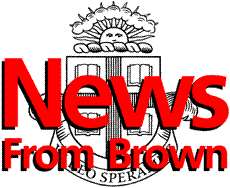 ---
The Brown University News Bureau
Contact: Kristen Lans

Starting this summer
Federal grant propels Brown program for teachers to the national level
A $345,000 grant from the National Endowment for the Humanities and a matching $75,000 award from Brown will for the next two years expand nationally a program that creates teaching partnerships between high school and college educators.
PROVIDENCE, R.I. -- A Brown University program that creates teaching partnerships between high school and college educators recently received $345,000 from the National Endowment for the Humanities (NEH) and a matching $75,000 from the University to expand nationally for the next two years.
The program, called Text and Teachers, brings together college and high school educators from the same geographic area for instruction on how to collaborate on courses that can be taught concurrently at both academic levels. When the educators return to their schools, they begin the new courses, periodically teaching their partners' classes and holding joint sessions with the high school and college students.
The scope of the program will expand from local to national this summer with seminars involving educators from Massachusetts, Connecticut, New Hampshire and Missouri, scheduled June 21 - July 3, and June 28 - July 10 at Brown University. Next summer educators are expected from Pennsylvania, Tennessee and Washington.
During the two-week seminars educators will learn how to teach model courses that combine disciplines and are challenging to both age levels. They will be led by Text and Teachers program co-directors Edward Ahearn and Arnold Weinstein, Brown professors of comparative literature.
Each of the four teams scheduled to participate will consist of two college or university professors and four teachers from a pair of high schools. The educators will receive a stipend for attending the summer seminar and team teaching the course during the year.
Since Text and Teachers began in 1988 under Weinstein's leadership it has been available to Brown University professors and area high school teachers, but funding to make it available nationally was sufficient for only two years, 1993 and 1994.
In its bid to expand nationally again the program faced stiff competition for NEH funding, said Janet Ray Edwards, a program officer. The application for Text and Teachers was among 211 submitted to the NEH in the category of education development demonstration programs and only 25 - 12 percent - were funded.
"The panelists who reviewed it felt that it was a model for education reform," said Edwards. "They liked the commitment to outreach from Brown University ... from the president on down."
Text and Teachers is an example of Brown's mission, as stated by President E. Gordon Gee, to be a private university with a public purpose, said Ahearn. While the national expansion is occurring, the program will continue to be offered at the local level with funding from the University.
Teams of universities and high schools to participate in seminars this summer include:
Boston College, Boston, Mass., with Thayer Academy in Braintree, Mass., and Southbridge High School in Southbridge, Mass.
Smith College, Northampton, Mass., with Mohawk Trail Regional High School in Shelburne Falls, Mass., and Windsor Park High School in Windsor, Ct.
Washington University, St. Louis, Mo., with Crossroads and Clayton high schools in St. Louis.
Wellesley College, Wellesley Mass., with Needham High School in Needham, Mass., and St. Paul's School in Concord, N.H.
Editors: Names of individual program contacts at any of the schools are available from Kristen Lans in the News Bureau at (401) 863-2476.

######
97-137