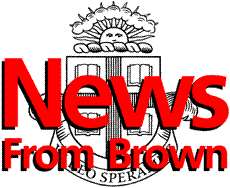 ---
The Brown University News Bureau
Contact: Kristen Lans

Brown hosts benefit for program that wires public schools to the Internet
Rhode Island K-12 students will demonstrate projects using the Internet during a fund-raiser for TECH CORPS Rhode Island, a non-profit organization devoted to wiring schools for Internet access. Brown President E. Gordon Gee will host the event on Thursday, May 28, from 6 to 8 p.m. at Brown's Center for Information Technology, corner of Waterman and Thayer streets. A $50 donation is requested.
PROVIDENCE, R.I. -- Brown University President E. Gordon Gee will host a fund-raiser for TECH CORPS Rhode Island, a non-profit organization devoted to wiring public schools for Internet capability, on Thursday, May 28, from 6 to 8 p.m. in the Center for Information Technology (CIT), 115 Waterman St.
The "Web Night" fund-raiser celebrates two years of volunteer efforts by businesses and universities that wired 55 Rhode Island K-12 schools with infrastructure to access high-speed Internet lines. Funds raised will ensure the program's continuance.
Hosting the event with Gee are Patrick Canning, partner at KPMG Peat Marwick LLP, a TECH CORPS sponsor, and Rodger B. Dowdell Jr., CEO and president of American Power Conversion and chairman of the non-profit organization.
Expected speakers include John Gage, co-founder of Sun Microsystems and a supporter of programs that connect schools to the Internet, and Evan Schwartz, author of the best seller Webonomics.
The event will include computer demonstrations by students from 10 Rhode Island schools. TECH CORPS will also raffle off two desktop computers to the participating schools during the fund-raiser.
Brown has supported TECH CORPS Rhode Island with donations of service and equipment. Employees in Computing and Information Services have volunteered their time to wire three schools in Providence - William D'Abate School, Harold Birch Vocational Center and Oliver Hazard Perry Middle School - and the University has donated more than $10,000 in computer equipment and supplies to those schools.
Corporate sponsors include Amica Mutual Insurance Company, American Power Conversion, AT&T, Bell Atlantic, Cherry Semiconductor, Cox Communications, Hasbro Charitable Trust, Johnson & Wales University.
Students from the following schools will demonstrate these projects during the event:
Colt Elementary School and Toll Gate High School, Bristol and Warren: "Electronic Mentoring." Toll Gate High School students created an electronic reading and writing mentoring program with pupils in grade 5 at the elementary school.
Richmond School, in the Chairho district: "Sands of the World." Grade 4 classes analyzed sand samples from around the world by using the Internet.
Glen Hills Elementary School, Cranston: "Rhonda Rhody's R.I. Ramble." Grade 2 students used the Internet to learn about maps and geographical terms by tracking a fictitious chicken on visits to elementary schools around the state.
Narragansett Elementary School, Narragansett, "Great Book Reviews Website." K-4 students submitted reviews of books they had read to Grade 3 students who posted them on the Internet.
Davisville Middle School, North Kingstown: "This is Our Town." Grade 7 students researched the town of North Kingstown and posted information on a Web site.
Davisville Middle School, North Kingstown: "Landmark Game." Grade 7 students joined those at 47 other schools in a game of naming worldwide landmarks by using clues on a Web site.
Tolman High School, Pawtucket: "Cyberfair '98." Grade 10 students participated in a global-learning project by researching the community and posting their findings on the Web.
Ezekiel Holliman Elementary School, Warwick: "Monarch Watching." Students in grades 1-6 followed the migration pattern of Monarch butterflies through weekly updates on a Web site.
South Kingstown High School, South Kingstown: "Earth System Science." High school students accessed satellite data on the Internet as part of physics course.
Charles N. Fortes Elementary School, Providence: "Exploring the Continents." Students participate in simulated explorer expedition using National Geographic's Web site to travel to various continents and learn geography and culture.
######
97-138a