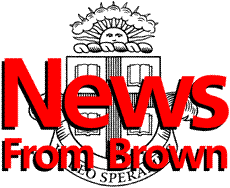 ---
The Brown University News Bureau
Contact: Scott Turner or Carol Morton

Story ideas and expert sources in health and medicine
Doctors not providing best care for preventing heart attacks, study finds
Less than half the people with high cholesterol and coronary artery disease receive recommended advice and medication to aggressively manage risky cholesterol levels, says Charles Eaton, M.D., of Brown University. Published in the May issue of the Journal of the American Board of Family Practice, Eaton's study provides the first national cross-sectional study of cholesterol testing and management among different medical practices. Family physicians, general internists and cardiologists in the study were providing sub-optimal care for more than half their patients. Even fewer patients received cholesterol screening tests at annual exams. Healthy people need a cholesterol test every five years; men over 45 and postmenopausal women need full lipid panels every other year. Talk to your doctor about treatment if: your cholesterol level is over 200, high density lipoprotein (HDL) level is less than 35, or if your low-density lipoprotein (LDL) level tops 100 (for people with heart disease) or 160 (in healthy people).
News Bureau: Carol Cruzan Morton, (401) 863-2476, [email protected]
Media contact: Charles Eaton, (401) 729-2625
More information: http://www.brown.edu/Administration/News_Bureau/1998-99/98-004i.html
No excuse for untreated pain in terminally ill patients
Informed patients who expect pain relief and know how to request it are more likely to have better pain control. So says an editorial accompanying a study in the June 17 issue of the Journal of the American Medical Association that showed daily pain among elderly nursing home residents with cancer was widespread and often untreated. Giovanni Gambassi, M.D., of Brown University and his colleagues examined data on 13,625 cancer patients aged 65 and older. In total, 4,003 patients reported daily pain. Of those, 16 percent received a simple analgesic, 32 percent received codeine or other weak opioids, and 26 percent received morphine. That left 26 percent of patients with daily pain who received no analgesics, not even aspirin. Patients older than 85 years in daily pain were about 50 percent less likely to receive analgesic than those aged 65 to 74 years. African Americans were 50 percent less likely than whites to receive analgesics. There is no acceptable excuse for not treating pain appropriately in terminally ill patients, Gambassi says.
News Bureau: Scott Turner, (401) 863-2476, [email protected]
Media contacts: Giovanni Gambassi, M.D., (401) 863-3211, [email protected]
Vincent Mor, co-author, (401) 836-3490, [email protected]
More information: http://www.brown.edu/Administration/News_Bureau/1997-98/97-144.html
Tips to help patients make the most of talks with their doctors
Although managed care may limit time with physicians, patients can make the most of visits by following a few tips offered by Brown University experts Michele Cyr, Carol Landau and Anne Moulton, co-authors of The Complete Book of Menopause. When you schedule an appointment, ask for additional time to talk with the physician about some of your concerns. When you check in, remind the staff that you requested more time during this visit. Alternately, write the doctor before the appointment about the subject you would like to discuss so that the doctor can consider the issue ahead of time and do any necessary research. Make a list of your questions before the appointment. Raise your concerns and questions at the start of the visit, instead of leaving important issues until the end. Finally, remember the doctor is not the only source of information about issues of health. Support groups and newsletters can be helpful in specific areas.
News Bureau: Kristen Lans, (401) 863-2476, [email protected]
Media contact: Carol Landau, clinical professor of Psychiatry and Human Behavior, (401) 273-2828.
Too much exercise may put some at risk for the eating disorder bulimia
Most people don't exercise enough, but some people's exercise obsessions may indicate an eating disorder known as bulimia nervosa - or the beginnings of a problem. In a study of 80 women in Providence, Boston and Seattle, psychologist Nancy Barnett found a clear continuum of psychological distress across four groups: women without eating disorders; women who exercised frequently; bulimic women who exercised; women with severe bulimia. A disorder primarily affecting women, bulimia consists of regular binge eating, then vomiting, fasting or exercising to control weight gain. In Barnett's study, women who exercised five or more days a week for an hour a day and reported a compulsion to exercise also had a tendency to diet, a preference to be thin and a general feeling of unhappiness. "People see two groups, one that vomits and one that exercises. They look at the first group and think that's `unhealthy' and then look at the exercisers and think that's `healthy,'" Barnett says. "In reality, exercise could be unhealthy for some women who engage in it to extremes." The findings come from Barnett's doctoral dissertation at the University of Washington. Now a postdoctoral fellow at Brown University's Center for Alcohol and Addiction Studies, Barnett will present her work at the Association for the Advancement of Behavior Therapy meeting in Washington D.C. in November.
News Bureau: Carol Cruzan Morton, (401) 863-2476, [email protected]
Media contact: Nancy Barnett, (401) 444-1852, [email protected]
Doctors prescribe education, community sponsors for children of jailed parents
An excellent education is the best medicine for children caught in lives where poverty, homelessness, drug use and domestic violence are second nature, say two Brown doctors. In 1996, Kevin Vigilante and Tim Flanigan created Rhode Islanders Sponsoring Education (RISE). Under RISE, the children of women who have been incarcerated or addicted are enrolled in well-regarded local private or parochial middle schools. Sponsors, recruited by RISE, pay all or part of a child's tuition for four years. Sponsors may also act as mentors or RISE will provide mentors. In the upcoming school year, 54 RISE sponsors will support 56 children. Brown students, working under the direction of faculty in education, pediatrics, psychiatry and psychology, recently began a study of how RISE affects the academic and social performance of young people and the activities of their mothers.

News Bureau: Scott Turner, (401) 863-2476, [email protected]
Media contact: Kristen Haffenreffer Moran, (401) 421-2010
More information: http://www.brown.edu/Administration/BCB/RISE.html

######
98-004