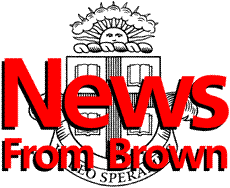 ---
The Brown University News Bureau
Contact: Mark Nickel

Brown's Police and Security Services receives national accreditation
The Department of Police and Security Services at Brown University has received national accreditation from the Commission on Accreditation for Law Enforcement Agencies (CALEA). It is the first Ivy League police department and the third police department in Rhode Island to receive accreditation.
PROVIDENCE, R.I. -- Brown University's Department of Police and Security Services has received national accreditation from the Commission on Accreditation for Law Enforcement Agencies (CALEA). The accreditation, which certifies that Brown complies with CALEA's national standards for law enforcement agencies, was granted Saturday, Aug. 1, 1998, at CALEA's national meeting in Hershey, Pa.
"On behalf of the 10,000 faculty, staff and students who live and work at Brown, I congratulate Col. Paul Verrecchia and the 74 officers and staff of Police and Security on this achievement," said Brown President E. Gordon Gee. "Their professionalism and the department's strong emphasis on community involvement have earned them the respect of the citizens of this campus and have helped make Brown a safe, supportive and pleasant place for learning."
Of more than 17,000 law enforcement agencies nationwide, approximately 450 have received accreditation, including 20 campus agencies. Brown is the first Ivy League university and the only campus in the Northeast to receive accreditation. (The nearest accredited campus police are at the University of Maryland to the south and Kent State University to the west.) Two other Rhode Island police departments are accredited: the Rhode Island State Police and the Warwick Police Department.
Preparations for accreditation began four years ago under Chief Dennis Boucher, Verrecchia's predecessor. The department overhauled many of its internal systems, created or revised written policies, instituted a written directive system, and dramatically increased the professionalism of the force through an upgraded training program, specialized training, improved communications systems, even redesigned uniforms and patrol car markings.
Under Verrecchia, who was sworn in as chief in January 1997, the department continued its improvements and its emphasis on outreach to the campus community. The CALEA examination team cited two community programs as exemplary: The Special Services Unit, managed by Alioune Cissoko, which addresses issues of minority students, cultural awareness and mediation, and the Campus Community Police and Security Committee, which gives faculty, students and staff direct, effective input on issues of campus safety.
Sgt. Cheryl Ferreira managed the accreditation process, which required Brown to demonstrate compliance with 436 standards on issues from management and labor relations to evidence handling and relationships with other law enforcement agencies.
"In pursuing national accreditation, Police and Security Services has learned a great deal about itself and its role in the community it serves," said Walter Holmes, vice president for administration. "I am proud of this achievement and the professional recognition it represents."
CALEA accreditation must be renewed every three years.
Brown Police and Security Services
The Brown University Department of Police and Security Services is authorized for a full-time staff of 74. Currently, the staff includes 25 sworn police officers, 20 security officers, 10 building guards, nine communications officers and 10 staff members for administration and campus parking. Brown's police officers are licensed by the Rhode Island State Police and have full arrest powers. Although they are trained and licensed, Brown's police do not carry firearms.
Brown Police and Security has jurisdiction on the University campus and adjacent streets and shares jurisdiction with the Providence Police Department, with which it has a strong and effective working relationship. Brown's officers patrol campus in a proactive manner with an emphasis on crime awareness, crime prevention and community cooperation. The department manages student-operated shuttle and escort services during the academic year.
Administratively, the department reports through the vice president of administration to the executive vice president for finance and administration. Additional information about the department's policies and services is available from the department's web site: www.brown.edu/Administration/Police_Security/
Commission on Accreditation for Law Enforcement Agencies
The Commission on Accreditation for Law Enforcement Agencies (CALEA) was conceived in 1979 by the International Association of Chiefs of Police (IACP), the National Organization of Black Law Enforcement Executives (NOBLE), the National Sheriffs' Association, and the Police Executive Research Forum (PERF), who envisioned a voluntary process of "evolutionary, systemic change for law enforcement ... a process that would unite rank-and-file toward a common goal [to] provide communities with standards for measuring agency performance ... a process that would recognize the limits of law enforcement responsibility and authority."

In addition, CALEA founders sought a vehicle that would "facilitate public approval and acceptance of law enforcement policies, practices and procedures."

The commission is composed of 21 members: at least 11 law enforcement professionals, and the balance from other governmental areas or the private sector. More information regarding CALEA is available by mail: CALEA, 10306 Eaton Place, Suite 320, Fairfax, Va., 22030-2201; or by phone (800) 368-3757 or (703) 352-4225. CALEA also maintains a web site on the Internet at www.calea.org

######
98-008