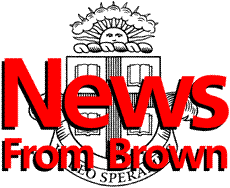 ---
The Brown University News Bureau
Contact: Tracie Sweeney

Simmons named director of Annenberg Institute for School Reform
Warren Simmons, executive director of the Philadelphia Education Fund, has been named the director of the Annenberg Institute for Education Reform, based at Brown University.
PROVIDENCE, R.I. -- Warren Simmons, executive director of the Philadelphia Education Fund, has been named director of the Annenberg Institute for School Reform at Brown University. The announcement was made Thursday, Sept. 24, 1998, by Brown University President E. Gordon Gee.
"Time and again, Warren Simmons has skillfully led teachers, administrators, parents and others through the challenging terrain of education reform," said Gee. "He brings to this University and the Annenberg Institute a concern for equity and a talent for implementing new initiatives by building consensus among a variety of constituencies. We are fortunate that he has accepted the offer to come to Providence and continue the crucial process of national school reform."
"I am deeply honored to lead the Annenberg Institute for School Reform," said Simmons. "The Institute has the resources and the mission to become a powerful beacon in the national search for ways to improve education for poor and minority students. I intend to do everything I can to help the Institute forge closer relations with the Annenberg Challenge, the Education Alliance and the education department at Brown to draw important lessons from these endeavors that will advance systemic reform and promote learning for all students.
"While there are difficult challenges ahead," Simmons continued, "I am confident that by building partnerships with organizations at Brown and with local and national education reform efforts, the Institute can fulfill its mission, which is now more important than ever."
Simmons, who begins his new position later this fall, succeeds Theodore Sizer, a Brown professor of education who retired from the University and as the Institute's director in 1996.
Simmons has been executive director of the Philadelphia Education Fund since 1995. The fund collaborates with the school district of Philadelphia, local business, higher education, national organizations and the broader community to support the city's efforts at public school school reform. The organization provides technical assistance and professional development to advance teacher, principal and central office expertise in academic standards and the implications of those standards for curriculum, instruction, assessment and school organization.
Since 1978, Simmons' work has focused on ways to improve literacy for people of all ages, from low-income preschool children through soldiers in the U.S. Army. He takes particular interest in advancing the literacy skills of elementary school children from minority groups and for children whose first language is not English. School districts throughout the mid-Atlantic states have benefitted from his research and direction, as have several education organizations in Washington, D.C.
Simmons received a bachelor's degree in psychology from Macalester College in 1973, and received his doctorate in psychology from Cornell University in 1979.
Editors: An eight-page resume for Simmons is available from the News Bureau at (401) 863-2476. Warren Simmons is not related to William Simmons, executive vice president and provost at Brown.
The Annenberg Institute for School Reform
The Annenberg Institute for School Reform was created in 1993 with initial funding of $5 million from private donors. A $50-million gift from the Annenberg Challenge in 1993 expanded the Institute's mission and scope and provided long-range support. The Institute's work is focused in three areas: developing the capacity of those who work in schools to meet high standards and initiate change; rethinking accountability as a means for schools to improve as well as measure their performance; and engaging the public as participants in and advocates for public education. Unlike the Annenberg Foundation, the Annenberg Institute makes no grants.

######
98-019