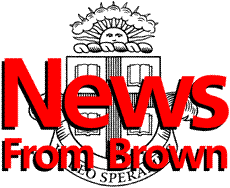 ---
The Brown University News Bureau
Contact: Scott Turner

W. Duncan MacMillan Hall: Science instruction for the 21st century


W. Duncan MacMillan Hall, dedicated Friday, Oct. 9, 1998, entered service in the fall semester of the 1998-99 academic year. It houses undergraduate research and teaching facilities for chemistry, geology and environmental sciences.
Cost: $30 million (total project)
Architects: Koetter, Kim & Associates
Specialized lab architecture services: J.D. Salocks Architecture
Mechanical and electrical engineers: BR+A (Baird, Rao and Athanas)
Structural engineers: Lim Consultants
Commissioning engineers: Sunbelt Engineering Inc.
Builder: Turner Construction
Site: Thayer Street at George Street, connecting to the existing Geology and Chemistry Building at all floors
Gross square feet: 76,000 on three floors
Lecture halls: one 300-seat lecture hall fitted with the latest audiovisual equipment; one 110-seat auditorium designed for video conferencing
Instructional research space: more than 200 state-of-the-art workstations for students in introductory chemistry courses
Oversized lobbies and corridors designed to handle large numbers of students
A first-floor interdisciplinary learning center maximizes student-faculty contact
Features
Each lecture hall and auditorium seat, workstation and conference-room chair has a power outlet and fiber-optic connection to the University's computer network.
Extra switches and specially designed blinds control lighting. Sensors automatically dim fixtures near windows to ensure maximum use of sunlight.
Faculty and students use a single-touch screen to control slide projectors, VCRs, liquid-crystal display units and video monitors.
Heat exchangers reclaim heated air and water that would normally be lost through the roof or drains.
Every student has a workstation in the six chemistry teaching-labs. Every workstation is individually ventilated and enclosed on four sides by safety glass to allow students to look in all directions. Vents run only when hoods are in use. Side hookups for water, gas, vacuum, nitrogen and computer maximize work surfaces. To conserve water, the vacuum system replaces the water aspirators found in typical laboratories.
Lab and classroom space are one-in-the-same to allow students and faculty to move freely from individual investigations to joint discussion of findings, and back.
Multi-purpose spaces intermingle instrument rooms, lab benches, work tables and desks. The spaces are arranged to facilitate movement and communication by students.
The independent study room and other specialized sites contain new equipment such as a nuclear magnetic resonance spectrometer to determine the molecular structure of chemical compounds, a soil smasher nicknamed the "wiggle bug," a carbon-nitrogen soil analyzer, a flume for water-flow studies, X-ray machines to examine geological and chemical samples, and a diamond-blade saw to slice the samples.
A 10-workstation computer learning center is devoted to the teaching and use of remotely sensed data, molecular modeling and other applications requiring state-of-the-art computation and communications.
Other notes on the building
The facade uses 150,000 specially darkened bricks to approximate the time worn facades of neighboring buildings.
Green slate roof mirrors the roofs of buildings across the street, built in the first quarter of the century.
Mammoth ventilation fans, necessary for the building's state-of-the-art air handling system, are hidden in brick structures which resemble chimneys of nearby buildings.
Window-rich design allows maximum use of daylight, yet the building is energy-efficient.
According to architect David Frieder, designer of Hasbro Children's Hospital in Providence, MacMillan Hall integrates laboratory and teaching spaces in an embracing and inclusive design, while creating a coherent science quadrangle on campus.

In an op-ed article in the Providence Journal-Bulletin, Frieder described how MacMillan Hall was a fit between architecture and program. The building, he wrote, "is a rare demonstration of how the architecture of one age can engage in a stimulating yet respectful dialogue with past architectures....The architects clearly intend that their design respect the adjacent buildings in terms of size, material and architectural language, but that it do so in such a way as to express its essential nature as a laboratory."

######
98-020f