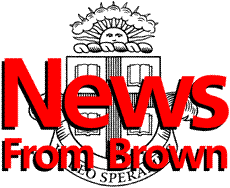 ---
The Brown University News Bureau
Contact: Kristen Lans

At Bell Gallery Oct. 24
Touring exhibit 'Hospice: A Photographic Inquiry' on display at Brown
The David Winton Bell Gallery at Brown University will present Hospice: A Photographic Inquiry Oct. 24 through Dec. 13, 1998. This will be the Northeast's only showing of the exhibit, which tours through 2000.
PROVIDENCE, R.I. -- Hospice care, offering physical, emotional and spiritual assistance to terminally ill people and their families, is the subject of a photographic exhibition to be presented at the David Winton Bell Gallery Oct. 24-Dec. 13, 1998.
An opening reception for Hospice: A Photographic Inquiry will be held Thursday, Oct. 22, at 6 p.m. at the Rhode Island School of Design Auditorium. Philip Brookman, curator of photography and media arts at the Corcoran Gallery of Art in Washington, D.C., will present a lecture, followed by an exhibit preview at the Bell Gallery.
Organized by the Corcoran Gallery of Art and the National Hospice Foundation, the exhibit chronicles the physical, emotional and spiritual experiences that accompany the end of life in hospice care through the eyes of five American photographers.
The photographers - Jim Goldberg, Nan Goldin, Sally Mann, Jack Radcliffe and Kathy Vargas - worked with caregivers and patients over an extended period of time to create projects that focus on the collaborative experiences of hospices. Nationally, hospice serves more than 300,000 people a year.
"The purpose of this project is to highlight a sensitive and humane approach to one of our most profoundly disturbing spiritual, psychological and medical dilemmas - coping with the inevitability of death," said David C. Levy, Corcoran president and director .
Of the 12 locations to display the exhibit through the year 2000, the Bell Gallery is the only venue in the Northeast.
The Providence presentation and contingent programs are sponsored by Brown University with assistance from the National Hospice Foundation and the National Hospice Organization. Additional funding has been provided by Faulding Laboratories, the Pequot Pharmaceutical Network and Hospice Care of Rhode Island.
Activities surrounding the exhibit:
Oct. 24, 1-3 p.m., David Winton Bell Gallery, List Art Center, 64 College St.: Panel discussion focusing on the impact of the arts and media on health care and other social issues. Moderated by Zachary Morfogen, founding chairman emeritus, National Hospice Foundation and National Hospice Organization. The panel will include David Levy and Brown faculty and alumni.


Nov. 5, 6-7 p.m., Salomon Center for Teaching, The College Green: Discussion of the social, legal and medical ramifications of physician-assisted suicide in the context of end-of-life care. Panelists: Diane E. Meier, M.D., associate professor of geriatrics and internal medicine, Mount Sinai School of Medicine, New York; Timothy E. Quill, M.D., professor of medicine and psychiatry, University of Rochester School of Medicine and Dentistry. Moderated by Edward N. Beiser, associate dean of medicine, Brown University School of Medicine.


Nov. 20, 7 p.m., Salomon Center for Teaching: Lecture by Ira Byock, M.D., research professor, Practical Ethics Center, University of Montana, and author of Dying Well: Opportunity for Growth at the End of Life. A reception and book signing follow, from 8:30-9:30 p.m. at Maddock Alumni Center, 38 Brown St.


Nov. 21, 8 a.m. to 12:30 p.m., List Art Center: Conference on the history and future directions of hospice and palliative care. Byock and Karen Davie, president of the National Hospice Foundation, will participate in the discussion.
The Bell Gallery is open Monday through Friday 11 a.m. to 4 p.m., and Saturday and Sunday 1 to 4 p.m. Closed November 26. Guided tours of the exhibition are available with two weeks notice. Call 863-2932 for more information.

######
98-021