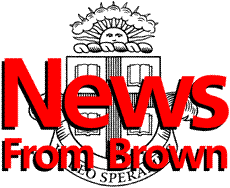 ---
The Brown University News Bureau
Contact: Kristen Lans

Cianci Urban Scholar
Study examines Brown University - City of Providence school partnerships
Brown graduate Lucia Trimbur's 40-page report examines why partnerships between the University and local public schools succeed or flounder. Trimbur, the first Cianci Urban Scholar, grew up in Cranston and is a member of the Brown Class of 1997.
PROVIDENCE, R.I. -- A new study by Brown University graduate Lucia Trimbur says successful partnerships between the University and local public schools are those that are conceived jointly for a mutual benefit. Titled Successful School-University Partnerships at Brown, the report contains information from interviews Trimbur conducted with more than 40 people involved in 15 education programs.
Trimbur's study was supported by the Vincent A. Cianci Jr. Urban Scholarship, created last year by former Brown President Vartan Gregorian. The Cianci Scholarship is designed to honor Mayor Cianci and strengthen vital ties between the University and city. Trimbur presented her findings to Brown President E. Gordon Gee and Cianci earlier this month.
Elements of successful programs, Trimbur found, include those that recognize the importance of long-term thinking, model the process instead of the structure of other programs, establish solid and realistic commitments among all parties, treat teachers as intellectual partners, and are motivated by shared and coherent goals, not available funding. They are partnerships that set high standards and expectations for participants. They are collaborations not consultations, and involve Providence teachers in planning and implementation.
Programs are less successful when students are unable to follow through on their time commitments, when teachers will not devote extra hours beyond the terms of their contract, and when Brown faculty members are more interested in "studying the community" rather than designing a program to benefit the partners.
Problems also arise from the perception that Brown is a wealthy institution which should be giving the school resources or from perceptions that teachers who want to continue their education will find University barriers to parking, library privileges and appropriate course work.
The report recommends that Brown consider access issues including provision of library cards to Providence school teachers or those who are affiliated with the University. It also asks that Brown explore the idea of giving school collaborators University titles and evaluate opportunities for educators to use Brown's resources for continuing education courses.
Other recommendations included establishing a University-school coordination system. That step could involve a staff position, committee or organization which would cultivate, coordinate and document the programs. It could also mean the creation of a "University vision" to publicize Brown's work with the schools, encourage new partnerships and unify programs on campus.
Cianci called the information in the presentation "compelling and provocative." Gee said he plans to review the report with other educators on campus, including Provost William Simmons, and to plot out the next steps in terms of Brown's relationship with Providence schools.
"Lucia has done Brown a real service," said Gee. "The depth of her research for this project and the compelling, action-oriented nature of her findings set a high standard for the Cianci Urban Scholars who will follow her. This report shows that our faculty and students are making unbelievable contributions and that we have the opportunity to do even more."
Directors of three Brown departments advised Trimbur on the report: Chris Amirault, director of the Institute for Elementary and Secondary Education; Christine Heenan, director of Community and Government Relations; and Peter Hocking, director of the Swearer Center for Public Service.
Trimbur grew up in Cranston, R.I., and graduated from Brown in 1997.
Examples of successful partnerships cited in the report:
Brown Summer High School: Three hundred Rhode Island high school students take academic enrichment courses four hours a day for four weeks each summer. Classes are taught by Brown education students who are observed by a mentoring teacher, often from a Providence public school.


Computer Science '92 - Educational Software course: Brown students work with local K-12 teachers to develop software that meets the education needs of their classroom.


Environmental Studies 11 course: Teachers attend a three-day workshop on environmental topics at Brown in the spring, then spend a week developing a curriculum surrounding those topics in the summer. In the fall, Brown students work with teachers once a week for five weeks to implement the curriculum.


Space Grant: This program has several components including workshops for teachers on space-related science and engineering topics; mentors to encourage undergraduate and graduate women and under-represented minorities to explore those subject fields as a career possibility; and science resources for teachers.


Outdoor Leadership and Experiential Education Program: Brown students team up with students at an alternative high school in Providence to go on hiking and camping trips. The program consists of both group activities and one-on-one mentoring relationships.


Zooscope: Brings together teachers, professors and Roger Williams Park Zoo officials to develop curricular units on the subject of zoo life and animal behavior, and use the resources of the zoo.


Research Apprenticeship Program: An enrichment program with the overarching goal of helping high school students develop skills that will be useful in school and work environments. Participants are mentored in the areas of social science research from June to August.


Plants in the Classroom: An after-school workshop series for teachers to encourage the use of plants as an educational tool. Teachers attend lectures at Brown from September through March on topics such as insects and hardy plants.


Texts and Teachers: High school teachers and University professors collaborate to teach a literature course to their students. The courses focus on themes such as growing up and falling in love.


Pre-College Enrichment Program: A Saturday academy for Providence high school students who expect to be the first generation to go to college in their families. The primary goal is to develop the students' math and science skills.
######
98-022