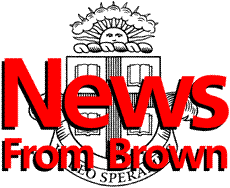 ---
The Brown University News Bureau
Contact: Tracie Sweeney

Arts further students' academic progress, Challenge participants find
The fall issue of Challenge Journal, a publication of the Annenberg Challenge, offers examples of how learning has improved in Challenge schools that use funds to create local collaborations with arts organizations. Experiences in Challenge schools seem to confirm government-sponsored research that found student understanding increases when the arts are used to teach academic subjects.
PROVIDENCE, R.I. -- Schools that give the arts a central place in the curriculum see improvement in student learning generally, according to participants in the nationwide Annenberg Challenge.
"Not only do students acquire new understanding and competence in music, visual arts, drama and dance, but their knowledge of other content areas such as history and science also rises, teachers in these schools tell us," said Barbara Cervone, the national coordinator for the Challenge, who is based at Brown University. "Reading, writing and math performance seem to benefit as well, perhaps because the arts can help develop the recognition of patterns and sequences that is crucial in those areas."
The experiences of students and teachers in Annenberg Challenge schools seem to support the findings of a three-year study sponsored by the U.S. Department of Education. The study found that when educators use arts processes to teach academic subjects, their students' understanding of content increases and their self-regulatory behavior greatly improves.
The fall issue of Challenge Journal, a publication of the Annenberg Challenge, offers numerous examples of how Challenge funds have been used to create local collaborations between schools and arts organizations:
At Tuttle Elementary School in Minneapolis, children with limited English are showing marked progress in reading and math skills after working with a drummer on musical patterns and sequences. "Drumming teaches me how to focus," Akeem Snow, 7, told his second-grade teacher, "and being focused teaches me how to read."


Across the street from Lincoln Center in Manhattan, students at Martin Luther King High School work with artists from the New York City Opera to integrate opera into their studies of history and literature. Some students spend afternoons at the opera in four-week internships. The school links the new partnership with improved test scores, higher attendance and persistence to graduation.


In California's Sacramento Valley, high school physics teacher Kim McGreevy has noticed that enrollment and engagement in her classes have gone up markedly since she began incorporating the art of Salvador Dali and the dance of Elizabeth Streb into her units on the theory of gravity.
For a print copy of the Challenge Journal, write to the Annenberg Challenge national office, Brown University, Box 1985, Providence, RI 02912, or telephone (401) 863-2744.
The Annenberg Challenge
A public-private partnership serving more than 1.3 million urban and rural students in almost every state, the Challenge began in 1993 when Ambassador Walter H. Annenberg gave the nation's public schools the largest monetary gift in history. Matched by other private and public funding, the money went to nine of the country's largest urban areas, five smaller cities, a network of rural schools across the United States, and three arts education projects.

######
98-037