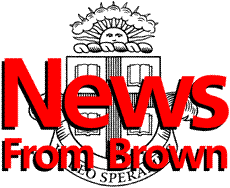 ---
The Brown University News Bureau
Contact: Kristen Lans

Penn State football coach Joe Paterno receives top alumni award
The Brown Alumni Association awarded Penn State football coach Joseph V. Paterno, Class of 1950, the William Rogers Award, its highest honor, at the fifteenth annual Alumni Recognition Ceremony.
PROVIDENCE, R.I. -- Joseph V. Paterno, Class of 1950, acclaimed head football coach at Penn State University, has received the William Rogers Award from the Brown Alumni Association. The award, the highest honor the BAA can confer, was announced at the BAA's fifteenth annual Alumni Recognition Ceremony Oct. 24.
Because his coaching duties prevented a trip to Providence on an autumn Saturday, Paterno hopes to visit the Brown campus in the spring to receive the award in person.
Named for the first Brown student, the William Rogers Award annually honors an alumnus or alumna whose service to society illustrates the words of the Brown Charter: living a life of "usefulness and reputation."
As a quarterback for Brown, Paterno spent his days plowing through the abundant reading required of an English literature major. In the spring of his senior year, Brown coach Rip Engle hired him to coach the Bears' quarterbacks part-time. Paterno planned to do that until he started law school in the fall, but over the summer Engle was hired away as Penn State's head coach and he took his young assistant with him. Sixteen years later, Engle retired and Paterno was promoted to the head coaching job.
Paterno notched the team's 300th football victory earlier this fall, becoming the winningest active coach in Division I and the sixth college coach ever to win that many games. A generous donor to Penn State's libraries and its athletic hall of fame, Paterno is married to the former Suzanne Pohland, a prominent volunteer who is active in the Special Olympics and fundraising for Penn State's libraries. Over the years, Paterno has received and turned down a number of head-coaching opportunities with NFL teams. He remains, first and foremost, a teacher to his student-athletes.
As one who has remained committed to education and its importance to society, Paterno is a champion of whom Brown can be proud, according to the BAA. In 1975, Paterno was also honored by the University with an honorary doctor of laws degree.
Since the award's establishment in 1984, its recipients have included ambassador and Bosnian peace negotiator Richard C. Holbrooke; astronaut Byron K. Lichtenberg; Pulitzer Prize and Academy Award-winner Kurt M. Luedtke. The award's namesake, William Rogers, graduated in 1769 and later served as vice president of the Society for Gradual Abolition of Slavery and vice president of the Philadelphia Society for Alleviating the Miseries of Public Prisons.
The Brown Bear Awards
The Brown Alumni Association annually recognizes alumni who have rendered outstanding personal service to the University over a period of years with the Brown Bear Awards. Neither financial aid to the University nor achievement in the fields of business or a profession are considered. Each year an anonymous committee reviews nominations from alumni and staff and selects one to three recipients. This year's recipients are:
Harold Bailey '70, of Cambridge, Mass., vice president of Lotus Development Corporation. Since his days as a student leader and athlete, Bailey has been committed to making Brown a better place. As an early chair of the BAA's Minority Affairs Committee and later as secretary of the BAA, Bailey worked successfully to increase the numbers of alumni of color involved in student recruitment, local programming and reunion activities. With a daughter, Aisha, in Brown's class of 1999, Bailey is a member of the Brown Parents Council. He also serves on the Campaign for Engineering Committee.
Artemis A. W. Joukowsky Jr. '55, of Providence, R.I., chancellor emeritus of Brown University. In addition to serving as chancellor, Joukowsky has been a trustee, national campaign chair, class agent, reunion committee member and events chair, as well as board member for the Brown University School of Medicine, the John Carter Brown Library and the Watson Institute for International Studies. He is also past president and chair of the Brown University Sports Foundation. Service to Brown is a Joukowsky tradition embraced by his wife Martha, '58, professor of old world archaeology and art.
Jean E. Miller '49, of Arlington, Vt., retired development officer, Stratton Mt. School. A loyal and active supporter of Brown since her days at Pembroke, Miller is a mainstay on the Pembroke Council and in her class. She has served as chair, vice chair and member of the Pembroke Center Associates Council. In addition, she has served as a class agent, Brown Annual Fund reunion gift co-chair, phonathon participant, and Brown Alumni Network volunteer.
The John S. Hope Award
In 1994, the Alumni Association established the John S. Hope Award in honor of an 1894 African-American graduate who became president of Morehouse College and dedicated his life to education and community service. This award is given to an alumnus of alumna who has shown extraordinary commitment to volunteer public service.
This year's recipient is Bryant A. Toth '76, M.D., a San Francisco-based plastic surgeon, who earned a medical degree at Brown. Recognizing the abysmal state of medical care in Vietnam in the mid-1980s, Toth co-founded the Indo-China Surgical Exchange. Through this project, Toth visits Vietnam annually and performs reconstructive surgery on approximately 40 children suffering from congenital and war-related deformities. In an effort to increase services to neglected and impoverished patients, Toth also selects, hosts and trains as many as a half-dozen Vietnamese doctors in specific surgical procedures each year at his San Francisco office.
The H. Anthony Ittleson '60 Award
This award is given by the Brown Annual Fund to a volunteer or group of volunteers who best exemplify the extraordinary leadership of H. Anthony Ittleson '60, national chair of the Brown Annual Fund from 1986 to 1990.
This year's recipients are Bud and Rae Cherry of Palm Beach, Fla. The two have been active Brown parents for many years. They have served as the co-chairs of the Parents Annual Fund Committee for three years and members of the Parents Council. One son, Zachary, graduated in May 1997 and works for Salomon Brothers in New York City. Their second son, Justin, is a member of the Class of 2001. Bud Cherry is president of the Oxbow Corporation in Palm Beach.
The Alumni Service Awards
These awards are given annually for distinguished, continuing volunteer service to Brown. The committee considers volunteer services as the key criteria, regardless of financial contributions made to the University. This year's recipients are:
Eleanor K. Tarpy '37, of Pawtucket, R.I., a retired social worker


A. Edward Giberti '54, of London, England, a marketing consultant.


Patricia M. Patricelli '58, of Boston, Mass., marketing director for the Atrium Mall.


James I. Mayer '59, of Arlington, Va., financial planner for Benefit Concepts Group


David N. Chichester '67, Hilliard, Ohio, executive vice president and chief financial officer, Red Roof Inns.


Francisco A. Besosa '71, of Guaynabo, Puerto Rico, partner at Axtmayer Adsuar Muniz & Goyco


Lee M. Cort '76, of Los Angeles, Calif., president and COO, Legal Research Network Inc.


Alexandra Garbers Pruner '83, of Houston, Texas, director of Investors Relations.
The BAA is the official, independent organization of Brown alumni, encompassing alumni of the undergraduate college, the graduate school and the Brown University School of Medicine. The Association's mission is to keep alumni connected to the richness of Brown, so that they will always stay a part of the life of the University. The Brown Alumni Network is 11,000 strong.

######
98-051