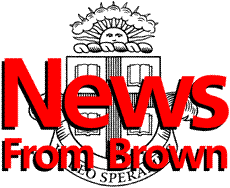 ---
The Brown University News Bureau
Contact: Mark Nickel

Brown agrees to settlement with Massachusetts in Corrigan contract
Brown University and the Commonwealth of Massachusetts have filed a joint motion for settlement of issues arising from a professional services contract the University had with the John C. Corrigan Mental Health Center in Fall River. Brown will return $300,170 to the Commonwealth.
PROVIDENCE, R.I. -- Brown University announced today (Tuesday, Dec. 29, 1998) that it has filed a joint motion with the Commonwealth of Massachusetts to settle issues arising from a professional services contract at the John C. Corrigan Mental Health Center in Fall River. The joint motion was filed before the Superior Court in Suffolk County and approved by Judge E. Susan Garsh.
Under terms of the settlement, the University returned $300,170 to the Commonwealth, representing payments the University accepted for costs that were not reimbursable under the contract or payments it accepted as a result of inaccurate invoices and vouchers. The payments Brown has agreed to return were for fiscal years 1993, 1994 and 1995.
Brown's medical school provided clinical and research psychiatric services under the contract with Corrigan from 1991 through May 1996 either directly or, in the early years, through an affiliated hospital. In separate decisions announced in May 1996, Brown and the Massachusetts Department of Mental Health chose not to renew the Corrigan contract.
Laura Freid, Brown's executive vice president for public affairs and University relations, issued the following statement on behalf of the University:
For nearly 25 years, the Brown University School of Medicine has been a powerful force for health care improvement in Rhode Island and southeastern Massachusetts.

In January 1996, when this story was first reported, the University immediately commissioned an independent audit of the Corrigan contract by Coopers & Lybrand. Coopers & Lybrand identified billing inaccuracies and lapses in contract administration within the School of Medicine, but the auditors found that the Commonwealth had received more than full value for payments it made under the contract.

The University acknowledged the billing inaccuracies and took prompt action to solve the administrative problems that allowed them to occur.

The University is pleased that this settlement has resolved remaining issues between the School of Medicine and the Commonwealth.
######
98-056