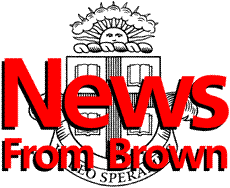 ---
The Brown University News Bureau
Contact: Kristen Lans

Third annual Pell Policy Seminar
Education seminar to discuss student testing, school accountability
The Northeast and Islands Regional Educational Laboratory (LAB) at Brown University is sponsoring a policy seminar on student testing and school accountability on Feb. 8 from 3:30 to 6 p.m. in Sayles Hall. The event is free and open to the public.
PROVIDENCE, R.I. -- Education leaders will gather at Brown University on Monday, Feb. 8, 1999, for the third annual Claiborne Pell Education Policy Seminar. They will debate state and local policies on student achievement testing and holding schools accountable for test results. The seminar, "Education Reform: Results Matter," will be held in Sayles Hall on the College Green from 3:30 to 6 p.m. and is open to the public without charge.
Warren Simmons, director of the Annenberg Institute for School Reform, will deliver the keynote address, followed by a panel debate and audience discussion. Sponsored by the Northeast and Islands Regional Educational Laboratory (LAB) at Brown, the seminar is named for retired U.S. Sen. Claiborne Pell, a long-standing national leader in educational policy.
The debate will be moderated by Cynthia García Coll, chair of Brown's education department, and will include the following speakers:
Shelia Evans-Tranumn, associate commissioner of the New York Education Department, who is responsible for turning around low-performing schools in the state;


Roger Harris, headmaster of the Boston Renaissance Charter School, whose 1,100 students make it one of the largest charter schools in the nation;


Valerie Forti, newly appointed director of the Business Education Roundtable in Providence, through which corporate Rhode Island coordinates its effort to promote excellence in education. Forti had been involved in education reform and restructuring in Kentucky;


Raymond McNulty, superintendent of schools in Brattleboro, Vt., and president of the Vermont Superintendents' Association.
Discussion questions include whether student assessment results should be used to strengthen curriculum and instruction; whether assessment should drive school improvement planning, teacher evaluation and professional development programs; and whether assessment results should be publicized school-by-school or as statewide averages. Should there be sanctions for districts or schools when student performance does not improve and incentives for schools that do improve?
The issue has implications for everyone from policy-makers to teachers nationwide. Many states are currently in some stage of reform. Rhode Island set out parts of a new accountability system last year that reveals its students' performance in detail, sets improvement targets for individual schools, and gives the state greater authority to intervene in cases of persistent failure, according to a recent report in Education Week.
Massachusetts introduced licensing tests for prospective teachers and new standards-based assessments for public school students in grades 4, 8 and 10 last year. Connecticut uses an index to rate the performance on state tests of schools that receive certain federal funding. The index takes into account how far a school's students have to go to meet the state's "proficient" benchmark on the exams. Schools that don't meet certain cutoffs in the index are considered underperforming, but the state does not attach any consequences to the ratings, according to Education Week.
The Northeast and Islands Regional Educational Laboratory (LAB)
The LAB at Brown, one of 10 federally funded educational laboratories, is a program of the Education Alliance at Brown University. The regional laboratories engage in applied research aimed at improving teaching and learning and promoting effective reform in the nation's schools. They ensure that those engaged in improving education at the local, state and regional levels have access to the best available information from research and practice. The LAB serves Connecticut, Maine, Massachusetts, New Hampshire, New York, Rhode Island, Vermont, Puerto Rico and the Virgin Islands with funding from the U.S. Department of Education. Further information on the upcoming seminar is located at its web site: www.lab.brown.edu.

######
98-059