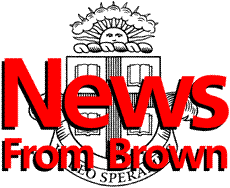 ---
The Brown University News Bureau
Contact: Glenn Hare

The Metcalf-Swearer Memorial Lecture
Bishop Tutu to open 19th annual Brown/Journal Public Affairs Conference
The 19th annual Brown University/Providence Journal Public Affairs Conference will open with a keynote address by Archbishop Desmond Tutu at 4 p.m. Sunday, Feb. 21, 1999, in the Meeting House of the First Baptist Church of America. The week-long conference, Feb. 21-28, also will feature some the nation's most prominent religious thinkers, commentators and writers discussing topics of spirituality.
PROVIDENCE, R.I. -- Nobel Prize laureate Archbishop Desmond Tutu will give the keynote address at the 19th annual Brown University/Providence Journal Public Affairs Conference at 4 p.m. Sunday, Feb. 21, 1999, in the Meeting House of the First Baptist Church in America, 75 North Main Street. The week-long conference, which runs Sunday, Feb. 21, through Sunday, Feb. 28, will focus on "One Nation Under God? Spiritual Life in America." A schedule of sessions is included in this release.
Editors: A press entrance will be established at the rear (Benefit Street end) of the Meeting House for Tutu's address and limited press seating will be available. Contact the News Bureau to reserve a place for reporters or to arrange camera placements.
Born in Klerksdorp, South Africa, Tutu studied at the University of South Africa and the University of London, was briefly a schoolteacher and was ordained an Anglican parish priest in 1960. He rose rapidly to the rank of bishop and in 1979 was appointed secretary-general of the South African Council of Churches. In 1984, Tutu was named Bishop of Johannesburg and, in 1986, Archbishop of Cape Town.
A critic of the apartheid system, he repeatedly risked imprisonment for his advocacy of punitive sanctions against South Africa by the international community. He condemned the use of violence by opponents of apartheid, seeking instead a peaceful, negotiated reconciliation between blacks and whites. For his efforts, Tutu was awarded the Nobel Prize for Peace in 1984. Most recently, he chaired the South African Truth and Reconciliation Commission.
Along with the Nobel Prize, Tutu holds numerous awards, including the Martin Luther King Jr. Non-Violent Peace Prize (1986), the Family of Man Gold Medal Award (1983) and an honorary degree from Brown University (1990). He is author of three collections of sermons and addresses.
Tutu's address has been designated the Michael P. Metcalf-Howard R. Swearer Memorial Lecture, an annual address which honors the memory of public affairs conference founders Michael P. Metcalf, former chairman and publisher of the Providence Journal, and Howard R. Swearer, Brown's 15th president.
In addition to Tutu, this year's conference will host some the nation's leading religious thinkers, writers and commentators. A series of public forums will explore religious diversity, fundamentalism, spirituality, and religion in politics. All sessions will begin at 7 p.m. in the Salomon Center for Teaching, located on The College Green.
Confirmed participants include Harvey Cox, professor of divinity at the Harvard Divinity School; James Morton, founder and president of the Interfaith Center of New York; Gustav Niebuhr, religion columnist for The New York Times; novelist and former Catholic priest James Carroll; Joan Brown Campbell, general secretary of National Council of Churches; and Margaret Steinfels, editor of Commonweal: A Review of Public Affairs, Religion, Literature and the Arts. Also participating will be Rabbi Laura Geller, senior rabbi of Temple Emanuel in Beverly Hills and a 1971 Brown graduate; Jane Smith, professor of Islam and Muslim Christian relations at Hartford Seminary; and Sister Helen Prejean, of St. Joseph's of Medaille.
Monday, Feb. 22: Demographics, Divinity and Diversity
Is American culture still primarily Judeo-Christian? What will it mean for this nation when its citizens no longer share a common religious experience? A panel discussion will look at the implications of a diverse religious culture and will feature Harvard Divinity School professor Harvey Cox and the Rev. James Parks Morton, founder and president of the Interfaith Center of New York.
Tuesday, Feb. 23: Fundamentalism
Where does one draw the line between religious practice and religious fundamentalism? At what point does religious practice become the lens through which a person understands the political and social world? Martin Marty, a religious historian at the University of Chicago; New York Times religion columnist Gustav Niebuhr; and Jane Smith of the Hartford Seminary will explore this topic.
Wednesday, Feb. 24: Spirituality: Religion's Heart and Soul
Spirituality is religion's own unfathomable essence and represents the ultimate leap of faith. Does the rise of "New Age" remedies and practices in America mean our nation is more spiritual? Albert Raboteau of Princeton University and Rabbi Laura Geller of Temple Emanuel of Beverly Hills will lead a discussion on the role of spirituality in modern culture.
Thursday, Feb. 25: The Eyes and Ears of the Public: Religion in the Press
Have political organizations such as the Moral Majority and the Christian Coalition weakened the dividing line between the church and state? Writer and former Catholic priest James Carroll and Margaret Steinfels, editor of Commonweal: A Review of Public Affairs, Religion, Literature and the Arts, will talk about this nation's Constitutional mandate to keep religious life separated from the political realm.
Friday, Feb. 26: Science, Religion and Healing
Has modern science destroyed the possibility of the belief in God? Does religion still have a place in the world of science? A panel discussion with Joan Brown Campbell of the National Council of Churches will discuss the impact of technology on religion and the supernatural.
Sunday, Feb. 28: Choral Concert
To conclude the conference, a free choral concert featuring area ensembles will take place at 7:30 p.m. at the Central Congregational Church, 296 Angell St. The concert will feature The Schola Cantorum of Boston, the Brown University Chorus and the Grace Church Choir of Men and Boys.
April 16, 1999: Sister Helen Prejean
As a follow-up to the conference, Sister Helen Prejean of the Sisters of St. Joseph of Medaille will address the University on April 16. Prejean, a staunch advocate against the death penalty, received international recognition and was nominated for a Pulitzer Prize for her book Dead Man Walking: An Eyewitness Account of the Death Penalty in the United States. The book was number one on the New York Times Best Seller List for number of weeks and has been translated into several languages. Dead Man Walking, was nominated for four Oscar Awards, and Susan Sarandon, who portrays Prejean, won the award for best actress.

######
98-068