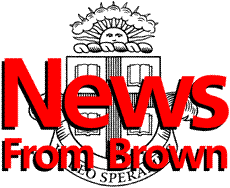 ---
The Brown University News Bureau
Contact: Mark Nickel

Corporation approves lowest tuition increase in more than 30 years
The Corporation of Brown University has approved a 4.3-percent increase in undergraduate tuition for the 1999-00 academic year, to $24,624. The total annual charge for undergraduate tuition, room, board and fees will be $32,280, a 3.9-percent increase.
PROVIDENCE, R.I. -- At its winter meeting today, the Corporation of Brown University approved an undergraduate tuition of $24,624 for the 1999-00 academic year. That represents an increase of 4.3 percent, the lowest percentage increase in more than 30 years. The total undergraduate charge for next year, including standard room rate, 20-meal board plan and all student fees, will be $32,280, a 3.9-percent increase.
"This is the fourth consecutive year in which the University has reduced the rate of increase in its tuition," said Laura Freid, executive vice president for public affairs and University relations. "The University relies on tuition and fees for most of its revenue, yet it recognizes the need to keep a Brown education accessible and affordable. ACUP has done an excellent job balancing those two competing concerns."
ACUP - the Advisory Committee on University Planning - is a group of faculty, students and administrators which develops budget recommendations for the president and the Corporation. It was chaired this year by Provost William Simmons.
The Corporation also endorsed a $39-million recommendation for the overall financial aid budget, up 9.3 percent from the current year. That figure includes more than $2 million to fund the University's new plan for undergraduate financial aid, which will increase grants and decrease loans for students who receive University scholarship aid.
Tuition is one of two elements the University can control in determining the revenue side of its budget for the next fiscal year. The other - the draw on endowment - also was set at today's Corporation meeting. It will be reduced to 4.7 percent from its current level of 4.8 percent. The Corporation has been reducing the endowment draw by 0.1 percent annually since fiscal year 1993 in order to preserve and enhance endowment value. Despite the lower draw, Brown's growing endowment will provide more than $35 million next year - nearly a 12-percent increase over the current year - second only to tuition and fees as a source of revenue.
The Corporation will consider its approval of the entire University budget at its final meeting of the academic year this May.
A 10-Year History of Undergraduate Tuition and Fees
| | | | | | | | | | | |
| --- | --- | --- | --- | --- | --- | --- | --- | --- | --- | --- |
| 1990/91 | $15,295 | 6.4% | $2,920 | 9.4% | $2,060 | 7.3% | $445 | 7.2% | $20,720 | 6.9% |
| 1991/92 | $16,256 | 6.3% | $3,051 | 4.5% | $2,168 | 5.2% | $471 | 5.8% | $21,946 | 5.9% |
| 1992/93 | $17,384 | 6.9% | $3,286 | 7.7% | $2,202 | 1.6% | $481 | 2.1% | $23,353 | 6.4% |
| 1993/94 | $18,512 | 6.5% | $3,364 | 2.4% | $2,248 | 2.1% | $494 | 2.7% | $24,618 | 5.4% |
| 1994/95 | $19,528 | 5.5% | $3,574 | 6.2% | $2,352 | 4.6% | $500 | 1.2% | $25,954 | 5.4% |
| 1995/96 | $20,608 | 5.5% | $3,764 | 5.3% | $2,448 | 4.1% | $520 | 4.0% | $27.340 | 5.3% |
| 1996/97 | $21592 | 4.8% | $3,986 | 5.9% | $2,552 | 4.3% | $528 | 1.9% | $28,658 | 4.8% |
| 1997/98 | $22,592 | 4.6% | $4,154 | 4.2% | $2,622 | 2.7% | $532 | 0.75% | $29,900 | 4.3% |
| 1998/99 | $23,616 | 4.5% | $4,238 | 2.0% | $2,660 | 1.4% | $546 | 2.6% | $31,060 | 3.9% |
| 1999/00 | $24,624 | 4.3% | $4,370 | 3.1% | $2,724 | 2.4% | $562 | 2.9% | $32,280 | 3.9% |


######
98-074