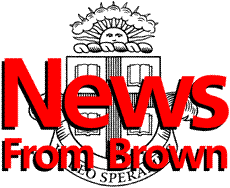 ---
The Brown University News Bureau
Contact: Janet Kerlin

Young Democracy in action
Students go to state capitols March 26 for lively debates on U.S. policy
On Friday, March 26, high school students in Nebraska and Connecticut will visit their state capitols to debate environmental, trade and other policy issues with elected officials. The students are studying and debating these issues in classrooms as part of the Capitol Forum on America's Future, sponsored by Brown University.
PROVIDENCE, R.I. -- High school students from Nebraska and Connecticut will be debating environment, trade and other U.S. policy issues when they visit their respective state capitols on Friday, March 26.
The Capitol Forum on America's Future is a program sponsored by Brown University's Thomas J. Watson Jr. Institute for International Studies that confronts young people with controversial issues and hard choices.
Editors: A list of teachers and high schools is available from the News Bureau. For information about the Connecticut statewide organization, contact Kiki Karpen, president of League of Women Voters of Connecticut, at (203) 288-7996. Statewide organizers in Nebraska include Lisa Johnston of the Nebraska Humanities Council at (402) 474-2131 and Amanda Pfaltzgraff, deputy secretary of state, at (402) 471-4070. Additional information is available online.
The Capitol Forum educates students about politics and their stake in the political process. Supporters hope the Capitol Forum will help to reverse declining voter turnout and apathy. Nationwide, fewer than one in five people age 18 to 24 bothered to vote in the 1998 mid-term election, according to the National Association of Secretaries of State.

The program is presented to high schools in cooperation with Nebraska Secretary of State Scott Moore and Connecticut Secretary of State Susan Bysiewicz and is sponsored by the Nebraska Humanities Council and the Connecticut League of Women Voters.

Young people surveyed by the National Association of Secretaries of State say that no one in politics seems to hear their voices. Students involved in the Capitol Forum Project will participate in classroom discussions on important issues facing the public and policy-makers, and will vote on their top concerns. During the March 26 forums, students will have the opportunity to report their concerns directly to state and congressional officials.

"Studies show that young people are volunteering more. That's the good news. But they are participating in public life less," said Susan Graseck, director of the Choices for the 21st Century Education Project at Brown, which runs the Capitol Forum. "Young people need to find their voice in public policy. That's what the Capitol Forum is all about."

For additional information about the Choices for the 21st Century Project at Brown University, call Graseck at (401) 863-3155 or visit the Choices web page.

######
98-085