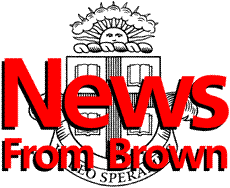 ---
The Brown University News Bureau
Contact: Mark Nickel

Campus Compact joins Brown University
National initiative targets civic disengagement among college students
Campus Compact, a national organization of college and university presidents dedicated to higher education's civic mission, has received a $3-million grant from The Pew Charitable Trusts to address a national trend toward civic disengagement, which is reflected on the nation's campuses. Campus Compact also has formally established itself as part of Brown University.
PROVIDENCE, R.I. -- Official Washington isn't the only place in the throes of political and civic exhaustion. On college campuses across the country, several studies, including one by the National Association of Secretaries of State, show that apathy toward civic responsibility is clearly on the rise among college-age citizens, together with increased cynicism toward government and political leaders. One important indicator: Barely 15 percent of voters aged 18 to 24 turned out to vote in 1998.
"Nationally, an increasing number of students are involved in programs of public and community service, but they do not appear to be making important connections between that involvement and their direct participation in the American democracy," said Elizabeth L. Hollander, executive director of Campus Compact, one of the nation's oldest and most effective agencies for integrating public and community service into the college experience.
Campus Compact believes it has a way to address or reverse the trend toward civic disengagement. Supported by a $3-million grant from The Pew Charitable Trusts, Campus Compact has a four-year plan to move hundreds of the nation's colleges and universities - and their students - toward broader and deeper social and civic engagement by expanding and enhancing programs of "service-learning." Among other goals, Campus Compact will add 120 colleges and universities to the list of institutions that integrate public and community service into their curricula.
"We can demonstrate that participation in service-learning experiences has a positive effect on many elements of the educational experience, including academic achievement, civic values and life skills," said Hollander. "The ultimate goal of this effort is to move America closer to becoming a nation of responsible, active citizens who are fully vested in the welfare of the democracy."
As it undertakes the new national effort, Campus Compact also has formally affiliated itself with Brown, becoming an organization under the University's umbrella. Brown, one of three schools that founded the organization in 1985, has hosted Campus Compact's national headquarters since the beginning.
"Campus Compact has led a successful national effort to establish public and community service programs on college campuses throughout the nation," said Brown President E. Gordon Gee. "Public service has clearly energized students and enriched their learning at Brown and other campuses. This new national effort will extend those benefits to more campuses. Brown is happy to support that initiative by providing Campus Compact with a new institutional home."
Campus Compact's steadily growing membership includes 620 college and university presidents and a network of 22 state offices. In addition to fostering public service programs and acting as a clearinghouse for service opportunities, Campus Compact has championed service projects as an important instructional tool in college-level courses. The "service-learning" teaching technique has spread significantly in recent years, as colleges have integrated public service into their curricula. One survey in 1998 showed that 99 percent of Campus Compact's member institutions offered at least one service-learning course, with two-thirds of them offering 10 or more.
The service-learning initiative
Campus Compact's impending service-learning project, funded by The Pew Charitable Trusts, is intended to enrich and improve existing programs of service learning and to introduce the service-learning model to an additional 120 campuses within the next four years.
In 1998 Campus Compact surveyed its membership and determined that service-learning programs varied widely in terms of quality and level of development. In planning for the new national effort, Campus Compact organized those programs into a "Service-Learning Pyramid":
The introductory level, about 68 percent of Campus Compact member schools, have a few interested faculty experimenting with the service-learning technique, but offer no more than 10 service-learning courses. Those courses are typically "allowed to happen," with little policy or campus infrastructure to support them.


Intermediate level schools, about 28 percent of Campus Compact members, may have a quarter of their faculty conducting service-learning courses in a variety of disciplines. Service-learning is considered a mainstream practice and has a service center or some other form of institutional support. These campuses are beginning to address questions of quality in their service-learning courses and projects.


Advanced level schools, about 4 percent of Campus Compact membership, have strong institutional understanding of faculty roles and support for faculty rewards. A significantly larger proportion of their students engage in service projects and service-learning, and these campuses are more likely to offer scholarships or loan forgiveness in recognition of student involvement. Service-learning and civic engagement are well integrated into the institutional mission.
During the next four years, Campus Compact intends to change the makeup of that pyramid so that nearly half of all member schools will be at the intermediate level or above and at least 120 new member institutions will be added to the base. To achieve that, Campus Compact will offer a range of national activities designed for member colleges whose programs are at varying stages of development. These include:
Introductory institutes. Eight regional institutes will provide 120 new member colleges with information about how to develop and assess service-learning courses and what to expect from them.


State meetings for chief academic officers. Chief academic officers of member institutions will be offered three regional meetings to discuss the role and performance of service-learning programs.


Engaged campus institutes. Two national institutes for advanced-level colleges will explore elements of "the engaged campus," including the impact of service-learning on civic awareness, relationships with the community, and the scholarship of engagement, with undergraduate research on service issues.


Discipline-based institutes. Campus Compact will host five discipline-based institutes for 50 intermediate campuses. Attending colleges will be required to bring faculty members, a department chair, a community partner and a senior administrator.


National discipline association fund. The fund will provide technical assistance sub-grants to national disciplinary associations in support of activities that deepen faculty commitment to the service-learning pedagogy.
Campus Compact will also develop faculty newsletters and curricular tool kits to support new efforts at service learning.

For additional information, contact Campus Compact at (401) 863-1119 or visit the Campus Compact Web site. Information is also available online from The Pew Charitable Trusts.

######
98-087