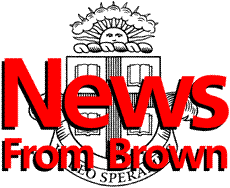 ---
The Brown University News Bureau
Contact: Glenn Hare

Fair Play or Foul Ball?
Sportsmanship, ethics of sport to be examined at symposium April 9-10
"Fair Play or Foul Ball," a symposium exploring ethics in sports, will be held April 9-10 in the Salomon Center for Teaching. The two-day meeting will feature a leading sports ethicist, nationally recognized sportswriters, commentators, coaches and athletes examining the social values of sports.
PROVIDENCE, R.I. -- Mike Tyson, Lutrell Spreewell, the Utah Olympic Organizing Committee - it's as if sports and scandal are on the same team. Whatever happened to fair play, teamwork and good sportsmanship? An international group of experts will offer some answers at a symposium on ethics of sports and the values of athletics April 9-10 at Brown University.
"Sports play a major role in teaching children and adults society's social values, which we as a nation believe are important," said Arlene Gorton, conference chair. "The conference will look at what values are being taught by sports and how ethics involves much more than following the rules."
"Fair Play or Foul Ball" will examine the social values of athletic competition and feature a leading sports ethicist, nationally recognized sportswriters, commentators, coaches and athletes participating in panel discussions and conversations with symposium participants.
"Not everything that comes from sport is good," said Gorton. "The ideals of fair play, equality, hard work and respect are not the only values being taught on the athletic field. Sports also has perpetuated the idea of self-importance, winning at all cost, disrespect and inequality."
Open to the public without charge, the two-day symposium is sponsored by the University's Thomas F. and William J. Gilbane Presidential Fellowship, with support from the Brown University Sports Foundation. All meetings will be held in the Salomon Center for Teaching, located on The College Green.
Taking part will be Andrew Edgar, director of the Centre for Applied Ethics at the University of Wales, Cardiff; New York Times sportswriter and columnist Robert Lipsyte; Larry Farmer, head coach of men's basketball at Loyola University, Chicago; and Mariah Burton-Nelson, a nationally recognized expert on women and competition.
Other discussants will include Richard Lapchick, founder and director of the National Consortium for Academics and Sports; Kathleen McElroy, deputy sports editor for the New York Times; Howard Chudacoff, Brown University professor and advisor to women's basketball; Tara Mounsey, a Brown varsity ice hockey player and Olympic gold medal athlete; and Richard Lynch, executive director of the Rhode Island Interscholastic League.
In addition, William Reynolds, sport columnist for the Providence Journal; novelist and poet Richard Hoffman; Eli Abarbanel-Wolff, a Brown student and former member of the U.S. National Disabled Soccer Team; Frank Reamer, professor at Rhode Island College; and Brown University President Gordon Gee will take part in the conference.
Symposium Schedule
(All sessions in the Salomon Center for Teaching)
Friday April 9
7:30 p.m. Issues of Ethics and Sport
Moderator: Brown President E. Gordon Gee
Panelists: Andrew Edgar, Richard Hoffman, Mariah Burton-Nelson, Richard Lapchick
Saturday, April 10
9:30 a.m. Issues of Ethics in Intercollegiate Sport
Program Leader: Howard Chudacoff
Facilitator: Frederic Reamer
Panelists: Mariah Burton-Nelson, Richard Hoffman, Robert Lipsyte, Larry Farmer, Eli Abarbanel-Wolff

2 p.m. Sportsmanship: Where Has it Gone?
Program Leader: Howard Chudacoff
Facilitator: Frederic Reamer
Panelists: Andrew Edgar, Richard Lynch, Kathleen McElroy, Tara Mounsey, William Reynolds

######
98-091