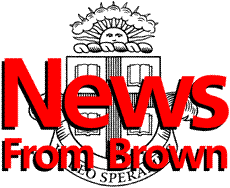 ---
The Brown University News Bureau
Contact: Kristen Lans

Tribute to celebrate John Hawkes, novelist and teacher
A tribute to John Hawkes, an internationally recognized innovative novelist and Brown professor, will take place April 13-14. Family, friends, colleagues and former students will gather at the University to celebrate Hawkes' life and art.
PROVIDENCE, R.I. -- Friends, family, colleagues and former students will gather Wednesday and Thursday, April 13-14, 1999, at Brown University to celebrate the life and art of John Hawkes, an internationally recognized avant garde novelist and Brown professor, who died on May 15, 1998.
John Hawkes, 1926-1998, A Passion Artist Remembered: A Memorial Tribute at Brown University will feature guest artists participating in two days of readings and discussions. The tribute is hosted by the Program in Creative Writing.
A native of Stamford, Conn., John Hawkes grew up partly in Alaska, served with the American Field Service in Italy and Germany in 1944-45, graduated from Harvard College in 1949, and for seven years, worked for the Harvard University Press. He taught at Harvard for three years and at Brown from 1958 until he retired in 1988.
The author of numerous novels, plays and short fiction, his first work of fiction, The Cannibal, was published in 1949. Hawkes rose to prominence in contemporary writing when three novels - "The Blood Oranges," "Death, Sleep and the Traveler" and "Travesty" - were published in the 1970s.
His other works include "The Beetle Leg," "The Owl," "The Lime Twig," "Second Skin," "The Innocent Party," "The Passion Artist," and "Humors of Blood and Skin." His other writings include "Virginie: Her Two Lives," "Lunar Landscape," "Adventures in the Alaskan Skin Trade," "Innocence in Extremis," "Whistlejacket," "Sweet William," "The Frog" and "An Irish Eye."
During his life, Hawkes was awarded several prestigious honors, including a Lannan Foundation award, Ford Foundation and Guggenheim fellowships, and grants from the National Institute of Arts and Letters and the Rockefeller Foundation. He was also a member of the American Academy of Arts and Letters.
Friends attending the tribute will be fellow writers William Gass ("Willie Master's Lonesome Wife"), John Barth ("Lost in the Funhouse"), Toby Olson ("Seaview") and Johnathan Baumbach ("D-Tours"). Also attending will be former University colleagues, including Edwin Honig, the founder of Brown's Program in Creative Writing and the person responsible for bringing Hawkes to the University.
A loyal cadre of former Hawkes students, including several famous authors, also will return to the University for the tribute. Among them will be Lori Baker, Alison Bundy, Mary Caponegro, Jeffrey Eugenides, Eurydice, Samantha Gillison, Jaimy Gordon, Rick Moody, Joanna Scott, Elizabeth Searle and Jim Shepard.
Other guests will include literary critics Marc Chenetier, Geoffrey Green, Larry McCaffery and Heide Ziegler, and admirers Michael Ondaatje ("The English Patient"), Bradford Morrow, Patrick McGrath and Robert Steiner.
All events are free and open to the public.
Remembering John Hawkes: A Memorial Tribute at Brown University

Tuesday, April 13
6 p.m. - Introducing John Hawkes
Starr Auditorium, MacMillan Hall, Room 117
Panelists: William Gass, John Barth, Robert Coover, Edwin Honig
9:30 p.m. - Celebrating the Program in Creative Writing
Aldrich House, 110 Benevolent Street
Panelists: Lori Baker, Alison Bundy, Mary Caponegro, Jeffrey Eugenides, Eurydice, Samantha Gillison, Jaimy Gordon, Rick Moody, Joanna Scott, Elizabeth Searle, Jim Shepard
Wednesday April 14
10 a.m. - The Hawkes Legacy: A Roundtable Discussion
Grant Recital Hall, Orwig Music Building, corner of Young Orchard and Hope
Panelists: Marc Chenetier, Geoffrey Green, Larry McCaffery, Mark Stafford, Heide Zeigler, Robert Scholes, Arnold Weinstein
4 p.m. - The Johns Hawkes Memorial Reading
Starr Auditorium, MacMillan Hall, Room 117
Opening comments by Brown President E. Gordon Gee
Panelists: Jonathan Baumbach, Robert Creeley, Patrick McGrath, Bradford Morrow, Toby Olson, Michael Ondaatje, James Schevill, Robert Steiner, Paul West
######
98-097