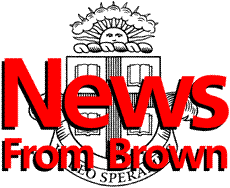 ---
The Brown University News Bureau
Contact: Janet Kerlin


'Argument Without End'

Brown to host national introduction of McNamara Vietnam War book
Vietnamese wartime leaders square off with Americans in 'Argument Without End'

Former Secretary of Defense Robert S. McNamara and co-authors will visit Brown University April 23, 1999, to introduce their new book, Argument Without End: In Search of Answers to the Vietnam Tragedy. Their presentation, at 4 p.m. in MacMillan Hall, is open to the public without charge and will be followed by a book signing. (The authors will be available to the press at 2:30 p.m.)

PROVIDENCE, R.I. -- More than two decades after the fall of Saigon, a new book is about to make dramatic and permanent changes to discussions about the Vietnam War.

For the first time, U.S. military officials and scholars, including former Defense Secretary Robert S. McNamara, have presented U.S. motives and capabilities of the war alongside those of their former Vietnamese enemies. The book, Argument Without End: In Search of Answers to the Vietnam Tragedy, draws on an array of declassified documents and transcriptions of unprecedented face-to-face meetings in Hanoi. It describes the decision-making, mindsets and misunderstandings on both sides that allowed the tragic losses of the war to continue, even to increase.

[Editors: McNamara and his co-authors will be available to the press at 2:30 p.m. Friday, April 23, in Maddock Alumni Center, 38 Brown St.]

McNamara and his co-authors - James Blight, Robert Brigham, Thomas Biersteker and Herbert Schandler - will discuss their work, respond to audience questions and sign copies of the book at 4 p.m. Friday, April 23, 1999, in the C. V. Starr Auditorium of MacMillan Hall on the Brown University campus. That event is open to the public without charge. The research and international discussions that form the substance of the book were developed as part of an ongoing project of Brown's Watson Institute for International Studies.

In his 1995 best seller, In Retrospect: The Tragedy and Lessons of Vietnam, McNamara said he was unable to answer key questions about North Vietnam and America and their inability to avoid the conflict or end it before the loss of 3.8 million Vietnamese and 58,000 American lives.

In Argument Without End, McNamara probes more deeply with four co-authors: James Blight, Vietnam Project leader and professor of international relations at Brown; Robert Brigham, director of Vassar College's Program in International Relations; Thomas Biersteker, director of Brown's Watson Institute; and retired Army Col. Herbert Schandler.

McNamara and co-authors traveled to Hanoi and, over several visits, coaxed out a dialogue with their Vietnamese counterparts that revealed misconceptions and miscommunications that led to the start of the war and its escalation. Excerpting portions of the dialogue from Hanoi, the authors lay out the opposing views, and explain how failures on both sides created missed opportunities that would have influenced decisions made at the time and changed the course of history.

McNamara writes about what might have been, he says, in the hope that the world leaders can learn from the missed opportunities to avoid tragedies in the 21st century.

With revelations uncovered during the Hanoi visits, McNamara draws conclusions that there were missed opportunities. Among them:
A Washington-Hanoi confrontation need not have occurred if the Kennedy administration had understood Vietnamese nationalism and the Hanoi leadership had understood U.S. motives in Southeast Asia.


A neutral solution in Saigon, with a coalition government in place, was possible at any point between 1961 and 1964, if only Washington and Hanoi had understood the concerns and objectives of one another.


Washington and Hanoi could have moved successfully to peace talks at any time between May 1965 and October 1967 if each had understood one another's bottom lines - which were reconcilable - and their respective constraints on communicating their positions to one another.
Argument Without End is the first two-sided analysis of the mistakes by both sides that led to the Vietnam tragedy, according to Tom Blanton, executive director of the National Security Archive at George Washington University, who will moderate the public discussion on April 23. The book is published by PublicAffairs, 250 West 57th St., Suite 1825, New York, N.Y., 10107.

######
98-100