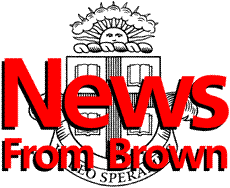 ---
The Brown University News Bureau
Contact: Glenn Hare

Brown conference to explore the future of online multimedia literature
Technology Platforms for 21st Century Literature (TP21CL), a three-day conference at Brown University April 7-9, 1999, will feature many of world's breakthrough hyperfiction writers and cutting-edge technologists discussing the future of literature on the Internet.
PROVIDENCE, R.I. -- Brown University, internationally recognized as a leader in developing humanistic uses for the computer, will host an historic encounter between electronic literary pioneers, innovative software developers and mainstream and online publishers April 7-9, 1999.
Technology Platforms for 21st Century Literature (TP21CL), a three-day conference, will be hosted by Brown's Scholarly Technology Group and the Program in Creative Writing's Hyperfiction Workshop with support from Ziff-Davis, SOFTBANK, USWeb and the Internet Capital Group.
"Until now, the attention of software developers has been on making things faster and flashier for the commercial world, and in the process, text, and particularly literary text, has taken something of a beating," said novelist Robert Coover, conference planner and hyperfiction workshop teacher at Brown. "We want to focus that attention, for a moment, on the needs of creative writers. As the world moves from book to screen, we don't want to leave serious literature in the backwaters."
Through a series of open dialogues, demonstrations and creative workshops, the conference hopes to create a conversation between hypertext writers, publishers and technologists. The conference will address the needs of writers for flexible, easy-to-use and affordable tools to create web-based literature; look at the needs of publishers and publishing systems; and focus on technical education and support for writers.
"Cyberspace is omnipresent. It is our contemporary reality and it is here to stay, so poets, writers and their readers will come to it (cyberspace) to harness the opportunity presented by digital technology," said Coover. "The creators of technology must concentrate on rearming artists and their audiences, not merely business people and consumers. We have to bring literary invention and technical innovation together."
Featured participants at TP21CL will include Michael Joyce, author of afternoon, a story, perhaps the most celebrated hypertext novel written to date; poet Stephanie Strickland, writer of True North, whose work has appeared in The Paris Review, The Kenyon Review, Prairie Schooner and the Electronic Book Review; and Stuart Moulthrop, author of Victory Garden, Hegirascope and the new online virtual reality narrative, Tomb Robbers.
Other attendees will include James Louderback of ZDTV, a 24-hour television network about computing; Mark Bernstein, of Eastgate Systems Inc., a hypertext publishing firm; Jay Bolter, a professor of new media at the Georgia Institute of Technology; and Cathy Marshall, a researcher at Fuji Xerox's Palo Alto Laboratory.
Simon & Schuster, Random House, Grove-Atlantic and other mainstream publishers, as well as Marc Canter, the creator of Macromedia, a well known and popular hypertext software program among writers, also will also attend, Coover said.
The conference will be highlighted by two major events. The first will take place on Wednesday evening at 7 p.m. in the Salomon Center for Teaching. futureTEXT, a literary performance featuring some of the best innovative electronic writers and poets in the field, including Jim Rosenberg, Deena Larson, Edward Falco, Marjorie C. Luesebrink and Bill Bly, as well as Joyce, Strickland and Moulthrop, and many others. On Thursday evening at 7 p.m. in the Multimedia Lab of the Graduate Center, Michael Miller, editor-in-chief of PC Magazine, will present a state of the art introduction to futureTECH, which will provide glimpses of the newest and future electronic software for writers. These and other conference events are free and open to the public.
The conference -Web site - offers additional information.
TP21CL Conference Schedule
Wednesday, April 7
7 p.m., Salomon Center for Teaching, The College Green
futureTEXT, a performance of leading-edge electronic writing
Thursday, April 8
9:30 a.m., Graduate Center Piano Lounge, 92 Thayer Street
There Is No Simple Way to Say This: Writers on the Art of Electronic Writing

3 p.m., Starr Auditorium, MacMillan Hall
State of the Art: A Technical Overview by Michael Miller

3:30 p.m., Starr Auditorium, MacMillan Hall
futureTECH, a glimpse into 21st century technology for writers

7 p.m., Graduate Center Multimedia Lab, 92 Thayer Street
futureTEXT/TECH, demos and reception
Friday April 9
10 a.m. Graduate Center Piano Lounge, 92 Thayer Street
The Story So Far, a review of the first two days by Jay David Bolter

10:30 a.m. Graduate Center Piano Lounge, 92 Thayer Street
What Happens Next, a continuing dialogue

2 p.m. Graduate Center Multimedia Lab, 92 Thayer Street
The Plot Thickens, open house with workshops and discussion groups

######
98-120