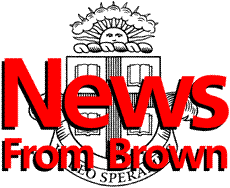 ---
The Brown University News Bureau
Contact: Mark Nickel

Public Service Announcement
Superintendent of Schools Search Committee will report to the public
News directors and station managers: The Search Committee for the new Superintendent of Providence Public Schools asks your help in notifying residents about the following community meeting. This PSA should run through Tuesday, April 20. If you have any questions, please call Kate Wilson at (401) 863-9485.
English, about 30 seconds
During meetings last month, the Search Committee for the new Providence Public Schools Superintendent gathered public opinions and comments about the search. At 8 P.M. on Tuesday, April 20, in the auditoriuim of Classical High School, the search committee will hold an open meeting to summarize public input. The committee will also ask for public responses to the report.
Once again, the open meeting of the Providence Public Schools Superintendent Search Committee will be held at:
8 p.m. Tuesday, April 20, 1999,
in the Classical High School Auditorium
Spanish, about 30 seconds
Durante las reuniones del mes pasado, el comite de busqueda del nuevo superintendente para las escuelas publicas de Providence se reunieron para pedirle a la comunidad su opinion sobre el proceso de busqueda del superintendente. A las 8 de la noche, el 20 abril en el auditorio de Classical High School, el comite tendra una reunion publica para resumir las opiniones publicas. El comite tambien le pedira repuestas del resumen.
Otra vez, la reunion publica del comite de busqueda del nuevo superintendente para las esuelas publicas de Providence se pasara a:
las 8 de la noche, martes 20 de abril, 1999
al auditorio de Classical High School
######
98-108a