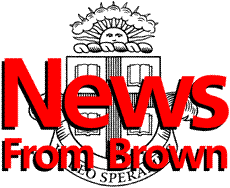 ---
The Brown University News Bureau
Contact: Glenn Hare

PONG '99 art and technology festival to feature DJ Spooky, EBN, others
PONG '99, Brown University's fifth annual art and technology festival, will host hip-hop mix master DJ Spooky That Subliminal Kid and the multimedia performance group EBN in concert April 23. The festival also will feature several leading-edge performance, installation and multimedia artists on April 25.
PROVIDENCE, R.I. -- PONG '99, Brown University's annual festival of art and technology, will feature master mixer DJ Spooky That Subliminal Kid and the multimedia performance group EBN (the Emergency Broadcasting Network) in concert at 9 p.m. Friday, April 23, in Alumnae Hall.
Now in its fifth year, the PONG festival also will host several other events and artists, including a series of free public talks with leading-edge multimedia, installation and performance artists. Also on Friday at 4 p.m. in Alumnae Hall, DJ Spooky will talk about his music and previous collaborations with other artists. Sunday, April 25, will feature an afternoon symposium entitled, "Crowd Control and Media Subversion," with installation artists Don Ritter and Perry Hoberman; Joey Skaggs, satirist; and Greg DeoCampo of EBN. They will discuss their art beginning at 1 p.m. in the auditorium of the List Art Center, 64 College St. PONG '99 is directed by Todd Winlker of the Department of Music, with additional support from the Department of Visual Art.
Tickets are available at the Orwig Music Building, corner of Hope Street and Young Orchard Avenue: $10 for the general public and $5 for Brown/RISD students. Tickets also will be available at the door. Alumnae Hall is located at 194 Meeting Street. Call the Department of Music (401 863-3234) for ticket information.
DJ Spooky's (a.k.a. Paul Miller) latest album, Riddim Warfare, is a sound collage that brings together a panoply of soundscapes including everything from classical to hip-hop to avant garde samples, live drum and bass rhythms and his personal manifestos. The recording also spins in such luminaries as Sonic Youth's Thurston Moore, members of Organization Konfusion, Killah Priest and avant-garde guitarist Arto Lindsay.
In addition to life as a mixologist, DJ Spooky has his hands in a variety of projects outside the realm of music. He wrote the score for the hip-hop documentary Slam, which won the Grand Prize at the 1998 Sundance Film Festival. He's gained critical recognition as a visual artist for his solo exhibit at the Annina Nosei Gallery and an installation at the Whitney Museum. He writes for various art, culture and lifestyle magazines, among them Paper, Trans and the new digital art magazine Art Byte.
EBN is a multimedia performance group that splices techno-rhythms and laser-quick video loops with live mixes and percussion. EBN has produced a number of interactive CD-ROM recordings and was recruited by Irish super band U2 to enhance the ZOO-TV tour. Their music has been included on the motion picture soundtracks of Seven, Scream, Mortal Combat and Phat Beach.
Don Ritter is an installation, video and sound artist who has presented more than 60 large-scale interactive works internationally since 1986. His installations, video performances, telecommunication events and video tapes have been presented in North America, Europe and Japan. He currently is a professor of computer graphics and interactive media at Pratt Institute.
Installation and performance artist Perry Hoberman also has exhibited his work widely throughout the United States and Europe. He works with a variety of technologies, ranging from the utterly obsolete to the latest state-of-the-art. Unexpected Obstacles, a retrospective survey of Hoberman's work, was exhibited last year at the ZKM Mediamuseum in Karlsruhe, Germany, and Gallery Otso in Espoo, Finland. Hoberman is represented by Postmasters Gallery in New York, and has taught at the San Francisco Art Institute, the Cooper Union School of Art, and the School of Visual Arts in New York City.
For more than 30 years, performance artist Joey Skaggs has been one of America's most notorious socio-political satirists, media activists, and dedicated proponents of independent thinking and media literacy. Some of his most notable pranks and media hoaxes, which have been reported on by UPI, USA Today, CBS, the BBC and newspapers across the country, include The Fifty-Foot Brassiere, an installation placed on the steps of U.S. Treasury building in New York City on Valentine's Day 1969; Metamorphosis, a super-vitamin made from cockroach hormones he touted in 1981; and Portofess, a combination bicycle and confessional booth for people on the go, premiered at the 1992 Democratic National Convention.
Greg DeoCampo is the computer technologist for EBN. His video collages have been seen on MTV. The group's latest CD-ROM project is Telecommunications Breakdown.
PONG '99

Friday, April 23
4 p.m.: Lecture by DJ Spooky, Alumnae Hall
9 p.m.: Concert featuring DJ Spooky and EBN, Alumnae Hall
Sunday, April 25
1 p.m.: Crowd Control and Media Subversion, symposium with panelists: Joe Skaggs, Greg DeoCampo, Don Ritter and Perry Hoberman, List Art Center
######
98-111