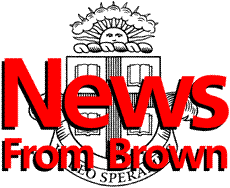 ---
The Brown University News Bureau
Contact: Glenn Hare

Busta Rhymes headlines Brown's Spring Weekend April 22
Hip-hop superstar Busta Rhymes will kick off Brown's annual Spring Weekend on April 22 with concert in Meehan Auditorium. Performing April 24 on The College Green as part of the Spring Weekend Extravaganza will be DJ Maseo of De La Soul, singer/songwriter Vic Chesnutt, and bands Black Star and Wilco.
PROVIDENCE, R.I. -- The undisputed hip-hop superstar Busta Rhymes will unleash a maelstrom of turbulent wordplay at Brown's Spring Weekend April 22-24. Busta will be in concert Thursday, April 22, in Meehan Auditorium. Doors open at 7 p.m.
Busta will perform cuts from his latest rap epoch, Extinction Level Event (The Final World Front), a 19-song disc that features the legendary pop diva Janet Jackson and the hard-driving rock icon Ozzy Osborne. Busta will also perform rhymes from his previous multiplatinum recordings.
In 1996, Busta broke on the hip-hop scene with the release of his first solo album, The Coming. He soon followed with the 1.5-million selling recording When Disaster Strikes, keeping him on the top of the charts. A grand master of hip-hop culture, Busta has flexed his unique mix of performance, costume and humor into movies, television and a line of clothing. He also leads his own recording label, Flipmode Entertainment. Recently nominated for three Grammy Awards, Busta also has received nominations from MTV and Soul Train.
Opening the concert will be emcee Common, a Chicago-based DJ who has released three albums, including his latest Resurrection.
Spring Weekend Extravaganza
On Saturday, April 24, the Spring Weekend Extravaganza will take place on The College Green. The all-day festival will feature music, food and sun will feature a noon show with Wilco, Vic Chestnutt, Black Star and DJ Maseo of De La Soul.

Wilco, which was formed in 1995, has gained a large following and critical acclaim for their four albums, including their 1998 offering, Summer Teeth, which received stellar reviews in Rolling Stone, Spin and Wall of Sound.

Vic Chesnutt, of Athens, Ga., has recorded two solo albums, Salesman & Bernadette and About to Choke, both produced by R.E.M.'s frontman, Michael Stipe. He has been hailed as one of the most gifted song writers of our era.

Black Star, the band formed by Mos Def and Kweli Are, sings the message of Marcus Garvey - that through one's mind anything can be attained. Their new video is being shown on MTV and elsewhere, and they have released a recent album entitled Black Star on the Rawkus Records label.

DJ Maseo, who will perform at the beginning and end of the show as well as during each set break, is a member of the band De La Soul, which has released several chart-topping hip-hop albums.

Tickets for both shows go on sale to the general public April 15 at the Brown University Student Activities Office in Faunce House, 75 Waterman Street. Tickets for the Busta Rhymes concert are $17 for the general public and $14 for Brown/RISD students. Tickets for the Spring Weekend Extravaganza are $14 for the general public and $12 for Brown/RISD students.

######
98-112