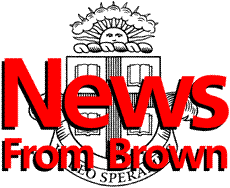 ---
The Brown University News Bureau
Contact: Janet Kerlin

Open or shut?
Study finds most R.I. municipalities do not comply with open records laws
Requests for arrest reports and municipal financial settlements were denied or ignored in most Rhode Island municipalities, according to a Brown University study. The second study of access to public records and meetings, conducted by Brown students, provides data on compliance by police departments, municipal clerks and tax assessors, and school committees.
PROVIDENCE, R.I. -- In a second annual statewide study of Rhode Island cities and towns conducted by students at Brown University, most requests for police initial arrest reports and municipal financial settlements were denied or ignored.
Police departments met full legal compliance 37 percent of the time (40 out of 108 requests). To be considered legally compliant, a department had to provide the requested initial arrest report in response to both a mailed request and to two in-person visits, and to charge no more than the 15-cent per page legal limit. Eight of 37 police departments were fully compliant with each of the researchers' requests.
"The low results are disturbing given that the police were evaluated for compliance with the Open Records Law just last year, and vowed to improve," said Ross Cheit, associate professor of political science, whose public policy students conducted the research this academic year. Cheit noted that last year's results cannot be compared directly with the findings of this year's study, because this year's study asked for more comprehensive and complex information and used different methods to measure compliance.
Requests for the settlement terms of lawsuits against municipalities were successful in only 23 of 72 requests. "This compliance rate (32 percent) is disheartening," said Cheit, who noted that in many cases, municipal employees said they didn't know where such information was located.
Most school districts were compliant with state Open Records and Open Meetings laws, but the study recommends improvements and education for school committees and school department staff.
The study's final report was released this morning (Wednesday, April 28, 1999) during a press briefing in Maddock Alumni Center at Brown University. Students making presentations of the information were Monique Schumacher, Brian Swett, Amanda Freeman and Lila Slovak.
Different requests were submitted to police, municipalities, and school departments. To determine whether police were compliant, a local volunteer sent a request for an initial arrest report. Volunteers and student researchers then made two visits in person. For settlement results, letters were sent by volunteers to tax assessors and municipal clerks. For school districts, volunteers made phone calls to a high school and asked for a blank teacher evaluation form and a written policy on professional development. Researchers also analyzed school committee minutes to determine how and when committees recess into executive session.
The full report, Access to Public Information In Rhode Island's Cities and Towns, provides detailed results for each Rhode Island city and town. Copies of the report will be available at public libraries, and a Web copy will be available after 10 a.m. Wednesday.
Recommendations
The researchers offered general recommendations to bring Rhode Island cities and towns into full compliance with the state's open records laws:
Professional Duties: Municipal officials who handle public documents should know what information is public and where the records are located.


Information Management: Agencies need to improve information management. Workers told researchers they didn't know where to find municipal financial settlements.


Institutional Changes: The attorney general, dependent on agencies such as police departments, may be reluctant to disrupt relationships to enforce Open Records and Open Meetings laws. The study suggests transferring Freedom of Information responsibilities to the secretary of state's office, to the State Ethics Commission, or possibly to an FOI commission.


The creation of an FOI helpline could provide useful advisory opinions to municipal officers, particularly school committee members.
######
98-114