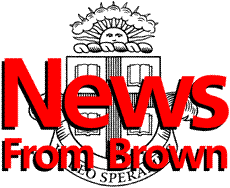 ---
The Brown University News Bureau
Contact: Mark Nickel

The case against sweatshops
Six principles to guide Brown's participation in national monitoring effort
Brown University has announced six principles that will govern its participation in a national effort to eliminate sweatshop conditions in the production of University-licensed merchandise. President E. Gordon Gee also announced a six-member advisory committee that will monitor issues related to Brown's Code of Conduct for licensees.
PROVIDENCE, R.I. -- Following a discussion this morning with representatives of the Brown Student Labor Alliance, Brown University President E. Gordon Gee has announced six principles that will govern Brown's participation in a national organization designed to address and improve working conditions and worker rights in factories that produce merchandise under University license.
Gee also announced creation of a University Code of Conduct Committee that will advise him on "sweatshop" issues. The committee will consist of two faculty members appointed by the Faculty Executive Committee, two students appointed by the Undergraduate Council of Students, and two administrators appointed by the president. Gee will appoint a chair from among the six committee members.
"An effective and responsible monitoring mechanism is crucial to the successful implementation of Brown's Code of Conduct," said Gee. "The campus committee and the principles we agreed upon today will help ensure that whatever mechanism we adopt will be one that serves the best interests of Brown and the men and women who make University-licensed apparel. I applaud the efforts of students in the Brown Student Labor Alliance who have contributed to this conversation both on campus and across the nation."
On March 15, 1999, Brown and 16 other universities were the first educational institutions to join the Fair Labor Association (FLA), a non-profit organization established to monitor company compliance with a workplace code of conduct. The FLA, which originally included representatives of corporations and non-governmental agencies, added a higher education position to its board and established a special college advisory board to represent university concerns.
The six principles announced by Gee today address a set of concerns raised by students about the level of participation afforded universities by the FLA:
The FLA's university advisory board must have full decision-making power to improve the Code of Conduct and modify the monitoring system.
Universities, not corporations, must choose external monitors for factories that manufacture university-imprinted merchandise.
Universities must be able to establish criteria that determine which factories are monitored and when.
Monitoring reports and third-party complaints must be made public in their entirety, excluding names of individuals, within a week of completion.
Corporations will not receive advance notification of monitoring or verification visits.
Monitors must promptly investigate all credible third-party complaints of factory violations.
Brown's Code of Conduct Committee will monitor the FLA's structure and policies as they develop. If the FLA has not adopted or adequately addressed the University's six principles by October 15, 1999, the committee will advise President Gee about possible courses of action. Gee has said that Brown will withdraw from the FLA if the principles are not met.

"Students and administrators have recognized that there are significant flaws in the FLA," said Kristofer Rutman, an SLA member. "Brown's commitment to these principles ensures that the University will retain control of its monitoring process. We hope other universities will work with their students to make a similar commitment."

For additional information about the SLA, contact Nicholas Reville at (401) 863-5546.

######
98-115