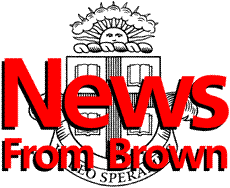 ---
The Brown University News Bureau
Contact: Tracie Sweeney

Thirteen Brown Says Thank You! awards presented at special breakfast
Thirteen members of Brown University's support staff received Brown Says Thank You! awards for the innovation, initiative, service and personal commitment they demonstrate in their work. The awards were presented at the University's annual staff appreciation breakfast May 4.
PROVIDENCE, R.I. -- Brown University honored 13 employees with Brown Says Thank You! awards, presented at the University's annual staff appreciation breakfast Tuesday, May 4. The winners, all nominated by their co-workers or supervisors, were selected for the innovation, initiative, service and personal commitment they have demonstrated in their work at Brown.
Individual Awards
Karen Boyd of North Kingstown, a computing coordinator at the Center for Gerontology and Health Care Research: "Karen's respect for her job, herself and others enables her to be one of the backbones of our organization. She is the glue that holds us together."


Leonard Erickson of Providence, a supervisor in the Bio-Med Multidisciplinary Laboratory/Mailroom, "is a dedicated employee of Brown who brings joy and friendship to those around him. Truly a team player, he has a genuine love for his job and the University."


Annette Joseph of Pawtucket, an administrative assistant in the Department of Cognitive and Linguistic Sciences "treats everyone with respect and, because of her high standards and collegial attitude, she has set a standard of cooperation for the department."


Nancy Keenan of Pawtucket, assistant to the Registrar, is "an accomplished veteran whose work experience mirrors the academic mission of Brown." She has "both depth and breadth of experience, and performs her job with care and integrity."


Barbara Le Page of Bristol, a senior assistant in Human Resources Information Systems: "Working diligently in pursuit of any requests, Barbara is the resource for any type of employee information. If the answer is there, she will find it!"


Carol Oliveira of Rehoboth, Mass., a coordinating technical secretary in the Department of Mathematics, "always demonstrates the extent of her dedication to Brown, and especially to the mathematics department, by going above and beyond the call of duty in everything she does."


Genevieve Pari of North Providence, a coordinating technical secretary in the Division of Engineering: "A lifetime of serving Brown at the highest levels of effectiveness and service to colleagues, Gene demonstrates what loyalty and professionalism mean at the University."


Paula Penelton of East Providence, an administrative assistant in Facilities Management: "Small businesses and multinational corporations alike would be lucky to have someone like Paula on staff. She could even manage to get Boston's `Big Dig' done on time and under budget!"


Kristen Quaedvlieg of Providence, a staff assistant in the Brown Bookstore, "occupies one of the University's hot seats, always managing to keep her cool while retaining a lively sense of humor. She is truly a role model for the entire Brown community."


Roberta Sharp of East Providence, a coordinator in Alumni Relations: "Alumni know when they call Roberta (and hundreds do call!) they can count on prompt and efficient assistance. Her human relations skills are of the highest caliber and everyone benefits from working with her."


Kathryn Spicer of Barrington, an academic department manager in the Department of East Asian Studies: "Sensitive and far-seeing, Kathy sizes up new projects with energy, innovation and, most of all, grace. Her good judgment and giving personality are essential ingredients to the success of the department."
Team Award
Karen Dyson of Pawtucket and Gloria Morales of Central Falls, who both are coordinators at Graphic Services, were honored for their "mutual successes, satisfied clients, marvelous senses of humor, positive attitudes and a genuine concern for each other's well being."
######
98-122