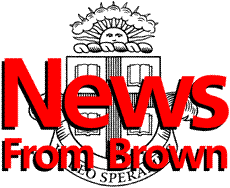 ---
The Brown University News Bureau
Contact: Tracie Sweeney

The 1999 Royce Fellowship Program
25 undergraduates receive fellowships for research, public service
Twenty-five Brown University undergraduates will receive Royce Fellowships, which will enable them to advance their research and public service projects locally, nationally and internationally.
PROVIDENCE, R.I. -- Twenty-five Brown University undergraduates have been selected to receive Royce Fellowships - awards of up to $4,000 to help them complete proposed research, curricular development, or public service projects locally, nationally and internationally.
The program also confers lifetime membership in the Society of Royce Fellows, which supports reflection and inquiry by inspiring Fellows to connect their scholarly work with that of their peers and faculty. This year's contingent brings the Society's membership to 100.
The Royce Fellowship Program was started at Brown in 1996 by Charles Royce, a 1961 graduate of Brown, to recognize undergraduates who have gained distinction through their research, creativity, service and leadership. Royce, president of Royce Funds, also is a University trustee.
Alabama
Natalie Lewis, Class of 2000.5, of Huntsville proposes to examine Antiguan culture. Her research will include analyzing Antiguan music, literature, art and dance, and collecting personal narratives.
California
Bradford Mak, Class of 2000, of Los Angeles will design and implement a field-based survey to assess the effect of a community health project in rural Bangladesh. The project, being done for his honors thesis, will focus on empowering indigenous self-help organizations to promote health education and initiate community-based health interventions.
Connecticut
Rachel Feldman, Class of 2001, of West Hartford will study classical performance and composition at the San Francisco Conservatory of Music with the intention of producing a digital recording of classical music and her own compositions.


Elizabeth Loeb, Class of 2000, of North Haven plans to construct an archive for a series of grassroots political events coordinated by a national progressive political organization. With this archive, she will research changing political practices within progressive activism and will publish her research for use by activists and scholars.


Marc Zuluaga, Class of 2001, of Sandy Hook will study geothermal heat pumps designed to meet the needs of a building with minimal pollution. He is working with geological science Professor John Hermance and engineering Professor Barrett Hazeltine to maximize the application of this technology to New England.
District of Columbia
Maria Reff, Class of 2000, will examine how solar homes in rural Honduras avoid emitting greenhouse gases. She will compare calculation methodologies with field study results and incorporate her findings into a project being done for the U.S. Initiative on Joint Implementation by Enersol Associates, a nonprofit international development organization that works to improve the quality of life in developing countries by fostering the use of solar energy for rural electrification.
Illinois
Joshua Bernstein, Class of 2001, of Chicago will conduct a comprehensive analysis of Palestinian, Israeli, and Jordanian attitudes toward the allocation of water in the Jordan Valley. He will assess the current political climate and determine the most feasible method of distributing the remaining water equitably.
Iowa
Eric Tucker, Class of 2002, of Iowa City is creating the Providence Urban Debate Initiative for public high school students. The program will provide an alternative educational forum for ADHD students so that they can direct their hyperactivity, creative nonlinear thinking, and impulsiveness into debate.
Maryland
Robert R. L. Gray, Class of 2001, of Chevy Chase plans to research black migration to Martha's Vineyard during the last 50 years. He will combine historical material from the archives of the Dukes County Historical Society and the Martha's Vineyard Historical Society with his own interviews.


Sarah Ann Wells, Class of 2001, of Takoma Park plans to create and lead an eight-week literacy program for second-language learners using poetry as the curriculum. Her project will culminate in a book of writing and reflection by the students, and will include lesson plans for the class and commentary by other practitioners.
Massachusetts
Colleen Dalton, Class of 2000, of Hingham will use earthquake waves to locate and model the subducted Farallon slab, a fragment of the Earth's hard outer shell that sunk more than 1,500 kilometers into the Earth and now lies beneath eastern North America. She hopes to illuminate how solid rock flows and circulates throughout the Earth's deep interior.


Alice Osborne Lovejoy, Class of 2001, of Marblehead is creating a documentary expression program with members of Providence's Southeast Asian gangs. The collaborative documentary will give gang members an opportunity to tell their stories while learning about filmmaking.


Julia Turner, Class of 2000, of Milton will research the effect of immigration on the development of American culture and identity for her honors thesis. She will examine previously unstudied documents of the Tirocchi sisters, two Italian immigrants to Providence who established and ran a dressmaking shop from 1915 to 1947.


Benita Wong, Class of 2000, of Sudbury will explore the synthesis and characterization of a novel protease inhibitor that has been designed to overcome flaws of naturally derived inhibitors. She hopes that her work with Christopher Seto, assistant professor of chemistry, will lead to a more effective compound to prevent and treat cancer.
New Jersey
Molly Christiansen, Class of 2000.5, of Princeton will go to Oaxaca, Mexico, to help a rural community address its sanitation needs by building low-cost composting toilets. She will work with the village and a local nongovernmental organization to develop the project.
New York
Alexandra Gordon, Class of 2001, of New York City will translate The Never Ending Path, a novel by Russian author Alexandra Brushstein, into English. She will also create illustrations to accompany the text.


Loira Limbal, Class of 2001, of New York City will research the effect of racial formation on women's roles in Dominican societies in the United States and in the Dominican Republic. Her work will include documenting the stories of women leaders and developing a summer program for young Dominican/Latina women that combines creative writing and history.


Cameron Smith, Class of 2000, of Brookville will examine how women writers and intellectuals influenced Ralph Waldo Emerson's abolitionist rhetoric. Smith also will investigate how Emerson's framing of abolitionism synthesized the sentimental and the intellectual in order to articulate a new conception of race and individual identity during the Jacksonian period.
Virginia
Michael Allan, Class of 2000, of McLean will investigate the cinema direct movement in Quebec during and following the Quiet Revolution of the 1960s. He will focus on the relationship between documentary and history and the implications of cinema direct documentary in relation to a collective Quebec identity.


J. Lester Feder, Class of 2001, of McLean will be an apprentice to Del Rey, a professional blues guitarist from Seattle. His project involves conducting research on blues history, assisting Rey's producer and agent in creating a new album, and taking guitar lessons.
Tennessee
Ama Codjoe, Class of 2001, of Jackson plans to work with the National Black Women's Health Project in Washington, D.C. She will develop health education programming for young black women, focusing on such issues as nutrition, eating concerns, and body image.
Texas
Carolyn Cohan, Class of 2000, of Dallas will study the educational system in Puerto Rico to better understand the challenges facing Puerto Rican students in mainland schools. She will conduct her research with the departments of education and literature at the University of Puerto Rico.
Washington
Alison Stern Golub, Class of 2000, of Seattle will conduct in-depth research on the psychological effects of the Holocaust on survivors' resilience and will to live. The study is being done for her honors thesis. She also will collaborate with Maud Mandel, assistant professor of Judaic studies, to create a senior seminar course on comparative genocide for the fall semester of 1999.
International Students
Julia Buss, Class of 2000, of Canterbury Kent, England, will examine English literature from the French Revolution through the first half of the 19th century. She will focus on literature produced by and circulated among the working class as a reflection of the social and political history of the period.


Yi Ping Ho, Class of 2000, of Singapore will examine the role history plays in fostering national identity in Singapore. Ho aims to analyze the significance and implications of national education in light of the social, political and economic events unfolding in Southeast Asia.
######
98-124