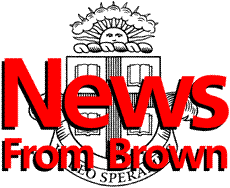 ---
The Brown University News Bureau
Contact: Glenn Hare

Rhode Island artists
'(Im)Mobile Spaces,' a new exhibit at the Bell Gallery, opens June 11
A Bell Gallery exhibition will show work by painter Irene Lawrence and sculptor Barbara Westermann. (Im)Mobile Spaces will open Friday, June 11, 1999, with a free public reception beginning at 5:30 p.m. The display will continue through Sunday, July 11.
PROVIDENCE, R.I. -- (Im)Mobile Spaces, a new exhibition featuring the work of Rhode Island artists Irene Lawrence and Barbara Westermann, will open with a free public reception at 5:30 p.m. Friday, June 11, 1999, in the David Winton Bell Gallery at Brown University. The show, which continues through Sunday, July 11, contains about 15 paintings and a series of sculptures.
"Although different in their media as well as stylistic and thematic vocabulary, when presented together Lawrence's paintings and Westermann's sculpture offer a harmonious visual interplay of two- and three-dimensional forms," says exhibition curator Vesela Sretenovic. "In tandem, their art explores motionlike and motionless spatial enclosures, and restless and restful surfaces that give an overall feeling of continuous expansion and contraction."
(Im)Mobile Spaces will feature recent paintings by Lawrence, a resident of Providence. Completed during the last year and a half, the new pieces developed from the artist's earlier semi-figurative work dating to 1994. These new abstract works are thickly painted canvases, rich in color and gestural marks, that disclose organic shapes and fluid surfaces. "At times they appear vigorous and impulsive, and at other times calm and still," says Sretenovic. "All of the pieces are untitled works, without any specific references or narratives, and are simply the visual expressions of internal states of mind in search of harmony."
Trained at the Rhode Island School of Design, Lawrence has shown her work extensively throughout New England, including The RISD Museum of Art, the Virginia Lynch Gallery and the Addison Gallery in Andover, Mass. She has taught at the Brown Learning Community and the Newport Art Museum and was a co-organizer and secretary of Visual Artist Rhode Island Inc. (VARI).
Westermann's sculptural series Tractatus will also be a part of (Im)Mobile Spaces. The work is comprised of five vessel forms made in polymer-reinforced concrete, varying in height from 3 feet to 7 feet. The title refers to Ludwig Wittgenstein's philosophical text, Tractatus logico-philosophicus, which states "ethics and aesthetics are one." Constructed as solid masses of elemental shapes, these sculptures appear as heavy but never ungracious bodies. Grouped together, "they resonate the feeling of stability and anchorage, but also desolation and solitude," says Sretenovic. "They allude to containers or material embodiments of human spirit, sensuality and aesthetic beauty that often get repressed or even sealed by social constraints and ethical norms."
Westermann, a native of Germany, came to the United States in early 1980s, and in 1985 joined the Whitney Museum Independent Study Program. Previous studies in architecture and urban planning took place at the Gasamthochschule in Kassel, Germany. She earned a master's degree at the Köln Kunsthochschule. Westermann moved to Newport two years ago after 15 years in New York City. She teaches architectural design at Roger Williams University. Her art has been seen throughout Europe and the United States, including exhibitions at the Freiburg Museum of Contemporary Art in Germany, La Jolla Museum of Contemporary Art in San Diego and the Brooklyn Museum.
The exhibition and reception are free and open to the public. Located on the first floor of the List Art Center at 64 College Street, the Bell Gallery is open Monday through Friday, 11 a.m. to 4 p.m. and Saturday and Sunday 1 to 4 p.m.
######
98-127