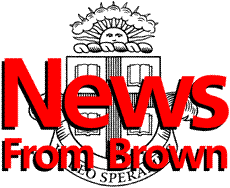 ---
The Brown University News Bureau
Contact: Kristen Cole

$18,000 in prizes
Five student teams receive funding and services to start businesses
Business teams led by Daniel Goldstein of New York City and Jessica Nam of Warren, N.J., recently won cash and services to grow their companies from Brown's Entrepreneurship Program. Three other student ventures will receive free marketing and public relations services.
PROVIDENCE, R.I. -- Students with business plans for a video game company and a baked-goods company recently won awards of seed money and professional services from Brown's Entrepreneurship Program to grow their businesses. Three other student ventures will receive marketing and public relations services to help them get started.
The five student teams were among 24 in the Entrepreneurship Program this semester, an initiative developed in response to student interest in learning how to start businesses. As the program's culmination, five finalist teams presented their projects to a panel of business leaders for judging on May 7.
Daniel Goldstein, a 1998 graduate from New York City, won first prize for Proletariat Entertainment Inc., a short-form video game company that will regularly produce new episodes of games. His team will use $5,000 to help fund the development of the first game this summer. Another $5,000 of legal and marketing services will go toward incorporating, drafting contracts for publishers and investors, and identifying key markets.
Goldstein began the company a year ago. His team includes Brown students Matthew Howard, a junior from Los Angeles; Greg Slovacek, a junior from McLean, Va.; Jesse Kurlancheek, a senior from Dallas, Pa.; and Rhode Island School of Design students Damon Iannuzzelli of Amherst, N.H. and Matthew Sundstrom of Gales Ferry, Conn.
Jessica Nam, a junior from Warren, N.J., was named runner-up for Jessica's Wonders, a baked-goods company with products currently in six Providence stores. Nam received $3,000 cash and $3,500 in professional services, including a chance to attend the Business Incubation Group of Manhattan. Nam, a concentrator in linguistic anthropology, plans to open her first factory next year. She currently bakes products with such names as "Kelly Jelly Banana Bread" and "JJ's Most Moist Mocha."
Three other finalists will split $1,500 in services:
Cassava Pelleting Corporation, a feed distribution company in Africa. The business team: Gordon Nangmenyi, Class of 1998 and current graduate student, from Houston, Texas; Ernest Dean, a senior from Miami, Fla.; Phillip Harris, a junior from Mesa, Ariz.; and Nicholas Krippendorf, a senior from Salem, N.H.


EspressWay, a quick-service, full-menu coffee shop. The business team: Noah Cirincione, a sophomore from Westlake Village, Calif.; Lauren Sharett a sophomore from New York City; and Charles Barnes, a senior from Raynham, Mass.


Applied Cognition Lab, a software company to design an intelligent search engine that enables users to easily find the information they want on the World Wide Web and in computer databases. The team: Jeffrey Stibel, a graduate student from Westport, Conn.; David Landan, a graduate student from San Francisco; Andrew Duchon, a 1998 Ph.D. recipient from Oklahoma; Massimiliano Ciaramita, a graduate student from Rome; James Anderson, professor of cognitive and linguistic sciences; and Steven Reiss, professor of computer science.
More than 50 alumni volunteers and 11 faculty members are involved in the Entrepreneurship Program, which provides lectures, workshops and one-on-one counseling sessions to students who have business ideas. Alumni and faculty serve on the program's advisory board and instruct students about how to develop marketing strategies, how to form a team to run a business, and how to raise capital to finance the plan.

The University-sponsored activity is currently under the auspices of Alumni Relations and managed by the Entrepreneurship Program's student founders Evan Geller of Freeport, Ill., and David Cohen of Amherst, Mass., both seniors.

"We leverage the energy and expertise of the alumni community to help entrepreneurs innovate and start new companies," said Geller. "Since we do not have a business school at Brown, we are forced to be more creative in harnessing the resources we need to create new companies."

Brown has graduated such well-known business leaders as Tom Scott, co-founder of Nantucket Nectars, who serves on the program's advisory board. Alumni are also involved through the Brown Alumni Venture Group, an association of venture capitalists and financiers dedicated to helping students attract stakeholders and partners to their ventures.

######
98-128