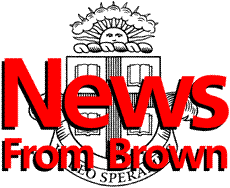 ---
The Brown University News Bureau
Contact: Tracie Sweeney

Summer High School asks: How will people remember the 20th century?
How will the 20th century be remembered? Students participating in this year's Brown Summer High School program will study history, social studies, science, English, or the arts with this question in mind. The program for area students in grades 9 through 12 will run from June 28 to July 23.
PROVIDENCE, R.I. -- Brown University is offering high school students the opportunity to challenge their minds at the Brown Summer High School June 28 to July 23.
This year, the courses for the program will be focused through one essential question: How will people remember the 20th Century? Students will select two courses from the following four:
Whose voices will be heard and whose stories will be told? (history/social studies)


How have our lives been changed in the 20th century by advances in biology? (science)


Print, pictures and music: How have they changed during the 20th century? (English)


From the page to the stage: How can we bring words to life? This arts/literacy course is a collaboration among Trinity Repertory Theatre, the Black Repertory Theater actors, and teachers, and is funded by grants from the Providence Journal and the Rhode Island Foundation.
Courses are taught by teams of students in Brown's Master of Arts in Teaching program. Each team is led by local artists and mentor teachers from local schools.

Students entering grades 9 through 12 this September may apply. Classes are held Mondays through Fridays from 8 a.m. until noon. The cost is $100 per student for books and materials. A limited amount of financial aid is available. Registration is due by June 1. For more information or an application, write Brown Summer High School, Box 1938, Brown University, Providence, RI 02912, or telephone 401-863-1677.

######
98-131