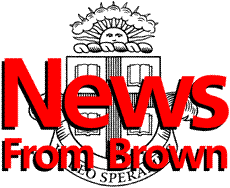 ---
The Brown University News Bureau
Contact: Kristen Cole

Northern Ireland's peace broker John Hume to give baccalaureate address
Nobel Peace Prize laureate John Hume and two student orators are among the scheduled speakers during Brown's 231st Commencement Weekend, May 28-31.
PROVIDENCE, R.I. -- John Hume, Northern Ireland's Nobel laureate and advocate for peace, will deliver the baccalaureate address, and two graduating students will deliver orations to classmates during Brown University's 231st Commencement Weekend.
Hume's speech, "Peace in Ireland: The Healing Process," will take place Sunday, May 30, at 1:30 p.m., in the Meeting House of the First Baptist Church in America. Because seating is limited, only graduating seniors will be admitted to the church. Others may watch and listen on The College Green, where the speech will be simulcast on a large video screen.
The following day, May 31, at 10:15 a.m., Jasmine M. Waddell and Erica M. Dillon will deliver orations to classmates during the College Convocation, in the Meeting House of the First Baptist Church in America. Seating is again limited to members of the class, and the orations will be simulcast to The College Green for viewing by parents, friends and guests of the University.
In addition to the undergraduate ceremonies:
The Brown University School of Medicine will offer an array of speakers Monday, May 31, at 8:45 a.m., in the First Unitarian Church, corner of Benefit and Benevolent streets;


The Brown University Graduate School Commencement Convocation will feature a student speaker at 9:15 a.m. Monday, May 31, at Lincoln Field.
Baccalaureate address: John Hume
Hume received the Nobel Peace Prize last year for his effort to find a peaceful solution to the conflict in Northern Ireland. A major player in Northern Ireland politics since the civil-rights movement in the late 1960s, he is leader of the Social Democratic and Labour Party and a crucial figure in last year's Good Friday Agreement. The former schoolteacher is a member of the European Parliament, the Parliament at Westminster and also the new Northern Ireland Assembly. Throughout much of the past 30 years, Hume, a Catholic, has consistently advocated for a peaceful solution to the national, religious and social conflict that has cost more than 3,500 lives. The Norwegian Nobel Committee lauded Hume as the "clearest and most consistent of Northern Ireland's political leaders in his work for a peaceful solution."
Student Orators: Erica M. Dillon and Jasmine M. Waddell
Dillon, 28, a student of modern culture and media in the Resumed Undergraduate Education (RUE) program, will deliver a speech about life experiences titled "A College Career, or Re-thinking Experience and Progress." After high school, Dillon attended the University of Utah sporadically until she discovered the RUE program and an area of study in which she was interested. Dillon helped to create several web sites since coming to Brown three years ago. Those include the RUE Student Association, the College Hill Independent newspaper, and the Women Writers Project, which posts online text written by women prior to 1830. After graduation, Dillon plans to take a year off from studies and work in Providence, before enrolling in graduate school to delve further into the study of contemporary literature. She is a daughter of David Dillon, of Columbia Falls, Mont., and Cheryl Dillon of Salt Lake City, Utah. Her father is bicycling from his home to Providence to attend the Commencement ceremonies.
Waddell, 21, a political science student, will deliver an oration about "Bridging the Gap Between Individual and Community," an interest during her career at Brown. Three years ago, Waddell began the Community Building Workshops to engage faculty, staff, trustees and students in a dialogue about the Brown community. She also served as president of the University Council of Students; a member of the provost search committee; and helped start Brown Students for Financial Aid, which raised $25,000 last year. She is both a 1998 Truman Scholar for public service and a 1998 Public Policy and International Affairs Fellow. Born in Atlanta, Ga., daughter of Robert and Lynn Waddell, Waddell attended high school in Southern California. Following graduation, she will begin a two-year position as project analyst for a Boston law firm. Afterward, she plans to enroll in law school and pursue a career in civil rights advocacy or government law.
Medical School: Dr. Philip J. DiSaia, Dr. Edward R. Feller, Garey Noritz, M.D. '99
Dr. Philip J. DiSaia, director of the Division of Gynecologic Oncology at the University of California, Irvine College of Medicine, will deliver a speech titled "On the Shoulder of Giants" at the Brown University School of Medicine's Commencement Convocation.
The faculty address will be delivered by Dr. Edward R. Feller, director of the Division of Gastroenterology at The Miriam Hospital, and a clinical professor of medicine, who has received numerous teaching awards throughout the past two decades.
Medical student Garey Noritz will deliver remarks titled "To Dream, Perchance to Sleep." Nortiz received his undergraduate degree from Brown University, concentrating in health and society. He will begin a residency in internal medicine and pediatrics at the MetroHealth Medical Center at Case Western Reserve University.
Graduate School: Andrew D. Jones Jr.
Andrew D. Jones Jr., a doctoral candidate from the Division of Applied Mathematics, will address his classmates and faculty with a speech titled "Speak to the Past and Thank It." Jones received his bachelor's in mathematics from Cleveland State University and his master's in mathematics from Duke University.

######
98-133