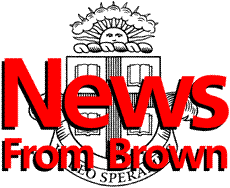 ---
The Brown University News Bureau
Contact: Mark Nickel

The Stephen Robert Initiative for the Study of Values
Brown to integrate formal study of values into curriculum, campus life
Beginning in the 1999-2000 academic year, Brown University will develop a focused inquiry into human values designed to enrich the freshman experience, the College curriculum, departmental scholarship, graduate fellowships and the University's public lecture program. President Gee will introduce a panel discussion about the Stephen Robert Initiative for the Study of Values at 2:15 p.m. Saturday, May 29, 1999, in Sayles Hall.
PROVIDENCE, R.I. -- Taking its cue from the earliest educational traditions, Brown University will begin implementing a campuswide three-year initiative to promote sustained, focused study and discussion of fundamental human values.
The Stephen Robert Initiative for the Study of Values, named for Brown's 19th chancellor, will be introduced during the 1999-2000 academic year with a new course oriented toward entering freshmen, a symposium on participatory citizenship, and additional public lectures and seminars. By the 2002-03 academic year, the initiative will have spread the study of values throughout the curriculum, to the scholarly activities of faculty in all academic departments, to graduate teaching fellows, and to the general public through lectures and conferences.
"The Charter of 1764 defined Brown as a place that prepared students for lives of `usefulness and reputation' in the world beyond campus," said Brown President E. Gordon Gee. "Increasingly, that world needs men and women who can discern and champion the necessary elements of a good life and a just society - citizens who are not easily distracted by the evanescent fads, trends and materialism of modern culture. Through this values initiative, made possible by the generosity of Chancellor Robert, we intend to promote and enhance that ability to discern what is necessary for a good life."
The first public announcement of the Robert Values Initiative will occur at 2:15 p.m. Saturday, May 29, in Sayles Hall on The College Green, before an audience of graduating seniors, parents and alumni, gathered for Commencement and Reunion Weekend. Gee will introduce a three-member panel: Nancy L. Rosenblum, professor of political science and values initiative director; Peter Kramer, professor of psychiatry and human behavior and best-selling author of Listening to Prozac and Should You Leave?; and Oskar Eustis, artistic director of Trinity Repertory Co. and visiting associate professor of theatre, speech and dance. The panel will discuss the values initiative and respond to questions from the audience.
During the next three academic years, Brown will phase in various parts of the values initiative, including:
Freshman values courses. Senior faculty will design and teach two interdisciplinary courses for freshmen. The courses will include a weekly lecture and a series of small-group tutorials based in residence halls. The first course, "The Quality of Life," could be offered in the second semester of the 1999-2000 academic year.


Department-based values curriculum. Brown already offers a wide array of courses in which the study of values plays a significant role. The values initiative will publish a list of values courses and will work with chairs and faculty to create new values courses and enhance values study in existing courses.


Undergraduate honors thesis award. To encourage undergraduate research, the values initiative will award an annual prize for the best senior honors thesis which addresses a significant question in the area of human goods and values. Nominations will be made by academic departments and concentration advisors.


Values research fund. A modest fund will be established to support the work of faculty participating in the initiative.


Values colloquium. A year-long colloquium for faculty and interested graduate students, organized on a rotating basis, will provide a forum in which to present work and sustain a discussion of values-related issues across all disciplines.


Lecture/seminar in ethics. In collaboration with a particular academic department, the values initiative will sponsor an annual symposium or lecture series related to faculty research or course development.


Fellowships for graduate teaching assistants. Teaching fellowships, awarded on a competitive basis, will support the work of graduate students who design and present tutorials in the freshmen values courses. In addition to providing supplementary support, the fellowships will give graduate students valuable pedagogical experience - an advantage in the academic job market.


Public lectures, conferences and colloquia. New programming, open to the public without charge, will add a distinct values perspective to the year-round offering of lectures and conferences already available to Providence residents and the campus community.
"In public life and in our private lives, we face troubling questions about the quality of life, but we rarely reflect on these questions except in response to personal or social crises, in settings fraught with incivility and conflict," Rosenblum said. "The Stephen Robert Initiative for the Study of Values will promote new settings and programs in which undergraduates, graduate students, and faculty can examine the perennial elements of any good life: ethics and a just community, spirituality and beauty, friendship and love, physical well-being and freedom from fear."
Chancellor Robert
Stephen Robert became Brown's 19th chancellor in July 1998, after serving as trustee, fellow and vice-chancellor. A 1962 graduate of Brown, he did postgraduate work at the London School of Economics and Columbia Business School. He joined Oppenheimer & Co. in 1968 as portfolio manager of the Oppenheimer Fund, became a partner in 1970, president in 1979, and chairman and CEO in 1983. In March 1986, Robert led a management team which returned Oppenheimer to private ownership through a management buy-out. The company was acquired by the Canadian Imperial Bank of Commerce in 1997. Robert is now chairman of Robert Capital Management, LLC. He is a director of the New York Philharmonic, Thirteen/WNET, The Manhattan Institute, and the Museum of Jewish Heritage and is co-chairman of Mayor Giuliani's task force to install computers in New York City schools.

######
98-141