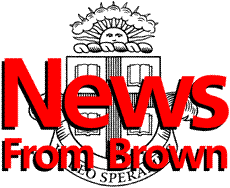 ---
The Brown University News Bureau
Contact: Scott Turner

Baccalaureate, graduate and medical students honor special faculty
Four Brown professors will receive special awards from graduating students at this year's Commencement: two professors for work with undergraduates; one professor for support of graduate students; and a doctor for service to medical students. Eight graduate students will also receive special honors: four for outstanding doctoral dissertations and four for teaching excellence.
PROVIDENCE, R.I. -- The following honors will be among those presented during Brown University's 231st Commencement exercises on Monday, May 31:
Barrett Hazeltine Citations
For the last 26 years, Brown's graduating seniors have chosen members of the faculty or administration to receive these citations - expressions of respect and appreciation for individuals from whom the classes received outstanding support, guidance and teaching. Originally called Senior Citations, the awards were renamed the Barrett Hazeltine Citations in 1985 in tribute to the engineering professor who had received the honor 13 times. This year, the Class of 1999 selected:
Dietrich Neumann, associate professor, history of art and architecture. Neumann arrived at Brown in 1989. In 1995, he was chosen R.I. Professor of the Year by the Carnegie Foundation for the Advancement of Teaching. An advisor to many undergraduates, Neumann is known for bringing architecture alive. His citation reads:

Professor Neumann, you have served your students well. As one of your students has put it with passion: "I have never heard another professor receive as much praise from students as Dietrich Neumann. Never. It's simple - he is genuinely interested in what his students think of not only his class and the reading, but also architecture in general. To him, the act and process of teaching is truly a two-way relationship."


James Morone, professor of political science. This is the second time Morone has received a Hazeltine Citation. A faculty member since 1982, Morone is known for his energetic and passionate teaching. He has taught more than a half-dozen courses in political science and served on campus committees ranging from medical faculty appointments to public policy. His citation reads:

Professor Morone, you are an original and creative thinker who brings a wealth of personal and historical knowledge to your classes. From discussions of city politics and American history to the intricacies of health care, race and morality, you bring politics to life for hundreds of students each year. We marvel at your enthusiasm.
School of Medicine Senior Citation
Edward Feller, MD, clinical professor of medicine at the Miriam Hospital, will receive the most prestigious award presented during the medical school graduation. The school's graduating class chose Feller to receive the School of Medicine Senior Citation, writing, "As an outstanding clinician and true patient advocate, you have modeled the qualities of mind, heart, and spirit of the ideal physician." The citation will be presented to Feller at the University Commencement ceremony, 11:30 a.m. on The College Green.
Wilson-Deblois Award
This award honors outstanding contributions to the Graduate School. Lewis Curtis Jr., professor of history, was chosen by the Graduate Student Council to receive this award because he has "raised the profile of Brown graduate students as full-fledged and contributing members of the University community." The award is named for the recipients of Brown's first two doctorates in 1889. Curtis will be honored during the University Commencement ceremony at 11:30 a.m. on The College Green.
Joukowsky Family Foundation Outstanding Dissertation Award
This award recognizes outstanding research work presented in doctoral dissertations. Finalists were nominated by academic departments, and winners were selected by faculty members of the University Research Council. In addition to receiving doctoral degrees during Graduate School ceremonies at 9:15 a.m. on Lincoln Field, the following four students will receive a $2,000 honorarium and a certificate:
Pamela Eden Swett, history: Neighborhood Mobilization and the Violence of Collapse: Berlin Political Culture, 1929-1933;
Andrew P. Duchon, cognitive and linguistic sciences: Visual Strategies for the Control of Locomotion;
Caroline Warren Reitz, English: The Necessary Detective: Police, Empire and Victorian National Identity;
Calin Adrian Diaconu, mathematics: Applications of the Double Dirichlet Series to Quartic Twists.
President's Award for Excellence in Teaching
About 500 graduate students serve as teaching assistants. A faculty committee has chosen four award winners. The awards include a $2,500 honorarium and a certificate. They will be presented during Graduate School exercises at 9:15 a.m. on Lincoln Field, to:
Donald H. Holly, Jr., anthropology;
Brian Zugay, history of art and architecture;
Julie Des Jardins, history;
Michael M. Awad, biology and medicine.
######
98-142