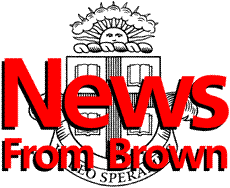 ---
The Brown University News Bureau
Contact: Mark Nickel

Campus Compact at the Aspen Institute
University presidents to address civic disengagement on U.S. campuses
More than 60 college and university presidents - a cross-section of American higher education - will meet at the Aspen Institute June 29 to July 1, 1999, to address the need for civic renewal. They will issue a formal challenge to the nation's campuses: Take action against growing civic disengagement among college-age people.
PROVIDENCE, R.I. -- Presidents of more than 60 U.S. colleges and universities will gather at the Aspen Institute in Aspen, Colo., June 29 through July 1, 1999, to issue a challenge to every campus in the nation: Do whatever it takes to involve your students in civic affairs in order to prepare them for the rewarding work of democratic citizenship.
The presidents will issue their challenge after three days of presentations and discussions about a worrisome trend among college-age citizens: a growing disengagement from civic responsibilities. A preliminary draft of the challenge, including a civic responsibility self-assessment form for campuses, is being prepared for discussion by several academic leaders, including the presidents or former presidents of Harvard, Tufts, Stanford and Notre Dame universities. In addition to their own discussions, the presidents will hear from public officials and leaders of civic renewal efforts. The list of presenters includes:
Former U.S. Rep. Pat Schroeder, chair of the Institute for Civil Society;


Robert Putnam, Harvard University professor and author of Bowling Alone: Civic Disengagement in America and What to Do About It;


Former U.S. Rep. David Skaggs, director of the Aspen Institute's Democracy and Citizenship Program;


Elizabeth Hollander, executive director of Campus Compact;


William Galston, executive director of the Nunn-Bennett National Commission on Civic Renewal, which produced the report A Nation of Spectators; and


Thomas Ehrlich of the Carnegie Foundation for the Advancement of Teaching.
The colloquium is sponsored by Campus Compact, the American Council on Education and the Aspen Institute, with support from the Corporation for National Service, the KPMG Peat Marwick Foundation, and the Sallie Mae Foundation.

Editors: An agenda for the President's Leadership Colloquium - Rekindling the Democratic Spirit: What is the Role of Higher Education? - is available by fax from the News Bureau at (401) 863-2476. Correspondents interested in attending any or all sessions at the Aspen Institute should make arrangements through the News Bureau as soon as possible.

######
98-150a