Opening performance Nov. 9
Bell Gallery to host new group exhibition through Dec. 30
The David Winton Bell Gallery will present Before Reflection Begins, a new group exhibition featuring the work of five international artists – Jin Soo Kim, Wolfgang Laib, Ernesto Neto, Valeska Soares and Marisa Tellería-Díez – from Nov. 10 to Dec. 30, 2001, in the List Art Center.
PROVIDENCE, R.I. — There will be a feast for the senses when the David Winton Bell Gallery presents Before Reflection Begins, a new group exhibition featuring the work of international artists Jin Soo Kim, Wolfgang Laib, Ernesto Neto, Valeska Soares, and Marisa Tellería-Díez, on display in the List Art Center from Nov. 10 to Dec. 30, 2001.
An opening reception and a performance by artist Jin Soo Kim are scheduled for Friday, Nov. 9, from 5:30 to 7:30 p.m. in the lobby of List Art Center. Kim will present hotproof, a performance that symbolizes the reaching out and sharing of her life experience with others.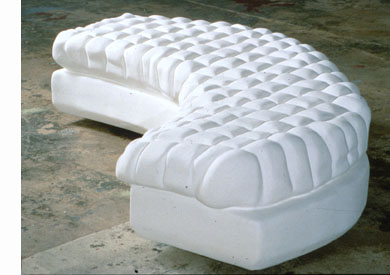 Editors: Digital images from the show are available upon request. At right: Marisa Telleria-Diez, Untitled, 1998. Fiberglass and hydrostone, 25 x 84 x 15 inches, courtesy of the artist.
This multi-media, multi-sensory exhibit has been designed to engage viewers in an experience that goes beyond sheer visual perception to evoke the senses of touch, smell and sound.
"Before Reflection Begins emphasizes experiential and multi-sensory dimensions of art rather than visual and aesthetic aspects," said Bell Gallery curator Vesela Sretenovic. "The artists engage different sense-perceptions and raise the question of how meaning derives from sensory experience. By doing so, they reveal in their works pre-verbal, sensual meaning that operates via emotion rather than cognition... or, as French philosopher Maurice Merleau-Ponty suggests, 'before reflection begins'."
Jin Soo Kim was born in 1950 in Seoul, Korea and moved to the United States in 1974. She studied at Western Illinois University and received an M.F.A. from the School of the Art Institute of Chicago in 1983, where she currently teaches. Her installation, titled roll-run-hit-run-roll, occupies the entire lobby of the List Art Center. Comprised of tunnel-like structures and a walkway of window weights, this meditation on travel – be it real or imaginary, in space or time – portrays themes of cultural and geographic journeys as a means of self-exploration and relocation.
Wolfgang Laib was born in 1950 in Metzingen, Germany, where he lives and works. A physician, Laib turned to art as a way of reconnecting to nature and living experience, creating works that incorporate natural elements such as milk, marble, pollen, rice and beeswax. His piece Milkstone (1982-88), part of an ongoing series of sculptures, features a rectangular slab of polished white marble with a slightly indented surface that is ritualistically filled each day with milk.
Ernesto Neto was born in 1964 in Rio de Janeiro, where he attended the Escola de Artes Visuais Pargua Lage and Museo de Arte Modern. One of the leading contemporary artists of Latin America, Neto is best known for sculptural installations that explore architectural space and the spectator's experience of that space. In this exhibit, Neto will present I also happen when you sleep, a large organic form made of white Lycra filled with Styrofoam beads, presented as a mattress on which one can sit, repose or dream.
Valeska Soares was born in Brazil and studied art and architecture in Rio de Janeiro and at New York's Pratt Institute and New York University. Fainting Couch is a sculpture made of wood, covered with reflective Plexiglas and containing freshly cut stargazer lilies, creating a cool, minimalist look as it exudes a strong, floral scent. This seductive and intoxicating environment characterizes the artist's other works as well, especially those addressing the theme of gardens as the place of posterity and longevity, as well as vanishing and decay.
Marisa Tellería-Díez was born in 1963 in Managua, Nicaragua, moved to Miami in 1978 and earned degrees in sculpture from Florida International University and Virginia Commonwealth University. She currently lives and works in Brooklyn. Her work Blushed . . . again is the continuation of an earlier installation and was created specifically for this exhibition; it represents the experience of time in space and, through the use of space and mirrors, stresses a perceptual experience that engages different senses simultaneously.
The exhibition and opening reception are free and open to the public. The David Winton Bell Gallery is located in the ground floor of List Art Center, 64 College Street. It is open 11 a.m. to 4 p.m. Monday through Friday and 1 to 4 p.m. Saturday and Sunday. For further information, call (401) 863-2932.
######