Through August 31
John Carter Brown Library to host Errand into the Wilderness
The John Carter Brown Library will host a new exhibition, Errand into the Wilderness: The Early English Colonization of New England, 1602-1753, through Aug. 31, 2002, in its MacMillan Reading Room.
---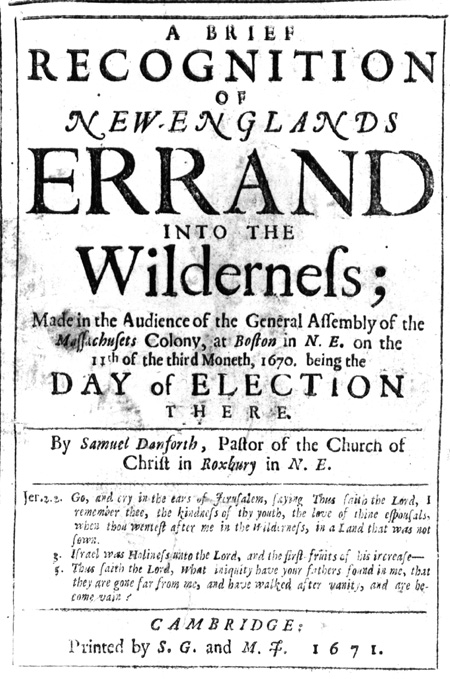 PROVIDENCE, R.I. — A new exhibition at the John Carter Brown Library recaptures in print the New England experience, body and spirit during the region's formative period. Errand into the Wilderness: The Early English Colonization of New England, 1602-1753 is on display in the library's MacMillan Reading Room through Aug. 31, 2002.
This exhibition of books, maps and manuscripts examines ideas the settlers brought with them to the New World, how those ideas were reflected in matters of church, state and society, and the forces that changed them during that first century and a half of colonization. It documents not only the intense religious commitments and controversies of the Pilgrims and the Puritans, but the tragic conflicts with the area's natives, including the Pequot War of the 1630s and King Philip's War in the 1670s.
Errand into the Wilderness covers a timeline that begins with an account of Bartholemew Gosnold's 1602 scouting venture to New England and the establishment of a colony on Cuttyhunk Island; it continues through the 1769 publication of Francesco Geminiani's Art of Playing the Violin (Boston), the sole surviving copy of the first music book printed in the colonies. Among the many other items featured are:
Works by Roger Williams;
A copy of the first book printed in the territory of the present-day United States, the so-called Bay Psalm Book (Cambridge, Ma., 1640);
John Eliot's translation of the Bible into an Algonquin language (Cambridge, Mass., 1663) – the first printing of the Bible in a non-European language and a tremendous undertaking for a colonial printer;
The only surviving copy of the first colonial book about agriculture, The Husbandman's Guide (Boston, 1710);
The work of poet Anne Bradstreet, The Tenth Muse Lately Sprung Up in America (London, 1650).
The John Carter Brown Library, located on The College Green at the corner of Brown and George Streets, is an independently funded and administered institution for advanced research in history and the humanities. Located at Brown University since 1901, its collection consists of primary historical sources pertaining to the Americas before ca. 1825. The library is open to the public weekdays from 8:30 a.m. to 5 p.m. and from 9 a.m. to noon on Saturdays. For further information about the library, visit www.JCBL.org. For additional information about the exhibition, call (401) 863-2725.
######