June 8 – July 7
Bell Gallery exhibition features Providence artists' new work
The David Winton Bell Gallery will host an exhibition of new work by Providence artists Yizhak Elyashiv, David Newton and Judyth van Amringe, beginning June 8 and continuing through July 7, 2002, in the List Art Center. An opening reception is scheduled for Friday, June 7, 2002, from 5 to 7 p.m.
---
PROVIDENCE, R.I. — A new exhibition at the David Winton Bell Gallery will feature the latest works by three Providence artists, Yizhak Elyashiv, David Newton and Judyth van Amringe, beginning June 8 and continuing through July 7, 2002.
An opening reception is scheduled for Friday, June 7, from 5 to 7 p.m. in the gallery at the List Art Center. Both the exhibit and the reception are free and open to the public.
Exhibition curator and Bell Gallery Director Jo-Ann Conklin notes the works share a quiet tone, despite obvious differences in medium. Elyashiv works in drypoint and monotype, Newton in wood, van Amringe in porcelain and stoneware. "These three artists share a maturity of vision and a skilled use of materials," observed Conklin.
Editors: Digital images of several works from the exhibition are available through the News Service at (401) 863-2476.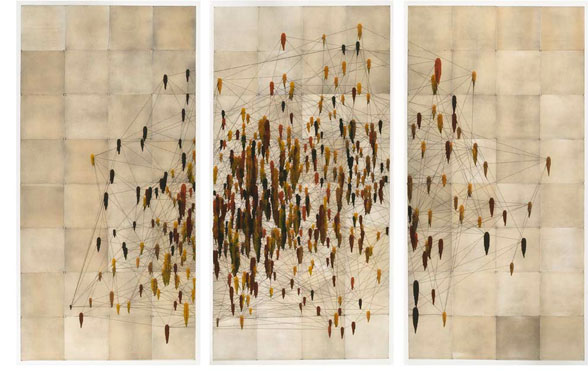 Yizhak Elyashiv, who teaches at Rhode Island College and the Rhode Island School of Design, will be represented by a selection of prints, the centerpiece of which is an 8 by 12-foot untitled work, right, created during his residency at Island Press at Washington University in St. Louis. The print, shown for the first time at the Bell Gallery, is comprised of 96 one-foot-square metal plates that create an underlying grid for a floating, random series of coordinates connected by lines marked by smears of brown, ochre or green pigments. This impressive work is part of a series titled Handful of Grain Maps which Elyashiv began in 1994, illustrating his continuing interest in systems of order and variation within set parameters.
Elyashiv received his M.F.A. from RISD in 1992. His prints are included in the collections of Boston's Museum of Fine Arts, London's British Museum, the Yale University Art Gallery and Harvard's Fogg Art Museum, among other institutions.

Grove, David Newton's sculptural installation, includes a series of hand-carved wooden figures, right, some taken from a cherry tree felled in the backyard of his Cranston home. Whimsical and abstract, each figure consists of several distinct parts – a triangular "foot" topped by a highly polished, bulbous "body" and a roughly cut, peanut-shaped "head," or a round, red-stained foot with an oblong, rough-cut, white-stained body and highly polished, natural wood head with upturned nose.
"The use of color on some pieces gives a playful, cartoon-like quality, while the titles of individual works – such as Grove and Stand – bring us back to the origins of his materials," Conklin noted.
A member of the Moses Brown School faculty, Newton has taught at RISD, Roger Williams University and the University of Connecticut. He was previously director of the Lacoste School of Arts in France. He attended Pratt Graphic Center and the Art Student's League in New York and received his MFA from Bard College.
Inspired by the work of Rudi Staffel, Judyth van Amringe recently turned to ceramics, exhibiting a natural gift for porcelain and stoneware that draws on her years of experience in home design. She studied at the University of the Arts in Philadelphia and was awarded the prestigious Louis Comfort Tiffany Foundation Award in 2001. The titles of her works, such as Moss Nest and Coral, below right, indicate inspiration drawn from nature. Eggs and Bones is a large mound of porcelain eggs and stoneware bones, in which the eggs are broken and the bones are encrusted – creating a combination of burial ground and nest that speaks eloquently of the cycle of life and death.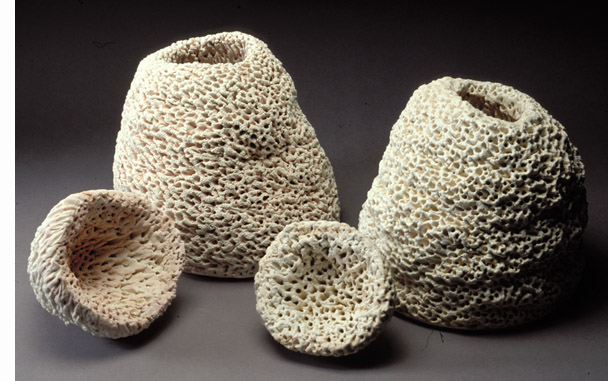 "Van Amringe's ceramics are, more than anything else, evocative of objects excavated from the depths of the ocean or an ancient burial site," said Conklin. "Some are otherworldly, others shamanistic."
Van Amringe graduated from Boston's School of the Museum of Fine Arts in 1967 and has made a living within New York's fashion world for many years. The author of Home Art – a 1994 guidebook to the wackier extremes of home decoration, featuring flamboyantly colored and decorated domestic furnishing – she contributes regularly to House and Garden.
The Bell Gallery is located on the first floor of the List Art Center, 64 College St. The Gallery hours are Monday through Friday, 11 a.m. to 4 p.m., and Saturday and Sunday, 1 to 4 p.m. For more information, call (401) 863-2932.
######