Images of the University
New hardcover pictorial album captures a year in the life of Brown
Brown: Images of the University captures a single academic year at the Ivy League institution, beginning on the morning of Opening Convocation. The 128-page book is available at the Brown University Bookstore or through www.shopBrown.com/photo.
---
PROVIDENCE, R.I. — Brown University has released its first pictorial album in more than two decades. Brown: Images of the University, celebrates a year in the life of the campus through some 130 images taken by photographer William Mercer.
"The Brown University portrayed in these pages is a place you will recognize, yet one that can still surprise with its unexpected beauty," wrote the book's editor and writer, Anne Hinman Diffily '73.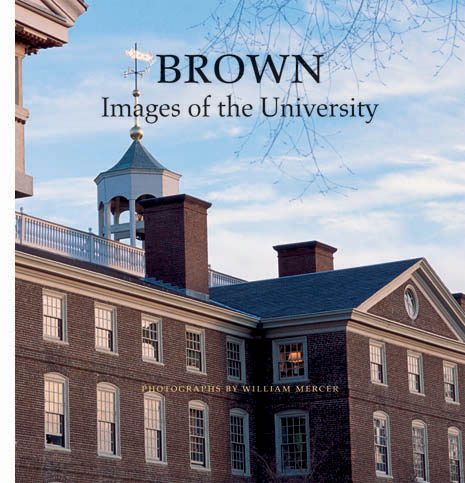 Brown: Images of the University is the latest installment in photographer Mercer's series on American education. His published works include volumes on Connecticut College, Middlesex School, Mount Holyoke College, St. George's School, Simmons College, Emory University, and Wesleyan University, from which he graduated in 1964. A portfolio of his work has been purchased for the permanent collection of the Polaroid Corporation.
Mercer shot some 15,000 images for the book, following the campus from late summer and Opening Convocation through Campus Dance and Commencement in the spring. "The essence of Brown ... goes beyond the place itself, beyond the scripted beauty of ornate iron gates and the vase-like giant elms that anchor and shade the Green. Brown is always in motion, always given color and depth by the men and women who inhabit it, as well as by the contributions of those who came before," Diffily wrote. "The resulting mosaic of old and new, art and scholarship, body and mind, is what photographer Bill Mercer set out to capture over the course of a single academic year."
The idea for a bound volume of photos came from Laura Freid, executive vice president for public affairs and University relations (PAUR). Art Director Kathryn DeBoer provided the artistic vision and design expertise, along with Sandra Delany and Alyssa Zelman. The project was directed by Isabelle Hunter '91 and assisted by Ricardo Howell '01 and Ericka Tavares, all of PAUR, with help from Rachel Spaulding '00 in the Office of the President.
The 128-page hardcover book is bound with a cloth cover underneath a dust jacket and is available for $49.95 at the Brown University Bookstore, 244 Thayer Street, Providence, R.I. Orders can be placed online at www.shopBrown.com/photo; by phone at (401) 863-2099; or by fax, at 401-863-2233.
######