John Carter Brown Library acquires rare 18th century book on Brazil
The John Carter Brown Library acquired the early 18th-century book Cultura e opulencia do Brasil por suas drogas e minas – one of the rarest and most coveted volumes on colonial Brazil – at Sotheby's auction in London Nov. 14, 2002.
---
PROVIDENCE, R.I. — The John Carter Brown Library has acquired one of the world's rarest and most coveted books on colonial Brazil. Cultura e opulencia do Brasil por suas drogas e minas, a 1711 publication written by an Italian Jesuit, João Antonio Andreoni, was purchased at a Sotheby's auction in London on Nov. 14, 2002.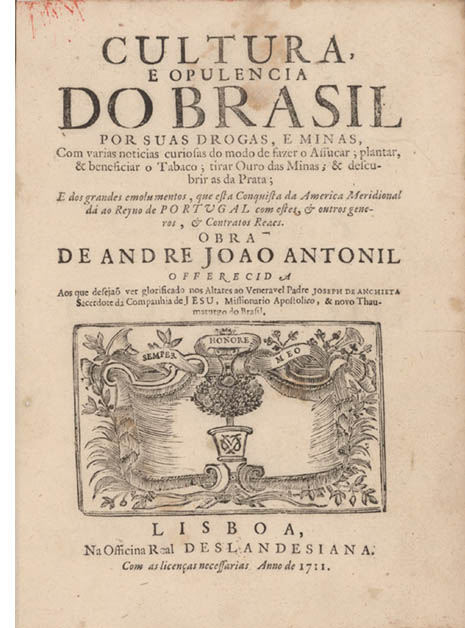 Printed in Lisbon in 1711, the book was published by Father Andreoni (1649-1716) under the pseudonym André João Antonil. When the work was published, the king of Portugal feared the information it revealed about Brazil's lucrative sugar industry and gold mines would arouse envy and lead to aggression by other nations. Consequently, he ordered the seizure and suppression of Andreoni's book; only seven copies are known to have survived.
Library representatives made a successful bid of approximately $159,000 to acquire the book – one of the highest prices ever paid for an 18th-century book and possibly a record for a Lisbon imprint. The book was purchased from a private French collection and was the only one of the seven copies of Cultura e opulencia remaining in private ownership. Three copies are owned by institutions in Brazil, including the Biblioteca Nacional in Rio de Janeiro. One copy is owned by the Biblioteca Nacional in Lisbon, another by the Bibliothèque Nationale in Paris and the last by the British Library in London. The John Carter Brown Library copy will be the first and only held by any library in North America.
Located at Brown University since 1901, the John Carter Brown Library is an independently funded and administered institution for advanced research in history and the humanities which focuses on the history of North and South America during the colonial period (to about 1825). Its collection of books about or printed in Brazil before 1825 is unrivaled, but library officials have been seeking a copy of Cultura e opulencia for many years; it was among the volumes listed in the library's publication, Rare Americana: A Selection of One Hundred & One Books, Maps, & Prints Not In the John Carter Brown Library. This is the seventh book from that list acquired since its publication in 1974.
Cultura e Opulencia is divided into four sections, each describing one of the principal resources of colonial Brazil – pasturelands and livestock, tobacco, sugar and gold. Today, the book is regarded by historians as one of the best sources of information about the economy of early Brazil.
######