Brown renovates 1960s-era dining hall to create an inviting student eatery
Daily student diners increased 74 percent after a renovation to the Verney-Woolley Dining Hall at Brown University, one of two campus dining facilities for students on the meal plan. The $3-million project exchanged dark and dated décor for bright space with a skyroof where the chefs work in view of the students.
---
PROVIDENCE, R.I. — Brown University recently completed a $3-million renovation of a student dining hall, converting it from a 1960s facility of dark walls and long rectangular tables to one in which natural light filters in from a skyroof and diners can watch the chefs prepare their food.
The five-month project began when the Verney-Woolley Dining Hall, located in the Emery-Woolley residence hall, closed at the end of the spring 2002 semester. After the renovated facility reopened for the current academic year, the average number of daily diners increased by 74 percent.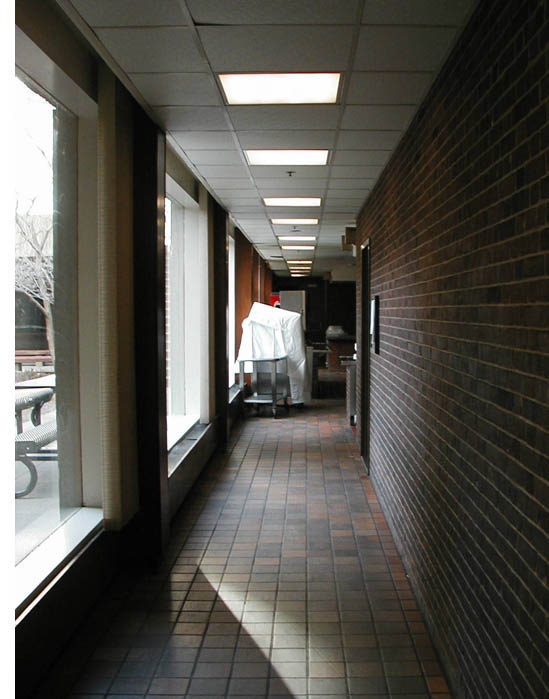 "We made a lot of changes to make it feel like home," said Virginia Dunleavy, associate director of dining in Food Services. "It's a whole new experience."
The Verney-Woolley Dining Hall – often called the V-Dub – was constructed in 1967 and is one of two campus dining facilities for students on a meal plan. Previously designed like a dog bone, its dining rooms were connected by a serving area backed by a production kitchen. The serving area was cafeteria style with two identical lines that fed into each other.
The area accessible to students more than doubled during the renovation, from 1,475 to 2,970 square feet. The additional space and new seating styles boosted capacity by 75 seats to a total of 375. New seating options include round tables, booths and counter seating for solo diners.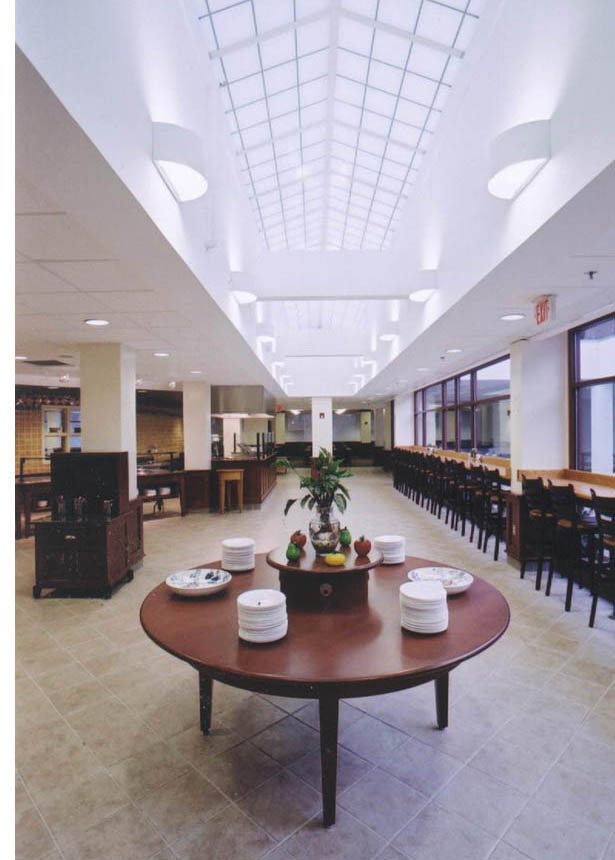 The kitchen was also reconfigured to allow the chefs to prepare food in view of the students. Designed with the color scheme of an Alsacean kitchen – a style from a historic region of France – the walls are decorated with shelves holding ceramic plates and pitchers. Serving stations are also now separated to allow students to go directly to an entrée of their choice, rather than waiting in a line to pass by all selections as under the previous design.
Although Verney-Woolley continues to serve a menu of "comfort food," students seem to perceive it to be better now that the space has been renovated, said Dunleavy. "Now we are hitting all of their senses – they can see the food being prepared, they can smell it as it cooks, and the plate is warm when it comes out."
Facility upgrades included the installation of a skyroof, air conditioning, movable gates to segment the hall for functions, and a new sound system. Before the project, the Verney-Woolley Dining Hall served about 120 breakfasts, 400 lunches, and 600 dinners a day. It now serves some 275 breakfasts, 775 lunches, and 900 dinners each day, according to Dunleavy.
The renovation was completed by Shawmut Design and Construction of Boston, Mass. It was designed by Moser Pilon Nelson Architects of Wethersfield, Conn., with consulting from Livermore, Edwards & Associates, of Waltham, Mass., and Thomas Ricca Associates, of Englewood, Colo.
######