Biomedical ethics
Professor's recovery from near-fatal crash the focus of teaching video
A new video about Brown computer scientist Peter Wegner's recovery from a 1999 bus accident will be used to spark discussion of ethical questions surrounding the treatment of patients with catastrophic injuries. Wegner was given a 5-percent chance of survival.
---
PROVIDENCE, R.I. — A Brown University computer scientist's recovery from a near-fatal bus accident is the subject of a new video that will be used to spark discussion among medical students about ethical questions surrounding the treatment of patients with catastrophic injuries.
Peter Wegner is Alive and Well and Living in Providence was produced by Edward Beiser, associate dean of the Brown Medical School, as a teaching tool for biomedical ethics. The 20-minute piece includes interviews with Wegner, his wife, adult children, neurologist, and a longtime colleague in the Department of Computer Science.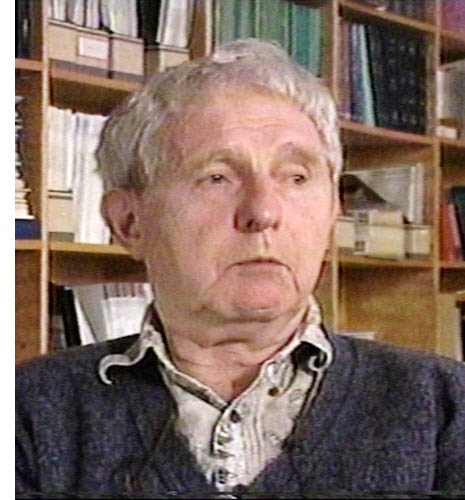 Wegner, 70, was given a 5-percent chance of survival after a bus struck him as he walked through London in the summer of 1999. The impact caused irreversible damage to his brain and left him in a coma for four weeks. However, Wegner learned again to walk, read and write. He returned to the United States four months after the accident and eventually returned to work at Brown.
Wegner has co-authored several research papers since the accident and given a talk at a professional conference. But, Wegner said in the video, he is unable to carry out the "highest level" of research he previously accomplished.
Among questions raised by the video are those surrounding the limits of scientific knowledge, the ability of family members to make difficult decisions under the most stressful of conditions, and differences in how people define quality of life.
According to Beiser, one of comments that provokes discussion is offered by Wegner's long-time faculty colleague Andries van Dam. Had he been faced with the same set of circumstances, van Dam says in the video, he might have made different decisions about treatment. However, van Dam continues, "That's like many things in life. Without actually having lived the experience, you don't know what it does to you."
"It seemed obvious to me that Peter's story would be a wonderful teaching tool," Beiser said. "While people are watching the video, I watch them. It holds them." Beiser is at work on a teaching guide to accompany the video.
The video was filmed by Luke Walden, a member of the Class of 1994 and head of Green Point Film. The project was supported by the Edward N. Beiser Fund, established by two Brown graduates.
######