Three-year loan
Noguchi sculpture, To Tallness, on exhibition on The College Green
To Tallness, a 10-foot sculpture by internationally known artist Isamu Noguchi, will be on public exhibition on The College Green for the next three years as part of a loan program sponsored by Brown's Public Art Committee.
---
PROVIDENCE, R.I. — Artist Isamu Noguchi's 1981 sculpture To Tallness is now on exhibition on The College Green as part of the Sculpture on Campus Program established last fall by Brown's Public Art Committee.
Noguchi's work, which will remain on display in front of Wilson Hall for the next three years, has been brought to campus on a long-term loan from the Isamu Noguchi Foundation. It is part of a series of loans the Public Art Committee hopes to facilitate between the University and significant artists. The sculptures will be installed at public sites throughout campus.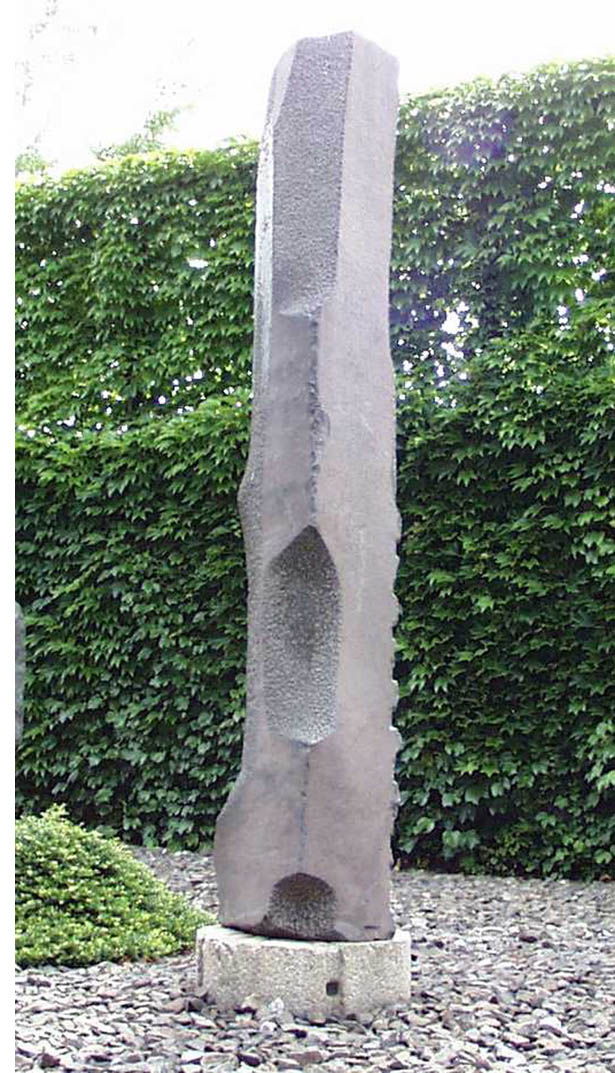 Installed Thursday morning Jan. 23, 2003, To Tallness is composed of Manazuru and basalt stone; it stands 129 1/4 inches tall and is 24 by 14 inches wide and deep. It is the third sculpture loaned to Brown in recent months. Roy Lichtenstein's Metallic Brushstroke Head (1994), a nickel-plated, enamel-painted bronze sculpture on loan from a private collection in New York, has been installed in the lobby of the Watson Institute for International Studies. David Nash's Box Cross (2002), made from charred oak, stands outside the List Art Center; it was lent to the University by the artist, courtesy of Galerie Lelong, New York. (In conjunction with the display of that piece, the David Winton Bell Gallery has organized an exhibition of Nash's work, which will be on view in the List Art Center lobby beginning Jan. 25, 2003.)
"We are very excited to have the opportunity to bring these important art works to Brown," said Public Art Committee member Jo-Ann Conklin, director of the Bell Gallery. "This new sculpture and others are being installed in easily accessible public locations where they can be viewed and enjoyed by everyone on campus and from the communities of greater Providence."
In addition to Conklin, members of the Public Art Committee include President Ruth J. Simmons; Artemis Joukowsky, chancellor emeritus, chair; Richard Fishman, chair of the Visual Arts Department; and Robert Emlen, University curator.
Isamu Noguchi (1904-1988) was an internationally known artist whose rich and diverse sculptural practice spanned more than 60 years. He was born in Los Angeles to a Japanese father and an American mother and lived in Japan from the age of 2 to 14 before returning to the United States. After training in New York and Paris, he traveled throughout China and Japan during the 1930s, learning about Zen meditation, calligraphy, ceramic and garden design – concepts he applied in his later work. Combining the philosophy and aesthetics of the traditional Japanese house and garden with early 20th-century avant-garde styles and ideas, Noguchi created numerous public monuments, plazas, fountains, gardens, furniture and interiors, ignoring the boundaries between art, architecture and design. Some of his best known public works are Japanese Garden (UNESCO, Paris, 1956), Billy Rose Garden (Israel Museum, Jerusalem,1960-65), Red Cube (New York, 1968), Black Sun (Seattle, 1969), Fountains for Expo '70 (Osaka, 1970), Hart Plaza (Detroit, 1975), and the Lillie and Roy Cullen Sculpture Garden (Museum of Fine Arts, Houston, 1978-86).
In addition to his public work, Noguchi carved in stone and wood. By 1970, he had established a studio on the Japanese island of Shikoku, where he created large granite and basalt sculptures. To Tallness is part of that body of work. In 1985, he established the Isamu Noguchi Garden Museum in Long Island City, N.Y. Situated in a converted factory building and surrounded by a garden that Noguchi himself designed, the museum displays more than 240 of his works, including his sculptures in wood, metal, stone and clay. The original museum and garden are currently being renovated, prompting the temporary relocation of his works to smaller exhibition spaces. To Tallness, one of these sculptures, was offered as a loan to the University, where it will remain on display for the next three years.
######